Today I woke up and decided that I needed to take back the life that I want to live.
Working out used to be something that I enjoyed quietly as a "regular person". Blogging used to be a safe place where I could truly spill my honest thoughts. But now – everything that I do, eat, or say is critiqued. Of course 100% by my choice for being a public figure…but…the public judgement of it all has made me a more timid, scared person. I tip toe around sensitive personalities and treat everything like it's so fragile, but NO MORE. I'm gonna grab life "by the balls" and JUST LIVE LIFE the way I want.
So today is day 1. Of 90.
I said it. And I am not taking it back.
This is a personal journey I want to embark on to get in the best shape of my life – mentally and physically. It begins today August 16th and will end November 14th.
Why am I doing this?
Well to be completely honest, I stepped on the scale on Monday and weighed in at 136 lbs – which is THE HEAVIEST I have EVER been.
To give you some reference… I am 5'5″. And last October 2018, I weighed 122 lbs for my wedding. I have gained 14 lbs in less than a year. When I lived in Boston around 2011-ish I was about 118 lbs. When I did my bikini competition in 2012, I started at 126 lbs and went down to about 113 lbs. I was lean then, but very unhappy. The training and dieting I did for that was not sustainable and left me in a bad place mentally with the way I viewed my body. Since the bikini competition, I have gained 23 lbs.
I'm not going to be delusional and say that it is all muscle, because it is not. Maybe some, but not all.
Stress over the years of running a business, taking care of other people and not having time to take care of myself has taken a toll on me. It shows in the pimples on my face, the whites in my hair, and in the weight I have gained.
So, it's time to take my life back. I'm going to do this for myself and you're welcome to read along. But, if any talk of scales, weight loss, and dieting triggers you – note that you have been warned.
"But this isn't body positive!"
I really don't wanna hear this. It's comments like that that make me feel like I can't do anything anymore.
You can view working out as a negative or positive thing. Your choice! Your body. Your life. But understand this – just because a woman wants to lose weight or change her body does not mean she's not body positive. Do you hear me?
What is body negative about getting healthier, increasing your confidence, feeling happier, and getting stronger? Hmm. Nothing.
As long as you love your body every step of the way, you're in a healthy mental state.
So let's get over this.
What will I eat?
Okay, so I have been thinking ALL DAY about what program I am going to do. So many options. I have literally tried everything – body builder high protein, vegan, vegetarian, pescatarian, low carb/high fat (kinda Keto but not really), Whole 30, 28 Day Reset, etc.
I notice that in the first 30 days of following ANY diet, I will lose about 5 lbs. Then my body becomes stagnant. Not sure what I will do to battle that this time around, so I guess I will say upfront that I will just need to be as flexible as my body desires.
So here's what I know:
I don't want to count calories
Grains and breads bloat me
A mixture of sugar and dairy makes me break out
Eating high protein has given me the best results in the past
Eating super high protein has made my brain feel cloudy
Eating high fat keeps me satiated
Going vegan made me bruise a lot and has also made me feel lethargic
Eating lots of carbs makes me wanna eat a lot more carbs
Whole30 was fine but it doesn't allow ANY processed food or added sugars so I couldn't have Sriracha and I love Sriracha
I like to snack
I like to cook
I prefer to have a list of ingredients that I can play with instead of a strict meal plan
I like Asian flavors, and just intense flavors in general
So…where does that leave me?
Ha, I think it leaves me in a place where I just need to choose something and stick with it for the first 30 days. So, I'm going to choose the one that keeps me full and satiated. I'm choosing high fat/low carb aka "Almost Keto".
To be clear, I am not going Keto on purpose. I also don't want to count my macros and check my ketone levels. I want my eating to feel like eating, not like a science experiment.
So here is my super general high fat, low carb "Almost Keto" grocery list:
Meats
Seafood
Veggies
Nuts
Mushrooms
Eggs
Cheeses
Greek yogurt
Mayo
Oils and butters
Pico de gallo and other fresh salsas
Avocados
Low carb fruits like strawberries, raspberries and blueberries
If you want a complete list, you can google "Keto grocery list". I'll pretty much be following this but allowing a little room for "fun". Which means, I will allow hot sauces, flavoring sauces, and higher carb fruits when I feel like it.
How will I work out?
I am not so concerned about the work out aspect of this 90 day journey. I already work out anywhere between 5-6x a week consistently. But this time around, I'm going to do MORE of the things I love – like dance and Pilates. I want to allow myself to be free and not have the "you have to DIE in each workout or else it doesn't count" mentality.
However, I still do want to push myself and try different things. I will also add in a little more cardio than normal. That is why I have started running. But I think I'm going to get bored soon, so I will need to find a treadmill or HIIT class that is enjoyable! I'll definitely do PIIT28 on days when I cannot get to the gym. But 5-6x a week is my minimum!
Measurements:
Here is my before pic.
Measurements are important because they are data points. I've learned to not let the scale control me or put a number on my self-worth. The scale's job is to provide me with information. That is all.
Day 1, August 16th.
Weight: 136 lbs
Body fat %: 24.4%
Chest: 34″
Right arm: 11.25″
Left arm: 11.25″
Waist: 28″
Hips: 37.5″
Right thigh (3″ down): 22″
Left thigh (3″ down): 22″
I will monitor my weight and body fat % on the daily but I won't measure myself until a 30 day period has passed. So that means on Sept 15, Oct 15, and Nov 14, I will update my stats here.
My physical goals?
Hmm, I'll make 2 goals:
Weight goal: 120 lbs
Body fat % goal: 20% (so I can be in the "athlete level" for women)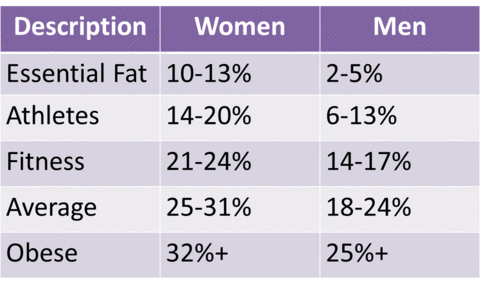 Interesting that I'm currently in the upper end of Fitness body fat % and at the lower end of Average body fat %. This needs to change because it does not reflect how hard I work and my level of fitness.
I can already say right now that 120 lbs is going to take a lot for me to get there. But I'm putting it down on paper right now and I'm going to try everything I can (only healthy ways of course) to make it happen!
My wellness goals:
I will reward myself with 1 self-care thing a week. So that means a deep tissue massage every week!
My blogging goals:
My goal is to blog how I am feeling DAILY. I hope I'm not setting myself up for failure here (as I have not blogged consistently for a few years now), but I'm going to say it out loud: I WILL BLOG EVERY DAY FOR 90 DAYS!!! Even if it means a small paragraph, I need to blog because it will be my way of journaling.
Tools I'm currently using:
Apple Watch to track my runs
Happy Scale App to track my weight
Vanity Plant Digital Analyzer Scale to measure my weight, body fat %, and muscle mass
Classpass app so I can take classes and have other instructors kick my butt
Blogilates 12 Week Fit Journal to track my food, my workouts, my mood, and my measurements
How you can see my updates:
I'll be IG story-ing some of my food and work outs but everything will live here on the blog in detail. I think I'll share what I am eating the previous day in the next day's post. That'll make it easier so that I don't have to wait until my last meal at night to write. I think I'll just take a picture of my planner – that should be everything you'll need to know! Plus emotions. Lots of emotions.
Okay guys – I think that's it! I'm a little nervous, uncertain, and excited…but I feel really good now that I've written everything down. I guess we shall see what happens!!! Weeee!