Hey guys!
I'm SO excited for this month's challenge! Sorry it's a little delayed, but it'll be worth it. Promise!
So far this year, we've touched on all of the components of wellness in our challenges, paying extra attention to fitness and mental health.
August is all about FOOD! Get excited for… 🥁🥁🥁
The Build-A-Bowl Challenge!
You could call this a meal prep challenge, but it's really more about finding new yummy meals to love with less stress. We're ALL here for that, right?!
My love for bowl meals runs deep. You can put in as much effort as you want and the options for creativity are endless! Any time I'm not sure what to eat or don't feel like cooking, I raid my kitchen and create some type of bowl.
Oh, and there are literally no rules when it comes to a bowl meal, which means it's also SO EASY to pack them with tons of nutrition.
If you're new to bowls though, it's kinda hard to know where to start. And honestly, even if you're as obsessed with them as I am, it's really easy to get stuck making the same one over and over. Not saying this is a bad thing, but is there anything better than discovering new recipe inspo?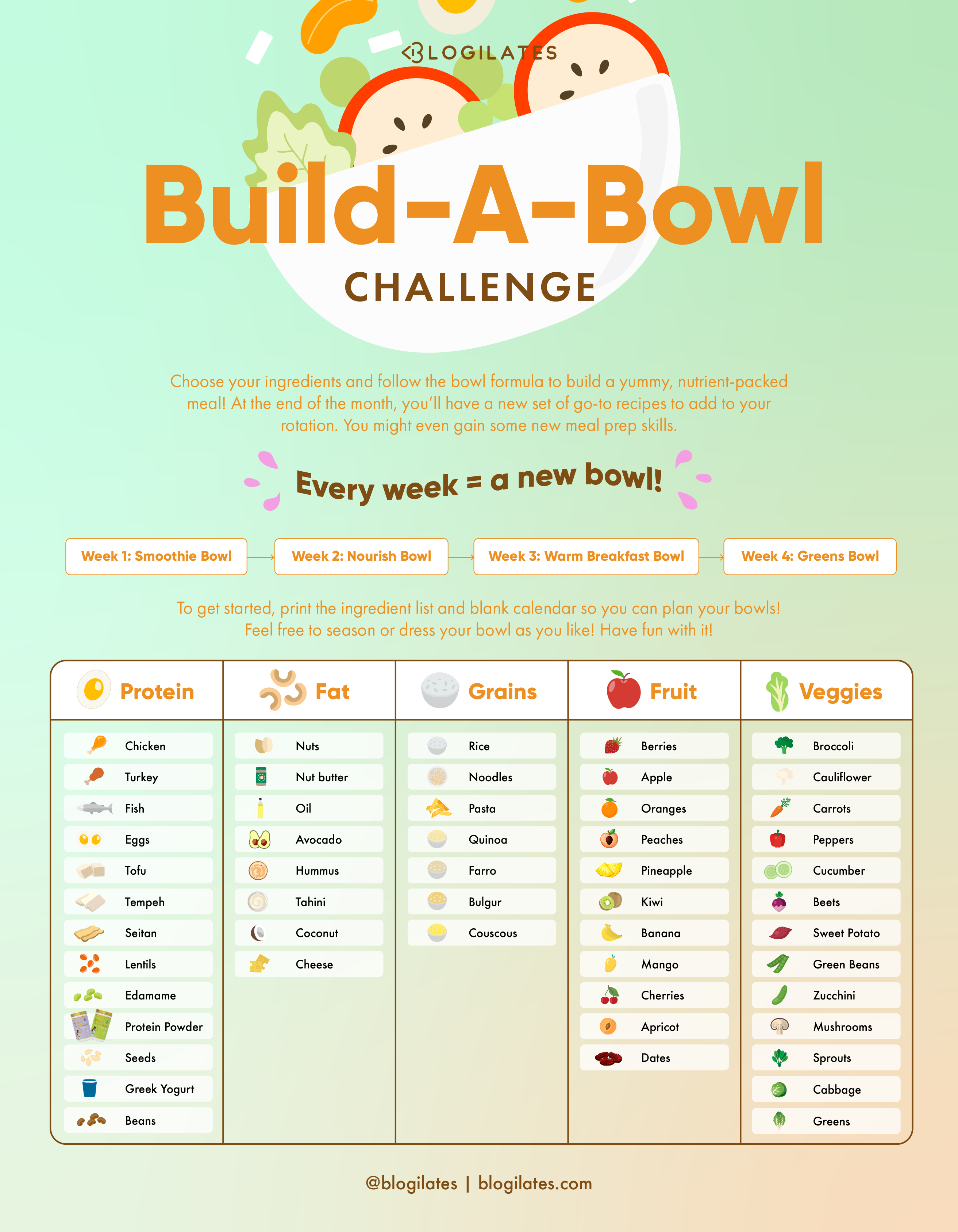 Download PDF
Here's how this challenge works!
The Build-A-Bowl Challenge will help you learn how to build a nutrient-packed, balanced bowl meal and/or expand your bowl-making horizons. The rules are simple:
Choose your ingredients
Follow the formula
Spice it up how you like
Enjoy!
Four weeks. Four yummy, nutrient-packed bowls!
We're making FOUR different kinds of bowls in this challenge – one for every week!
WEEK 1: Smoothie Bowl
WEEK 2: Nourish Bowl
WEEK 3: Warm Breakfast Bowl
WEEK 4: Greens Bowl
The formula for each bowl will guide you to build a balanced, nutrient-packed bowl. There are no macros and there are no rules about portions or ingredients you can add!! We're keeping this high level, so you can discover new recipes to add to your meal rotation, build some meal prep skills, and have FUN!
Some examples!
Here are two example bowls to get you started!
Smoothie Bowl 
Banana + strawberries (2 fruit)

Peanut butter + slivered almonds (2 fat)

Protein powder (1 protein)

Spinach (1 veggie)
Almond milk (1 liquid)
Greens Bowl
Mixed greens (greens base)

Sweet potato + bell pepper (2 veggies)

Black beans + grilled chicken + hemp seeds (3 protein)

Avocado (1 fat)
Print the calendar and plan ahead
My advice? Plan your bowls ahead to make meal prep as quick and easy as possible! Choose to make the same bowl all week, or opt to switch it up every day! You can write out your plans on the blank calendar to stay organized.

Speaking of meal prep…
Prep your bowls as you go OR prep some of the ingredients ahead of time – I like this option because I always love myself later! Here are some easy things you can prep ahead of time:
Wash and cut veggies
Cook grains like rice, quinoa, noodles, etc.
Cook proteins like shredded chicken, hardboiled eggs, etc.
Make "smoothie packs" for your smoothie bowls, so all you have to do is pour into a blender with your favorite milk and blend!
At the end of the month, you'll have a new set of go-to recipes to add to your rotation. You might even gain some new meal prep skills.
Okay now let me know if you're IN!!
Tell me in the comments!!
Oh and post your Build-A-Bowl creations on IG and tag me @blogilates and @blogilatesdotcom!!! I wanna see allllll the food pics so I can get some inspo too!