The Best 5 Ways to Lose Weight + Blogilates Fit Journal is HERE!!!!
|
November 11, 2013
|
293 Comments
The Best 5 Ways to Lose Weight + Blogilates Fit Journal is HERE!!!!
Hey hey hey there POPsters!!!!
I have a new video for you! I decided to sit in a chair (instead of plank around on a mat) and talk to you about something that is related to our 12 week #NewBodyMakeover challenge! It's my 5 best tips for losing weight! Please watch. It is very informative and you will find that even if you apply just one of the tips, you will see a big change in your physique and your energy!
My Top 5 Ways to Lose Weight (informative explanations in the video):
5. Drink more water! Drink until your urine looks like lime juice, not apple juice!!!
4. Replace refined carbs with veggies.
3. Don't eat fruit after 2pm.
2. Don't be a cardio bunny!
1. Watch the video to find out! 
But it does have something to do with this…guys I am soooooo happy to finally debut to you a project I have been working on for the past few months with my good friend and talented artist Kim from Arthlete! Together we designed and developed the perfect Blogilates Fit Journal to inspire you to transform your body and your life in just 12 weeks (the time it takes to become a whole new human!). Here's your first look at the cover!
OMG isn't it beautiful? So many of my favorite things there on the front…peanut butter, avocado, fashionable sneakers! And of course of a peaceful ombre cover. I'm in love! (BTW the front and back covers are protected by a clear plastic shield to keep from getting wet!)
Here's the before page. This is the start of your story.
Every week you will be met with some of my favorite inspirational sayings accompanied by absolutely gorgeous hand drawn illustrations. You will have a weekly weigh in, a place to identify your 7 day goal, plus a chance to recap how you ate throughout the week. Color a smiley if you did well!
These are your daily pages. Here you will write what you ate for breakfast, lunch, dinner, and snacks. You should also log your workout, how much you slept, and how much water you drank. You MUST record everything. You have to stay true to yourself and DO NOT CHEAT! This book is like your diary and you do not need to impress anyone. You'll be surprised how quickly things add up. This is a way to be conscious of what you're eating. A lot of people think they're eating clean, but they forget the chip or that tiny macaron they had as a snack. Everything counts. Write it all down. This is the key to your success. Trust me. It is work, but it gets results. It's what I did for my Bikini Comp to keep me disciplined.
Another beautiful illustration for week 2!
Every week that goes by, you will have written another chapter of your story. This book isn't just papers bound together, it's your keepsake, your trophy, and your novel. This is how you can look back and be like…this is the story of how I did it. Be your own author. Make your dreams turn into reality.
That "after" picture. Are you gonna be my next Transformation Tuesday success story? (yes, YES!)
The Fit Journal is perfect for our 12 week New Body Makeover Challenge! Back when Kim and I were developing this, I wanted to release the book with a plan…something for all of us to adhere to for 12 weeks as a team. So I connected with my friends and registered dietitians over at WeightTraining.com to develop a well balanced 3 phase meal plan to help you reach your best body while still giving you all of the energy you need to power through your workouts! (Watch the video to see how the phases are broken up.) We incorporated a lot of my Cheap Clean Eats recipes to make the food familiar to you. It goes way beyond the chicken breast and broccoli routine. This is eating clean and eating TASTY! The point is to make eating clean a part of your lifestyle so that you won't gain back a ton of weight when it's over.
Please note that the Fit Journal is currently in PRESALE! The journal will ship on November 20!
Can you imagine the new person you'll be? Can you imagine the confidence, the energy, and the strength that'll be yours? I wanna take a moment to showcase some of our past success stories from POPsters who sent in letters of how they took control of their life and TRANSFORMED COMPLETELY!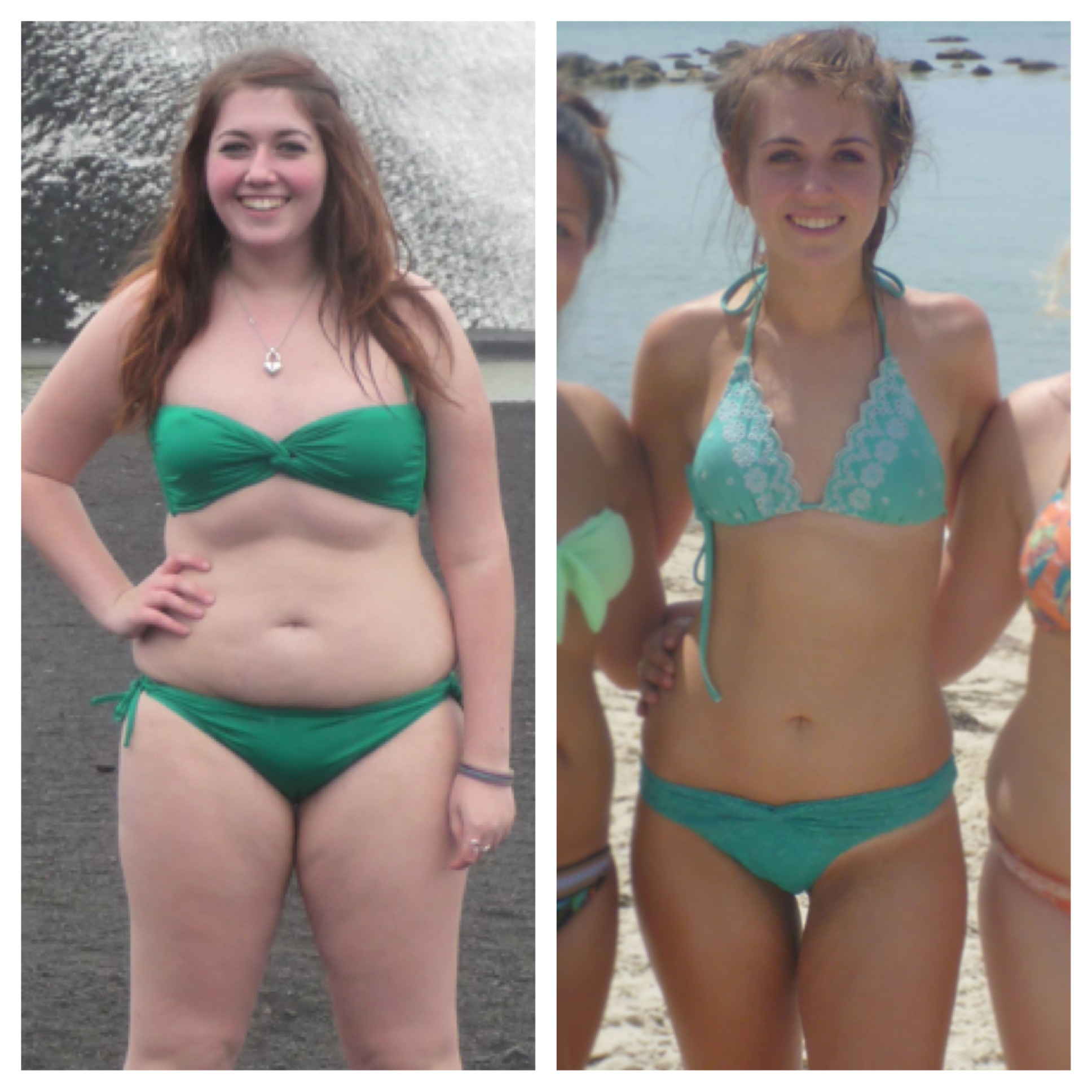 This is Nikki! I met her at the NYC Meetup and she completely blew me away with her charisma and shining spirit! Such a kind girl with a positive attitude who now inspires other girls at her school to train with her! Read how she did it here. And follow her on Instagram @nikki_grace_j
Meet Ashley! She was one of my first Transformation Tuesday stories. Ashley is a busy mom who lost 40 lbs! You go girl. So inspirational!!! Click here to see what she ate and which Blogilates videos she used to change her body and her life. You can follow her on Twitter @TangeloFlavored
Wow! And you know what? With hard work, dedication to these 12 weeks, and a positive mindset, you too will become the next Transformation Tuesday story here on Blogilates.com. Yup. YOU. If you never thought it was possible, well, it is my dear.
I'm going to be doing it with you along with hundreds of thousands of POPsters all over the world. Are you ready? Yes or YES?!!! 
So what's happening is that the Fit Journal is on pre-sale right now and if you get it, I will personally email you that 3 phase 12-week New Body Makeover Meal Plan that I've been working on with the registered dietitians over at WeightTraining. This alone has a value of $99. It takes care of every meal, every day, for 12 weeks. But you'll get it free just for getting the journal! That's a $129 package for just $30…it's 77% off!
That plan will be emailed out on November 26th, 2013 and you will have 6 days to get your food for the Dec 1st, 2013 start date. Everyone starts  together on Dec 1st.
"Why December 1 Cassey, why!!!????"
I'll tell you why.
Everyone gets their butts in the gym in January with all that new year's resolution stuff. But you my dear POPsters will NOT get stuck waiting in line for a cardio machine…wasting time. Nope. You start now. Why do you wanna take the next month to do nothing? Why not take advantage of the 31 days to get a head start on transforming your life into the one you've always dreamed of?
It's not impossible. In fact, the word itself spells "I'M POSSIBLE."
You must believe. And like I said, I am here to do it with you every bit of the way. Ultimate support from everyone. No excuses.
♥ Click here to get the Fit Journal NOW! ♥
What happens if you can't afford the journal now? Can you still participate in the 12 Week New Body Makeover?
Yes of course! Don't worry guys. Every Tuesday beginning Nov 26th, I will send out a secret password to unlock the next week's grocery list and meal plan. Here's where you'll be able to find the passwords:
Week 1: YouTube.com/Blogilates <— subscribe
Week 2: Twitter @Blogilates <— follow me
Week 3: Facebook.com/Blogilates <– -like my page
Week 4: Subscribe to my newsletter (free) <— click here
Just remember that the Fit Journal is more than just a place to record your snacks. It's the blank pages of your next chapter in life. You are the author of your own book. So let's write a great story.
Love you so much and here's to us turning our dreams into reality!
YOU IN!!!???
<3 Cassey