Hey guys!
OMG we're here! Cue Mariah Carey and Last Christmas and ALLLLLL of the holiday jingles!!! I know that this season is gonna feel a little different from seasons in the past but I think it's important to take a step back and appreciate everything that's happened. Yes, I realize that's like the OPPOSITE of what we feel like doing, especially in one of the craziest years ever.
But look – we are all alive and kicking. We were granted time this year to reflect and reevaluate. Sometimes I feel like we all function at 100000000% and forget to take care of ourselves. In this pandemic, we were literally forced to stop. It wasn't easy, but it's a prime example that we can only control the things we can control and we have to just let go of the rest. We had to find a new normal and learn to adapt. Easier said than done, but you know what? We made it to December and if that's not a sign of resilience and strength, then I don't know what is! I am soooo proud of you.
To finish off the year strong, this calendar will be your new best friend. I know everyone thinks January is the most important, but really, December helps set the tone. By the time January comes around, you'll already be in the right mindset. Soooooo, print out this calendar or follow along on my BODY by Blogilates app and let's do this!
Also, if you are thinking about what your new year will look like, make sure to grab a 2021 Fit Planner!
Alright, you ready?!!! LET'S GOOOOOOOOOOOOOOO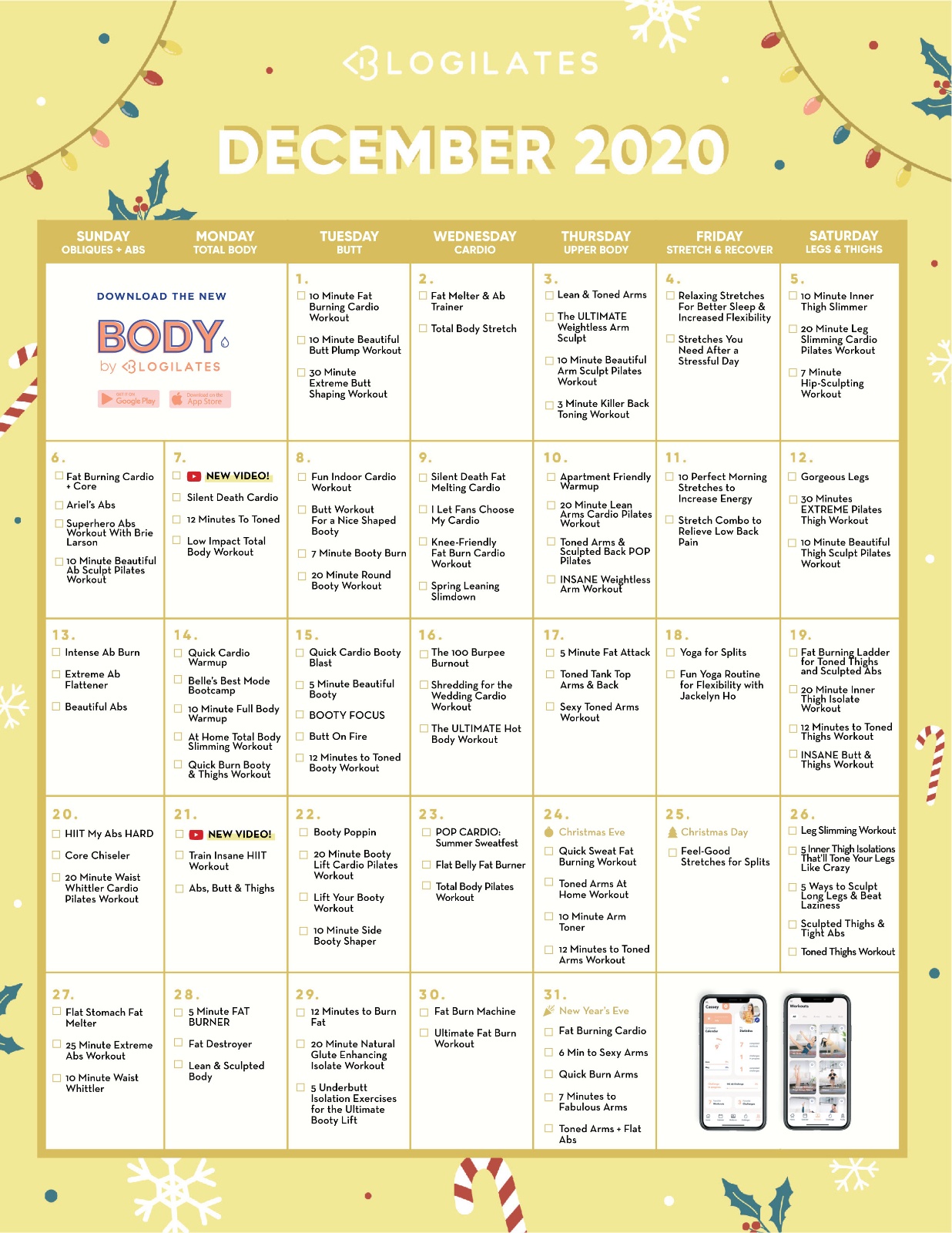 How to Use the December Workout Calendar
Here's an overview of each day of the October Workout Calendar. You know how this works! Each day = different muscle group!
SUNDAY: Abs & Obliques
MONDAY: Total Body
TUESDAY: Butt
WEDNESDAY: Cardio
THURSDAY: Upper Body
FRIDAY: Stretch & Recovery
SATURDAY: Legs & Thighs
Do each video once (unless otherwise stated) and check off as you go! Each day will be around 45 min of exercise. And YES there's 3 new videos this month! Woohoo!!
REMEMBER! You can also download the BODY By Blogilates app (on Apple or Android devices) to have the calendar and workout videos in one place…to make life a little easier 🙂
If you're just getting started or want to ease into working out, my Beginner's Calendar is a great place to start! It's a free 4-week program to get you stronger so that you can join in on the monthlies when you are ready.
What is something you're proud of yourself for accomplishing this year? Let me know in the comments! 🙂