Hey guys!
Oh my gosh – today I woke up feeling SO MUCH BETTER!!!! It feels amazing to have my energy almost fully back. I don't know how I seem to be recovering so quickly from this flu (hopefully I'm not jinxing myself), but I thought I'd be out for another week according to some articles I was reading. Today my temp is down to the 99s! Sam has done such a great job of taking care of me. And I am so so grateful for my health. OMG. I never wanna be sick like this again! Literally was NOT a functioning human!
Okay, I wanna talk about something that has been splashed all over the news in the past 24 hours. Adele's weight loss. It's always funny to me how something as frivolous as a celeb losing some weight can make the news cycle when the Australian brush fires are raging and World War 3 is trending on Twitter.
To get you up to speed, some photos were captured of Adele on vacation and it looks like she's lost a lot of weight:
Adele & Harry Styles were spotted together in Anguilla, Caribe yesterday. 🏝 pic.twitter.com/SbjKCI6W0J

— Pop Crave (@PopCrave) January 4, 2020
Different sources say she's lost anywhere between 20-40 lbs! I'm going to guess it was closer to 40 lbs. And guess what? Emotions on Twitter were all over the place.
The inspired:
"I always thought Adele was gorgeous but WOW!!! Her weight loss is so inspiring."
"can adele help a girl out and drop her weight loss plan pls"
The concerned:
"these adele pics are so scary 🙁 I wish people would stop praising her for her weight loss, there's no way she lost that healthily."
"I'm gonna come out and say it: adele's weight loss is so f*cking worrying"
The upset:
"Nothing worse than a former fattie flaunting her weight loss on a beach while lots of peeps struggle to stay alive in Australia, jeez, timing beeeeatch"
"I am really side eyeing all those congratulating Adele on her weight loss this week without knowing the context, continuing to reinforce that thinness (as opposed to 'health') is the ideal."
Here's my take, as someone who has recently lost 20 lbs myself with a ton of backlash.
Why the extra attention over Adele's weight loss?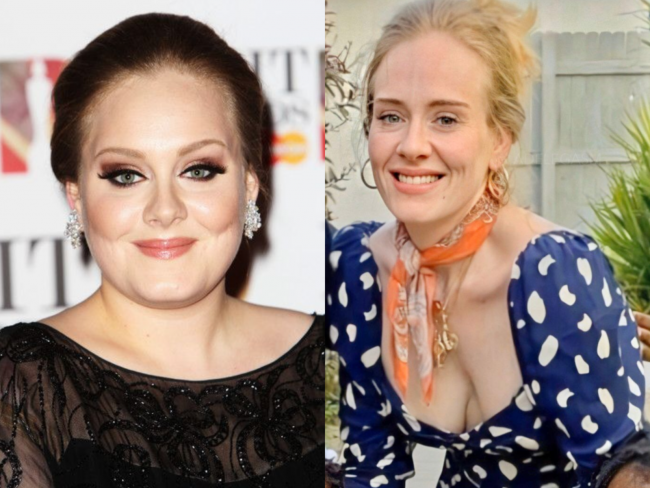 #1. People don't like change
Someone's always going to be upset over change. Whether it's a change in my content, a chance in my interests, or a change in my look, the change doesn't sit well with people who are used to seeing me a certain way and now have to re-associate themselves with this "new Cassey".
#2. People don't like body positive idols losing weight
To me, Adele has always been an amazing singer first. Her weight made her unique in a sea of thin singers, but it didn't make me like her more or less. But I think for a lot of women, it was refreshing to see a non traditional body in the lime light. She became a body positive icon for those struggling to accept their bodies, even if she didn't intend to. So, when Adele suddenly shed weight, she became less relatable to the women looking up to her for body acceptance inspiration, therefore upsetting a very passionate sector of her fan base who loved her for more than her music.
#3. People don't like the media praising weight loss because it reinforces fatphobia
Okay, this I can stand behind. Literally anytime a female celeb loses weight or gains weight, it makes the news cycle. And it's not even super crazy drastic. Like really? I don't see the media doing that for men. I just see the media praising celeb men for getting in tip top shape for their next movie role. The media needs to STOP making women's appearances such a big deal. Like if you're gonna write about Adele's weight loss, then instead of making an article that says "wow look at how skinny Adele looks!" (a gawking type article) maybe add some substance and in there and tell me how she did it so that people can stop assuming she did it in an unhealthy way (an informative type article).
So where do we go from here? We notice Adele's weight loss, and if she's happy, then good! We don't make assumptions. And we wait patiently for her next album:)
Yesterday's (Day 4) Food Log:
So yesterday was THE WORST in terms of my TNF (tumor necrosis factor) production and my sickness in general. Literally EVERYTHING was bitter. Couldn't finish these mangos in my sweet, spicy, salty dip because it tasted so bad.
I asked Sam for another Eggo and it did not disappoint. No idea why the TNF does not affect the Eggo. Is it because it's not a real food? Hahaha.
For lunch, we ordered some vegan summer rolls from a place called Vinh Loi Tofu – a Vegan Vietnamese cafe. This is their ham roll. I asked them to make it with no noodles. Unfortunately, this did not taste good to me – like too sweet and too rancid. But it's my tastebuds being outta whack. I'm sure that normally, it would taste good as it's one of their most popular items.
This is the vegan pho. I ordered it with no noodles and subbed with bean sprouts. The hot soup felt great going down my throat, but again everything just tasted kinda off! I couldn't finish it.
Sam ordered something called the Kevin #1 Soup. Scratching my head trying to figure out what type of Vietnamese soup this is supposed to be, but maybe it's just their own creation! He said it was good but didn't like all the fake meats. I agree. A lot of times Asian fake meats are made from wheat gluten so it makes me extremely bloated.
I drank a lot of barley tea throughout the day! The barley tea did not taste as bitter as plain water for some reason.
Fortunately, grapes were okay. They were kinda weird tasting at the end but I persisted because I needed something to cleanse my mouth of this foul taste!
For dinner, we ordered from Veggie Grill. I got a Beyond Burger with a lettuce wrap and a side of mashed cauli/potatoes. Sam also cut up some garlic for me which was so hard for me to take down because of how big the chunks were! I told him to mince them for me and he said "they are minced!!" And I said "no, that's called slicing into large chunks." 😛
The burger was pretty good. The mash was meh so I didn't finish that. But I still had this terrible flavor in my mouth so I asked Sam if he could get me a very specific type of dessert. A Japanese cheesecake:
Why a Japanese cheesecake? I will admit this is because of Instagram. I've seen people jiggling these Japanese cheesecakes around and I just wanted to try one so bad fro a couple years now. And I thought that since I'm sick, why not try some comfort foods!? So Sam got me one, I tried it, and I am SO SAD to say that I did not like it!!! Didn't even finish my slice.
Sigh.
Well, that's what I ate yesterday! Today I feel much better so you'll see the blog eventually return to it's normal home cookin' ways once I am fully recovered.