Hey guys! 
I talk a lot about body types, and how we're all different and unique and beautiful. BUT sometimes it's hard to accept and love our body's shape. It's even harder not to compare our bodies to others.
Have you ever wondered why we gain weight in different places? Like, why does it seem like my thighs grow the second I bite into a donut?! Or maybe, you see weight gain in your face or belly first. Why is it different for different people?!
I thought that maybe if we could understand how this works, it would be easier to avoid comparison. Are you ready to get a little sciency? Let's go!
This is going straight to my thighs
You know how it is – you eat a cookie (or bread, or pizza) and you almost immediately can't get your jeans on. THE WORST.
Sound familiar? Well, a lot of this just comes down to being a woman. Most women actually have more adipocytes (fat cells) in their hips/butt/thighs. Women just need more fat for bearing children, and this is where our bodies prefer to store it! Kinda cool if you think about it that way!
Hormones have a hand in this too. BTW, doesn't it seem like women blame everything on hormones?! 
Well, it turns out you can blame them for where you gain weight too. An estrogen imbalance can actually cause weight gain, many times in the hips and thighs. Women naturally have more estrogen than men, which is why we're more likely to gain weight in our hips! Men have more testosterone, so their extra weight tends to go to their belly.
Finally, genetics play a role. Your genes might give you a higher chance of having that pear-shape, which means more weight is stored in your lower body.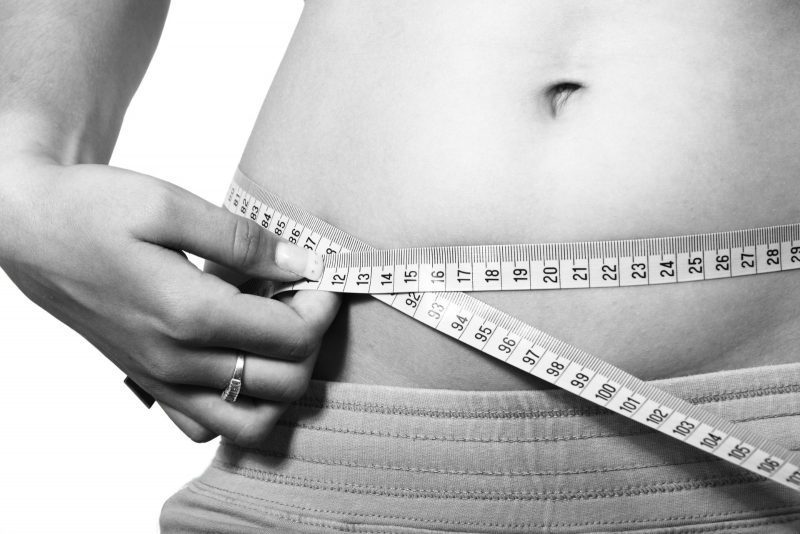 Why do I always gain weight in my belly?!
Some of us are super frustrated with our mid-section. It feels like extra weight shows up there instantly, hiding those abs we work so hard for! 
Genetics might come into play here too, if you're just predisposed to that apple shape. But don't worry! It doesn't mean you're stuck. Things like stress, hormones, sleep and diet all play into gaining weight in your belly too.
When you're stressed or low on sleep, your body releases more cortisol – another hormone. When there's too much cortisol hanging around in your body, you're more likely to gain weight in your belly area.
Remember when I said a lot of estrogen causes weight gain in the hips and thighs? Well, if your estrogen drops and testosterone is higher, you might gain more weight in your stomach. This usually happens during menopause. So basically, where you store fat can change! 
Finally, if you gain weight in your belly area, take a look at your diet. Inflammation is HUGE with belly fat. If you're eating tons of processed foods (looking at you, sugar) or drinking too much alcohol, you might have more inflammation in your body. That can cause more fat storage in your midsection.
Gaining weight in your face… and other areas
I know some people who swear they notice their cheeks are puffy before they even realize they've gained weight. This is probably just because it's more noticeable there! Your jaws and cheekbones usually have very little fat on them, so if you gain weight you might notice it there first. 
Some women notice weight gain in their boobs first! I know what you're thinking – not the worst place to gain weight! But why does this happen? It comes back to estrogen – if this hormone isn't taking fat straight to your hips, it's probably storing it in another "womanly" area – your boobs.
We were born this way…so let's OWN IT!
Genetics do play a role in our shape, body type and where we tend to hold onto weight. They affect your metabolism and where your fat is stored. 
BUT – don't look at genetics as a negative thing, like "UGH I'll never have a flat tummy because I have an apple shape. Guess I'll give up!" NOPE. Stop right there. Instead, look at it this way:
Genetics are fascinating and they make us who we are.
Yeah, you don't have a ton of control over your genes.

But that means you should STOP being so hard on yourself when you don't see a body type in the mirror that just isn't going to happen. 
Here's how I deal – I know I will never have a body like Kendall Jenner's. No matter what I do or what I eat. Those long legs just aren't in my DNA. And that's ok! 
I don't waste my energy wishing I could have that body. Instead, I focus on the parts of my body I'm really proud of. The super strong core I've worked so hard for. The arms I can feel getting stronger as time goes on. Our bodies change constantly and I think that is seriously SO AMAZING.
Finally, genetics might make you more likely to gain weight in certain areas, but that doesn't mean you're stuck. You might have to work harder to keep your "trouble" areas in check, but it's never impossible. There are plenty of factors that are totally in your control like diet, exercise, sleep and stress level. Focus your energy on improving those areas, and transform your body from the inside out! 
What about your body are you most proud of? Tell me in the comments!