Treadmill Shredmill Workout!
WORKOUT DETAILS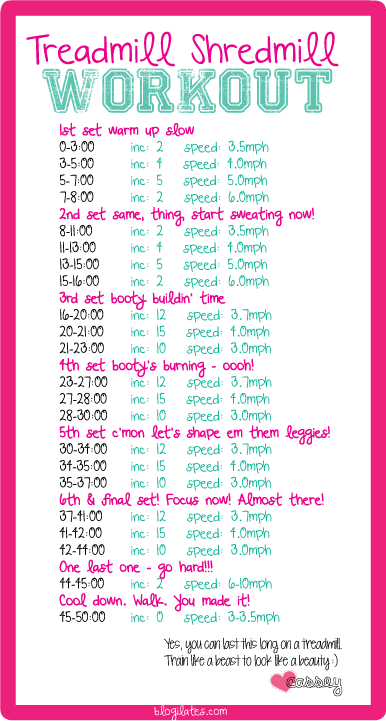 Hey POPsters!
I did the routine above yesterday as my cardio and butt building routine. My bikini coach is still trying to understand my strength and speeds so we gave this a test. It was cool, different, and I was able to last the whole 45 min! Usually when I am on the treadmill, I do intervals so like at 10mph, I'll go 30 sec run, 30 sec hop off for like 20 to 30 min. Sometimes I'll do 9mph 1 min on and 1 min off. I don't think I could last doing those intervals for 45 min but this was manageable. Next time I do this, I am going to increase the speeds a bit more because I know I can handle it. It will be tough, but by the time week 15 rolls around, I want to see progress in my speed and endurance, not just my body.
I encourage you to print this out and give it a try. I will continue posting workouts and new things that I do so you can stay fresh and inspired. What I love about training for bikini comps is that I get to learn. Yeah, hiring a coach is expensive but I know that I can earn so much from the experience and it means so much more when I can share with all of you POPsters too. So in the long haul, it is definitely worth it!
I am also in the process of developing my bikini meal plan. I decided that instead of writing down what I eat every day and then calculating it up every night, I should just plan a week and stick with it. For me, that is easier. And why don't I use an app like MyNetDiary or MyFitnessPal? You know, somehow I feel like writing it down is much quicker and easier for me. So now that I've kept about a week's worth of food journaled meals, I can go and make a meal plan for myself.
What I am thinking is that my meals will stay pretty much the same throughout the next few weeks. I will eventually be cutting out protein shakes and fruits towards the end – but I'll let you know when that happens. Right now, it is okay! Thank goodness. Me likes me fruits. Yesh please.
Yeah and if I ever come up with a new replacement type of meal to the plan, I'll let you know through the blog and instagram. I plan on eating 5-6x a day about 300-340cals ish per meal and drinking about 1.5 gallons a day. I'm already behind on my water today! Eek! Must get on it!
Okie dokie! Excited to take you guys along with me on this journey as we face new workouts and new food concotions together. And remember…this is a bikini competition diet and workout routine, and more importantly MY diet and routine…do not feel like you're a failure or you can't reach your goals if you can't follow along exactly! My body is different than yours so what works for me may not work for you and vice versa. So tweak as you feel necessary and use these posts and plans as inspiration!
Oh and look what I just got in the mail!
My boots!!! They are amazingly comfortable thanks to the platform. I can't wait for my costume to arrive. I also need to make my Sriracha hat because my sriracha dress came yesterday. Anyone have any idea how to make a green sriracha cap?
And have you decided who/what you're gonna be for Halloween yet? Lemme know!!
<3 Cassey