Hey guys!
I'm not sure if it's all the pandemic-ing or because it's the holidays, but I have been in a baking MOOD. I started out with pancakes, cookies, then progressed into mochi cakes, ice creams (I guess that's not baking but whatever), and nowwwww I am onto the breads!
I love making banana bread because whenever I buy bananas, I ALWAYS end up with at least 1 or 2 that get toooooo ripe for my liking. Once bananas start crossing the line towards the brown side, I immediately open them up, cut them into coins, toss them into a freezer bag and freeze 'em! They're so easy to pull out again when I need to make smoothies or of course, banana bread!
This recipe requires more ingredients than the recipes I've made for the last few weeks, but I promise it is totally worth it! Grab your fam and let's get cooooooookin'!
Also, this paleo banana bread recipe is 90 Day Journey friendly!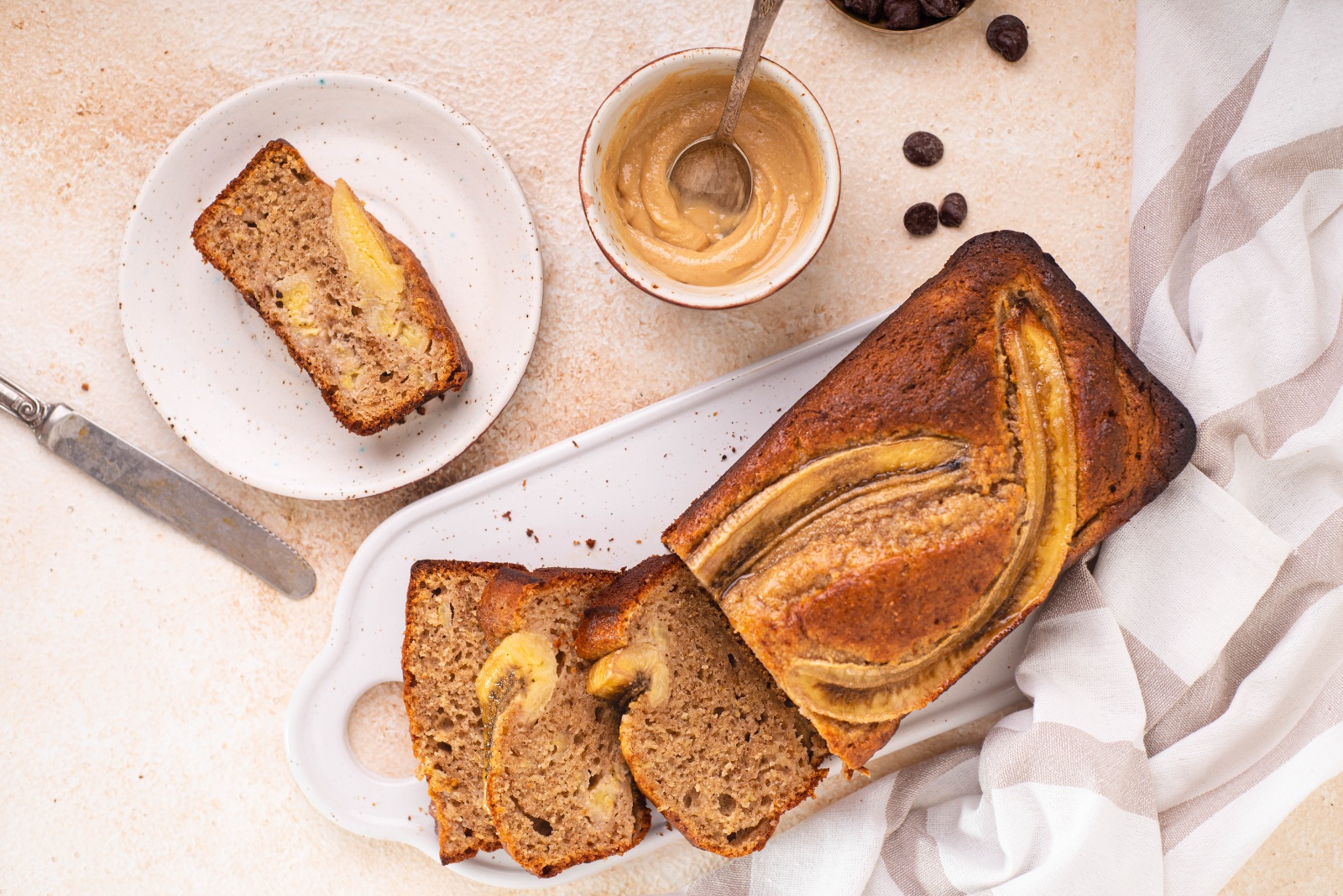 The Perfect Paleo Banana Bread Recipe
INGREDIENTS
3 large, ripe (brown spotted) bananas, mashed
1 large ripe banana, chopped
2 cups almond flour
1/2 cup tapioca flour
1 tsp baking soda
1 tsp ground cinnamon
1/4 tsp salt
2 large eggs
1/4 cup melted coconut oil
1 TBSP monk fruit sugar
1 tsp vanilla extract
Desired peanut butter for spreading – optional!
DIRECTIONS
1. Preheat the oven to 350 degrees F.
2. Grease the inside of a loaf pan with coconut oil.
3. Chop the 1 banana into small chunks (or if you already have them from frozen, make sure you defrost them first).
4. Mash the 3 bananas together and then add in the rest of the ingredients (minus the 1 chopped banana).
5. Then carefully add the banana chunks into the batter.
6. Bake the banana bread for 50-60 minutes.
7. Once cooked through, let cool. Then slice the banana bread into thick chunks and spread with peanut butter!
If you make this paleo banana bread, tag me on Instagram or let me know in the comments! Can't wait for you to try!