Nikki! Transformation!
Hey POPsters!
I had the chance to meet some amazing women this weekend at the NYC Meet Up and I want to share one of their stories with you.
When Nikki came up to me with her fiery red hair, contagious smile, and colorful aura – I immediately felt there was something special about this girl. Then she told me she had lost 50 lbs using my vids.
My jaw dropped and my heart stopped for a moment.
Nikki inspired me so much and I want you to hear her story.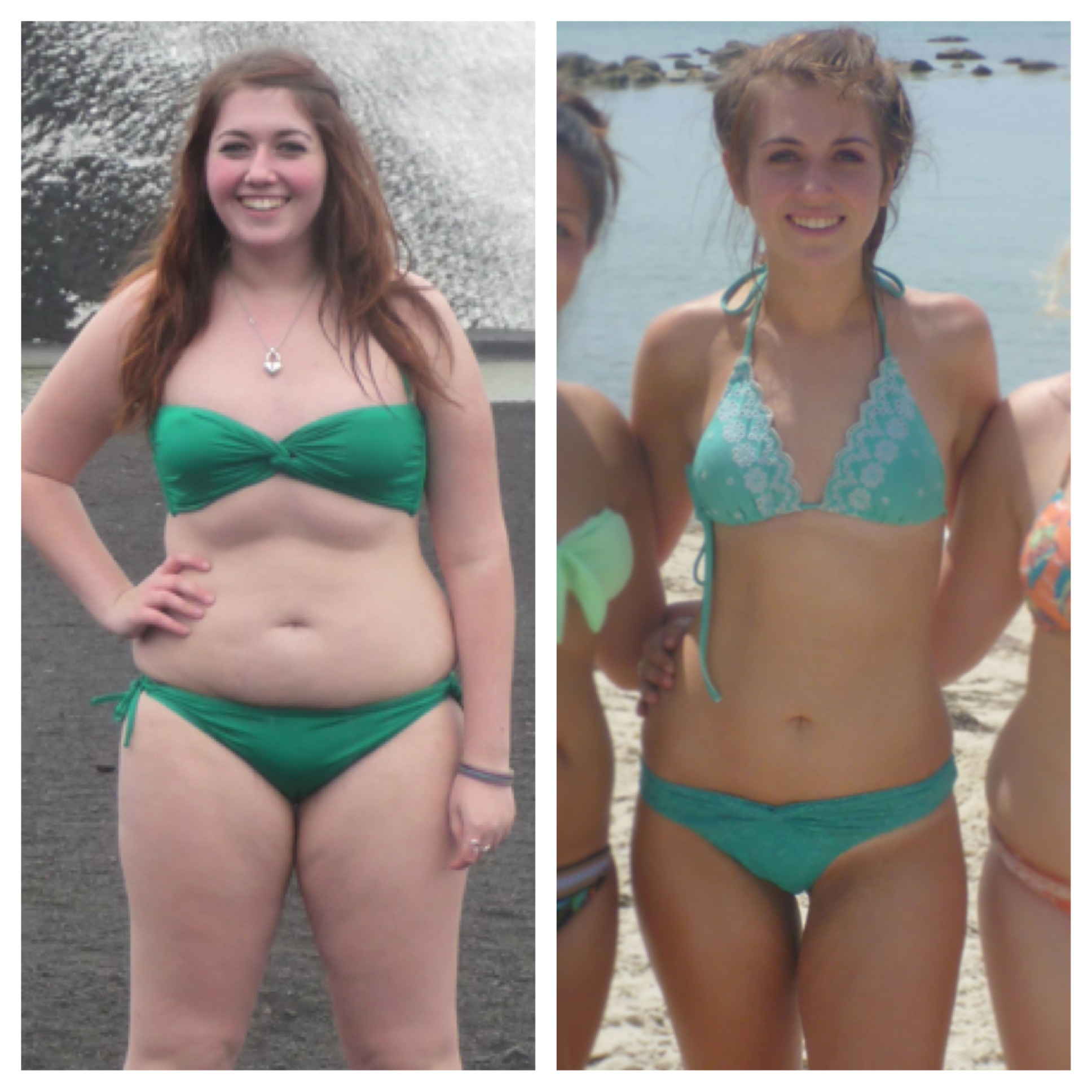 Hey Cassey!
It's Nikki, it was such an honor to meet you at the Blogilates meetup today in NYC! (I was the redhead with the ridiculously colorful shirt, haha.) You asked that I send you my story, and it would be my pleasure 🙂 So here goes!
I had always been on the chubby side growing up, but with the stress and pressure of entering high school my weight ballooned. By mid-junior year, my weight was at its highest and my esteem was at its lowest. I knew I wasn't happy, but I didn't feel I truly had the power to change – I would hit the treadmill for a week, then go to a party and gorge on cake and feel I had wrecked everything! The cycle went on for a few months, until I had a pretty embarrassing experience – I was jean shopping with a bunch of friends, when I realized none of the sizes in the store would fit me! The sales associate had to go in back to get the stretch-pants, and I was absolutely mortified (funny enough, I mentioned this incident to my friends a year later, and none of them even remembered it! Helps to put things in perspective.)
Anyways, I needed something like that to really jolt me into taking getting healthy seriously. I had planned a trip to visit friends in NYC six weeks from then, so I set a short-term goal to be as healthy as possible up until that point and see what would happen. Lemme tell you, that first month was NOT easy – it was tough baking cupcakes with everyone and not eating them, or making time for the gym with my busy school schedule. Around the fifth week, I stumbled upon one of your videos (Inner thigh insanity!) and even in that ten minute clip, your optimism and positivity really inspired me. That night I must have watched a dozen of your videos, and you helped me to see fitness and eating clean as something fun and exciting, not as a painful chore. My mindset had to change before anything physical could change. After those first six weeks, I had already started to see some results, but more importantly I saw a dramatic increase in my mood – it's true when they say you are what you eat, and to this day I still think my favorite thing about eating clean is how energized and happy I feel when I have the right fuel in me! Anyways, I stuck with being healthy (and doing tons of blogilates videos!) throughout the rest of the school year and the summer, and the pounds continued to come off. By the first day of my senior year, I had lost 30 lbs, and I'll never forget that feeling walking into school and literally seeing my classmates' jaws drop. A few of them didn't even recognize me! My weight loss journey was a longer one, and it took the rest of the school year for me to eventually lose another 20 lbs, reaching my weight loss goal of just over 50 lbs in a year and a half 🙂
Fast forward to present-day, I'm just finishing up my freshman year in college…still an avid POPster, and I've gotten the girls on my floor into blogilates too! It's become a nightly routine for us, and it's so much fun to sweat it out with friends.
Getting healthy was BY FAR the best thing I have ever done for myself, my only reget is not doing it sooner. Not only do I have more confidence but my outlook on life completely changed, and I realized anything really is possible if you do it with enough passion! I never thought I would be the one with a success story, and it's still so humbling whenever anyone asks me for advice. Of course I never would have gotten here if not for all your incredible workouts and recipes! I can't thank you enough for all that you do, you are a true inspiration!
I've attached my before and after picture (taken January 2011 and July 2012) and our picture from the meetup today (so cute!)
Once again, thank you!
Much love,
Nikki Joseph
Nikki!!!! Today you are inspiring thousands of women across the world to live healthier lives and work hard for what they want. Not just for fit bodies but for passionate hearts too. Your drive is a force – so strong that you will move people to get up and take control of their lives, just like you did.
Thank you for sharing your story. I love you so much!!!
Guys, if any of you have questions for the beautiful Nikki, you may email her at:
Nikkigrace@nyu.edu
(She was kind enough to share her contact to help all of us POPsters! Thanks Nikki!)
And follow her on Instagram! @nikki_grace_j
Have a fabulous day, take a moment to congratulate Nikki for her hard work, and be INSPIRED to follow your dreams. Make it happen.
[/vc_column_text][/vc_column][/vc_row]