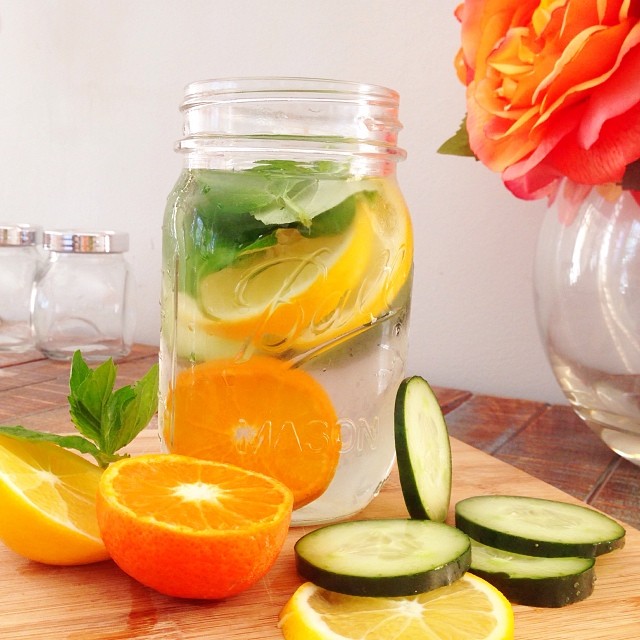 Hey guys!
I'm getting ready for my POP Pilates DVD shoot tomorrow (oops, I didn't tell you?!) and am preparing my body and energy for a long day of working out! This is what I am drinking right now to detox and de-bloat so that I will look my best tomorrow. You should try it too…it's refreshing, yummy, and easy to prepare!
Here's how I prepare my Natural Belly Slimming Detox Water:
– 1-2 Liters water
– 1 cucumber
– 1 lemon
– 1 orange
– 10-15 fresh mint leaves
– handful of ice
Why this combo?
1. Cucumber: contains citrulline which is an amino acid that has been shown to help our liver and kidneys get rid of ammonia which is a by product of the proteins our bodies burn for energy.
2. Water: helps flush toxins and waste through our system while keeping us hydrated.
3. Lemon: stimulates the digestive track so it's helpful if you have constipation, heartburn, or gas.
4. Mint: helps you digest effectively because it improves the flow of bile from the liver to the gallbladder to the small intestine to break down dietary fats. It also helps relax cramped up stomach muscles.
5. Orange: contains flavonoids in the peel and juice that stimulate the immune system and protects against a fungi/pests while helping to reduce cholesterol levels.
By the way, when I say detox, I'm still eating! Clean and light so I can feel energetic and look awake tomorrow! I'm avoiding anything too salty because that will retain water and make me look puffy. You can prepare the water the night before so that when you wake up, it will be flavorful. I also don't leave the fruits in the water for longer than 24 hrs. By that time all the nutrients will be in the water anyway. PLUS you want to prevent any sort of bacteria or mold growth.
Hope you guys give it a try. And you can drink this all the time – not just for photoshoots or special occasions. It makes water drinking a lot more tasty actually!
And!! New video for you!
It's my Thigh Trimmer and Butt Lifter workout featuring the Blogilates Mini Bands! This one SERIOUSLY started burning so quick – I LOVED IT! That's what happens when you use resistance. If you guys don't have the bands yet, don't worry! You can still do the workouts without it…until you potentially win yo'self a Mini Band!! I'm doing a GIVEAWAY!!!!!!!
MINI BAND GIVEAWAY DIRECTIONS:
1. Wear a headband, any headband.
2. Take a selfie.
3. Upload the pic to twitter, instagram, and or facebook, tag me @blogilates and then hashtag it #minibandselfie.
That's it!! I'll pick 3 Blogilates Mini Band Winners next Monday Feb 10, 2014!! This contest is open to POPsters worldwide, any age, and you can enter as many times as you please. Good luck!! You can check the bands out by clicking here.
#FEBUREADY CALENDAR
I hope you guys are enjoying your #FEBUREADY Workout Calendar so far! I really like the combos I did this month…full of "Total Body Tortures", HIITs for ultimate fat burn, and amazing muscle toning sequences. New POPsters, you can get the password for the calendar by signing up for my free newsletter. And if you start it and feel it is too hard, no worries, try the Beginner's Calendar to build strength!
#FEBUREADY PROJECT: Make an Inspiration Board – due Feb 7th!
I've been SOOOOO loving your inspiration boards so far! They are colorful, motivating, and beautiful! This month I wanted to do something different and have us all do one project together. The Inspiration Board or "vision board" is a great way to put a focus on what you want most so that you can achieve it. The point is to keep your goals close so that you can envision seeing them…and then eventually you WILL make them happen!
Project directions:
1. Just collect pics and quotes of things that inspire you to live your best life.
2. Upload it to facebook, instagram, or twitter and tag me @blogilates and use the hashtag #blogilatesboard.
3. The project is due on Feb 7th. On that day you must also comment on AT LEAST one POPster's board. This will help you make friends and help the whole Blogilates Community get closer!
Alrighty guys! Super love ya! Gonna go choreograph some moves for the DVD shoot tomorrow. Will instagram from the set in the morning…it's gonna be cold. I am scurred. Really scurred.
<3 Cassey