Welcome to my Lululemon shoe review where we will be reviewing the Chargefeel Low and the Blissfeel!
I've been testing 2 pairs of Lululemon shoes for hundreds of miles. Spoiler alert: I loved one, and the other… not so much.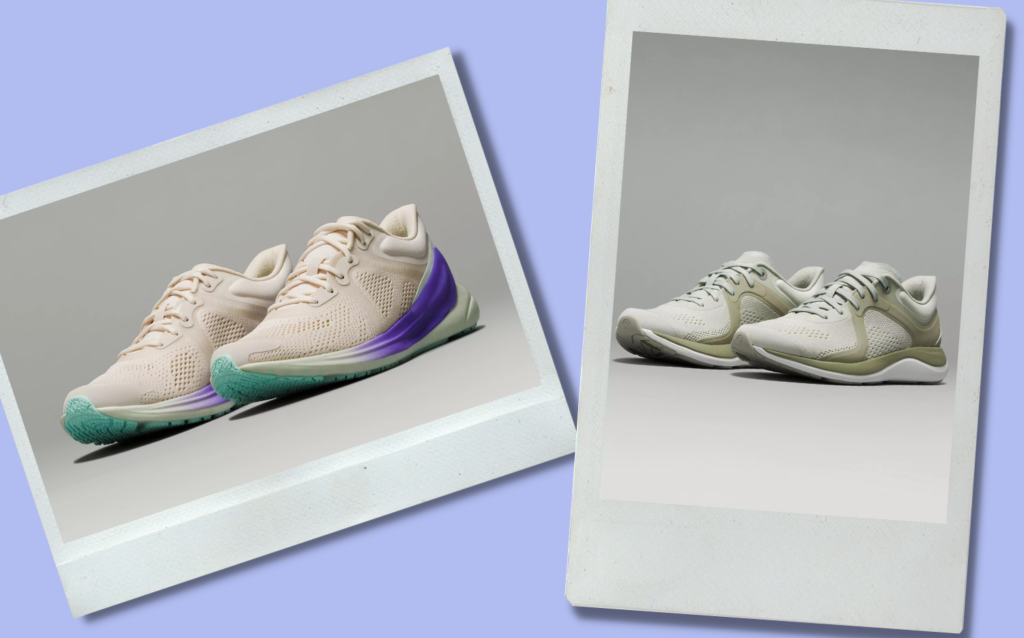 A journey to find THE running shoe
I was 8 years old when I lined up at my first starting line, ready to race the Catalina Marathon's Kid's Mile (my mom was running the marathon but never mind that, this is about ME).
Strapped on my feet? My beloved red, white and sparkle Skechers platform sneakers, complete with a rhinestone heart shoe charm – the epitome of 2000's style. Were they the most practical choice? No, but in the name of fashion they became my very first pair of running shoes.
As a lifelong runner, I longed for a stylish pair of running shoes like that first pair. Womens running shoes have always been very either or for me. They are either absolutely boring looking or very neon or have neon POPS of color – not my style.
My heart aches everytime I shell out cash to purchase another pair of ugly, but functional and supportive womens running shoes. I completed my first marathon this past summer in a great shoe… that was just not a cute shoe. I'd be lying if I said the lack of fusion between fashion and function doesn't bother me. I am in a creative field – the aesthetics, they get to me.
I *gasped* when I saw Lululemon's running shoe marketing
Was this what I had been waiting for? Lulu shoes?
I was first intrigued by the beautiful tones and sleek silhouette. Could this shoe be the answer to combining fashion and function? Would they be as good as my highly tested pair of go-to running shoes?
It's hard to make that leap and try a different shoe when running shoes come at a high price point, especially after 20 years of caring for legs that have logged many miles. But the pull was too strong, they had to be put to the test.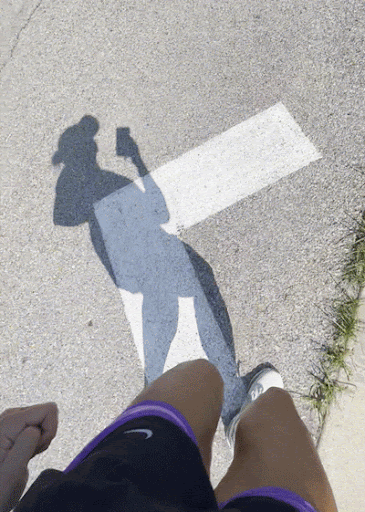 First up, The Lululemon Chargefeel Low
Designed to be an everyday running shoe and training shoe, the Chargefeel "delivers the bounce you need for running and the agile support you need for training."
Pros: Love the available colorways
How cute is that sage green colorway? I love how many neutral and cute tones these shoes were offered in! Easy to wear anywhere.
Cons: Many
Lacked support, lots of ground feel, little stride return, slippery laces
Half a mile into my first run, I turned to my husband and said "mmmm I don't like these." I was determined to give them an adequate chance, so I continued testing.
Running long distances in these felt like running in a shoe that was at the end of its life cycle. Every step was difficult, I felt little to no bounce in each step. When you're on a long run, it's amazing to feel your shoe working with you and these guys, they were working against me. When your legs are absolutely fried and you have half a mile left – that little bounce return makes all the difference.
These left me with tight calves, aching arches and heel pain that lasted through the day and into the next run. These are feelings I have when I've logged 300 miles in a shoe – feelings I do not expect in a brand new shoe. I even tried adding in some extra arch support which helped a bit, but not enough – the pain and lack of bounce prevailed.
I could not wait to reach that 100 mile testing period I had allotted myself so I could change out of these shoes. It actually took quite a while to make it through 100 miles because I kept switching back to my regular shoes in an attempt to spare my calves.
Where is that bounce, where's the stride return, where's the padding 👀 Chargefeel?!
Chargefeel Low takeaways
I would consider the Chargefeel for something less high impact than running looong distances. I never took these shoes on a run longer than 6 miles because I was worried about how my arches and calves would suffer.
If you are considering switching from your regular running shoe to these, don't. They are very cute though so I am excited to have them – I will just be running errands in them, not miles 🙂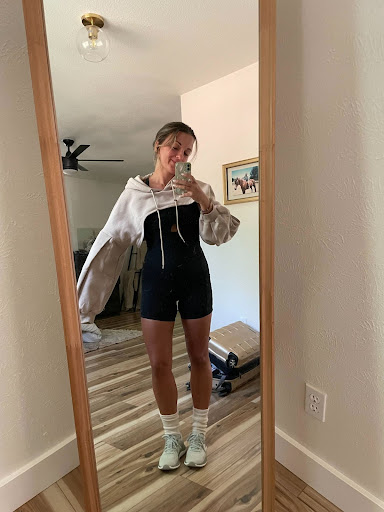 The Lululemon Blissfeel
After running in the Chargefeel, I was feeling quite skeptical about trying another Lululemon shoe. Lulu describes the Blissfeel as the everyday running shoe, specifically designed with a women's foot in mind.
Pros: Highly supportive, so cute
These have exceeded my every expectation. THESE. These were what I was hoping for in the Chargefeel.
Functionality wise, the Blissfeel an excellent shoe. They are supportive, cushiony, and SO CUTE. My legs feel that bounce and return I felt the other lacked. My calves were not overly tight from lack of support. My feet felt enveloped in a cushion-y cute little package. Everytime I put them on – I was not only excited for another run in them, but was just so thrilled about how cute they are.
Over the testing period, I began to trust Lululemon shoes again. I could feel the shoes working with me, supporting every step, giving back that subtle bounce return I love so much. They carried me through many, many miles. I soared past my 100 mile text mark and am currently approaching the 300 mile mark.
Aesthetically – they are so cute! Definitely stylish, easy to wear on a run but also easy to wear in everyday life. I do wish my pair were a bit more subtle – the bright purple is a touch too much for me.
Cons: Not as many muted colors, slippery laces
The Blissfeels are still so aesthetic compared to the well known styles I've grown up with – but quite a few colorways are those neons I am so used to seeing. There are definitely some good more muted options though.
Something quite interesting but not a major red flag for me – both styles of Lulu shoes had really slippery laces. Just double knot them tight, and you're FINE.
*This post may contain referral links for products we love, and all opinions are our own. Blogilates.com earns a small commission from these links, at no additional cost to you.
Blissfeel takeaways
I smiled every time I looked down at them. My heart felt full knowing that there on my feet was what I had been looking for since that Catalina Kid's Marathon.My quest for the perfect running shoe has come to an end ❤️
I actually already have my next pair of Blissfeels waiting in the rafters for their turn to hit the pavement. The next pair of shoes to carry me that 26.2 will undoubtedly be Lululemon's Blissfeels.
If you are also looking for the perfect fusion of fashion and function in a women's running shoe – THESE ARE WORTH IT.