It's My 2-Year Wedding Anniversary!
Hey guys!
So tomorrow is my 2-year wedding anniversary and I CANNOT BELIEVE IT! I keep getting reminders from my phone of this day two years ago and I just get filled with soooo much excitement remembering how amazing the entire week was. People always told me that their wedding day was the best day of their life and I never believed them… but you guys. It is so true.
Marrying Sam, the love of my life, and having all of my closest family and friends there with us was literally THE. BEST. I wish I could do it all over again!!!
So how has marriage been?
I know it's different for everyone, but here are my honest thoughts. I'm so lucky to spend all my days with Sam. As a couple, we've gotten stronger over the past 2 years. We've learned how to better complement each other's strengths, and be forgiving of each other's weaknesses – doing what we can to create more joy and experience deeper love in our relationship. Getting Sir George, buying our dream house, and getting married all in one year (2018) was a lot and I think we're finally settling into it all!
With our businesses being so demanding, it has been hard to plan our next phase of life – but we've started at least talking about it! I'll for sure update you guys on what will happen next – but for now, let's revisit this wedding because I CANNOT and WILL NEVER get over it!!! I'm always thankful that Sam wasn't opposed to me planning the ultimate dream wedding. I love you!!!
Now that my sister's wedding is only 7 months away, I'm in a renewed phase of excitement. It's been sooooo fun looking at dresses and talking about decorations again!
In honor of our anniversary, I felt like compiling a lookbook so you could get a feel for all of the memories! If you wanted inspo for your wedding, I hope this helps!
P.S. If you're planning your wedding right now, I wanna hear all about it! Drop a comment below and tell me what it's been like <3
The morning of! It was sooooo hectic!!! I was supposed to practice my first dance with Sam for the last time that morning and somehow there was NO TIME.
The most luxurious bathroom I have ever gotten ready in. Definitely felt like a princess.
No bridesmaids! Just got ready with my mom, my sister (Maid of Honor), and Sam's mom! SOMEHOW it took all morning, through lunch time, and right before the guests started arriving for us to finish hair, makeup, and dresses! I don't understand how it took so long, yet felt so fast!
The men. They took maybe 20 min to get ready!!????
Putting on my Galia Lahav for the ceremony…the biggest dress I have EVER worn.
I loved my shoes! But now that I know what I know…NEVER wear rhinestone shoes with a tulle dress. IT WILL RIP THE TULLE when you walk.
I custom designed the mesh on the sides and the V down the center to make this gown uniquely mine.
UGH. I cannot get over this train!!! And will never!!!
And a veil as long as the train…at this point Sam had not seen this dress yet and my heart was pounding hard. Just 10 more minutes or so till the guests would be arriving.
Backtracking a bit. Here was the photoshoot we did with my second dress the day before the wedding! Also a Galia Lahav with custom off the shoulder sleeves.
I lovedddd this navy blue tuxedo on Sam.
See that big flower in the middle? It's called a Protea. And I embodied everything "Enchanted Oasis" was supposed to be!
I had so much fun planning our wedding. Besides getting married to Sam and spending the funnest night of our lives with our friends and family, seeing my wedding vision come together was THE BESTTTTTT.
Wanted a garden in the desert! So these florals lining the aisle was a MUST.
Side note: All of the flowers from the wedding were gifted to a local senior center the day after!
Sir George the ring bearer, coming down the aisle in Porsche style!
I didn't expect to be so overwhelmed with emotion here, but my heart was racing and I was nearly in tears before I stepped down the aisle.
Sweetheart chairs decorated with Enchanted Oasis florals in our custom built light tent.
Really wanted the napkins folded into hearts. Literally don't think anyone remembers the napkins and it was SUCH an ordeal, but who cares…AT LEAST I REMEMBER!
The carousel. It was brought in horse by horse because the semi truck couldn't fit through the side yard of the estate. ALSO such an ordeal, but I had the best wedding planner ever, and she made my vision come through – NO MATTER WHAT. It was MAGIC.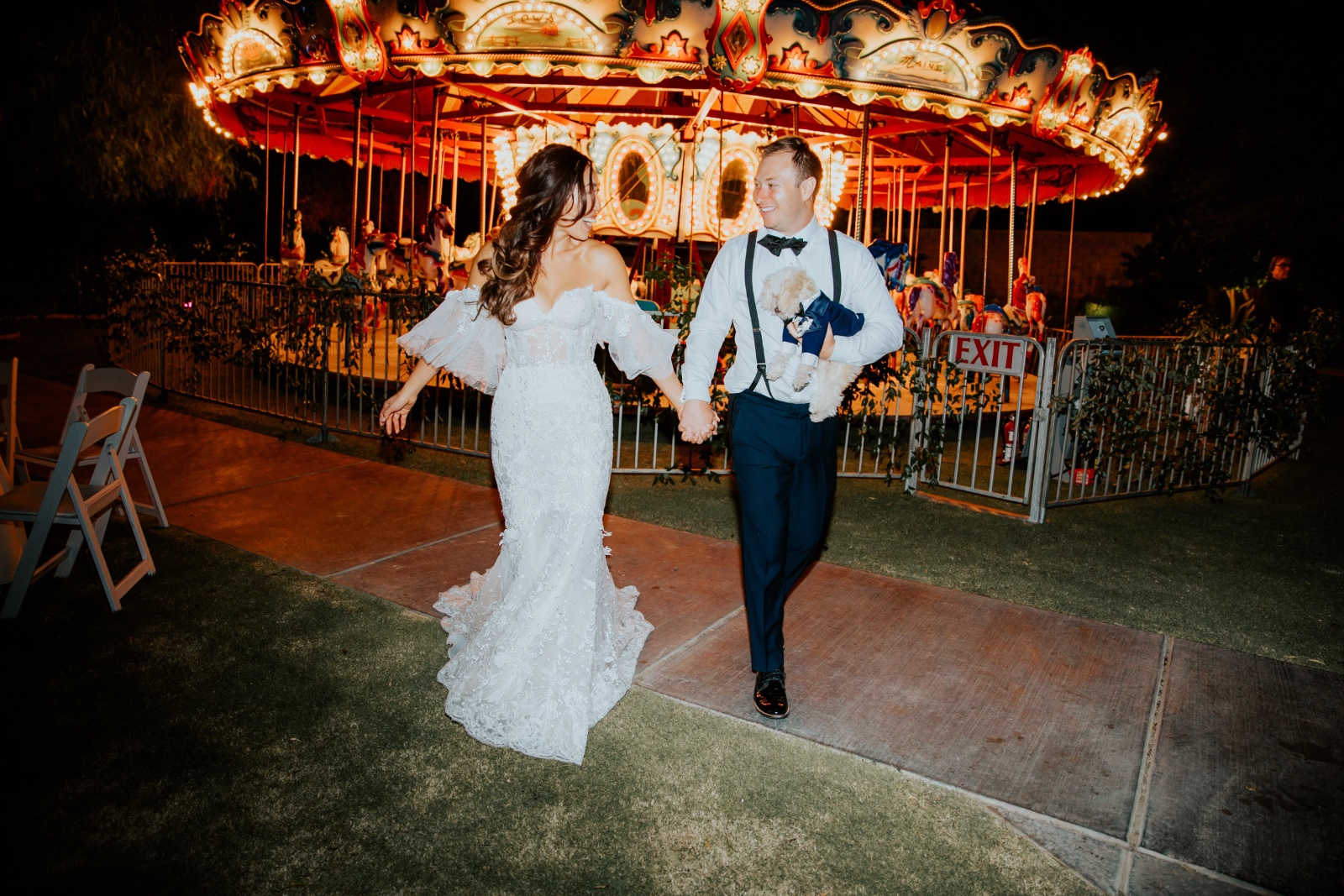 The energy that night was insane. Insanely full of love, positivity, and light. It really was the best night of our lives.
Indeed that is a hanging cake!
Our favorite flavor inside…blue velvet!!!
Happy 2 year Anniversary Sam. To many many more happy years together!!!