I went to Taylor Swift's House. No really. I did.
Hey guys!
Umm something happened this weekend that I never ever in my life EVER thought would ever happen.
Guys. There's only 2 music celebrities in the world that I have ever really impacted my life and helped me either achieve something great or helped me make it through hard relationships.
I never had the chance to meet the first one before he passed. Michael Jackson was a huge influence in my high school years, and this was way after the peak in his career. I actually "discovered" him after watching a 20/20 episode that was doing an investigation on his charges. I know. Super weird. It wasn't supposed to positively promote him AT ALL…but I became so obsessively intrigued with his dance skills and his voice that I became the biggest MJ fangirl. I taught myself how to moonwalk. I dressed up as MJ for Halloween. Yeah. It was like THAT 🙂
The second person though, is Taylor Swift.
Well guys. Guess what. Ok you can't. I'll just tell you. THIS happened.
Yup. That's my sister Jackelyn, Taylor Swift and me standing in her living room at her LA house.
WHAT!!???
Wait.
WHHHHHHHAAAAAATTTTT!?
Yea. That's basically what I said when her publicist Tree called me and asked me to attend a secret event on Saturday where they would have to take away my phone, where I would have to sign contracts, and where I would have to drive to an unknown location up in the hills where there'd be no phone service. Then she proceeded to basically tell me nothing about what was going happen, but that it had something to do with Taylor Swift and that it would be amazing. She told me that I MUST NOT say anything.
Honestly guys, I don't think I would have done ANY of that for anyone else (well, maybe except my family and the president or something) but I took a chance and said okay.
I also asked if  my sister Jackelyn could come. I knew that the chances were slim (wasn't sure how private or secret this event was) but I asked anyway. I mean, the worst they could say is no. Jackelyn and I have been fans of Taylor since "Teardrops on my guitar" and she was the one who introduced me to Taylor's songs.
Friday afternoon when I got the email that said "Yes, she can come," I immediately flew my sister down from San Francisco to experience this craziness with me.
What ended up happening was beyond incredible. Can I share my story with you? Ok here we go 🙂
First I came to a house tucked somewhere in the hills of LA. I knocked on the door and out came a gorgeous, friendly lady who also happened to be Taylor's publicist, Tree – the one I talked to on the phone. She invited me inside. Much to my surprise, when I got in I also saw my friend Meredith! She's Stilababe09 for those of you who may be familiar with her beauty/fashion videos on YouTube. We were both like…ummm what!?? Another man who writes for major publications like Entertainment Weekly, Rolling Stone etc. was also there with his young daughter. Together all of us sat in major confusion. Next, Tree asked for all of our phones. We handed them to her. Then we all walked out of the house as the sun started to set. We probably took less than 200 steps and arrived at a metal gate. When the black doors opened, there were security and cameras inside filming us walking in. We all got wanded down to make sure we weren't carrying anything crazy. Once we passed that, they gave is a wrist band and we kept walking deeper and deeper into the property.
It looked like a country house in the hills of LA. I looked at Tree and asked her where we were. She said, "We're at Taylor Swift's house," with a smirk.
Meredith, Jackelyn, and I were DYING.
We walked into her backyard and saw the cutest outdoor furniture ever. Wooden teal chairs and tables, a pink and mint rickshaw, roses, peonies, and sunflowers in vintage vases decorating the patio. It was everything you would think Taylor Swift's backyard would look like.
As our little group was walking around exploring, we heard the back door open. Wavy blonde hair and crimson lips, out came Taylor Swift looking PERFECTLY like Taylor Swift.
I might have just died for a second. My sister and I started tearing up. (So weird. This has never happened before for people we don't know.) Taylor walked up to me and said, "Hi! I'm Taylor," and we hugged. I still couldn't process what was happening and probably said "OMG" waaaaay too many times.
Taylor said that she found my videos and Meredith's videos on YouTube and started watching them a while ago! We both couldn't even handle it. Like what, really?! So that's why she wanted to invite us to her house for a secret listening session to hear for the first time, all the songs from "1989" – her album that will drop in October.
Then she said she needed to get ready so she left briefly. At this time about 30-40 other girls came through the gates looking super confused too. Then we were all lead into the house where we sat in Taylor's actual living room. I spotted her MTV music award, her Grammy, her American Music Award etc. It was actually really cool to see that her awards placed right next to normal people things like candles, books, and picture frames. Her house was very quaint and pretty. It wasn't massive and it embodied everything Anthropologie.
Next, I heard some of the girls start to shriek. Then the whole living room went bozonkers…to the moon!! Taylor walked in.
It was so precious to see these girls crying, not being able to breathe, and basically LOSING IT because they never ever thought this moment could ever happen. And it was HAPPENING right here, right now, in Taylor's house. All of these girls and a few boys were chosen from twitter for their support of Taylor. They were some of her HUGEST fans.
After everyone pulled it together (it took a good 5-10 min), Taylor said she wanted to play her whole album for us and explain one by one what each song was about and what/who it was inspired by. To me, this was awesome because I've always wondered…who really were the boys she was pining over? What did she really mean by this lyric? I respect Taylor a lot because she actually writes her own music unlike some other pop stars and she started her career at 14. It is incredible to listen to her thought processes and her creative mind-flow.
1989 is an all pop album. No country songs. I was a little afraid because I love the country Taylor. Her transformation from country pop to pure pop is a bold move, but let me tell you – girl pulled it off and she pulled it off well!
Taylor sings about everything from moving to new places to her portrayal in the media to certain famous ex boyfriends of course.
There was one song and story that stood out to me in particular. That evening, she told us that at one point she had really looked up to this older pop star and tried to be her friend. The other girl would be nice to her when the cameras were on but once they turned off, she'd insult her immediately. Taylor said that she didn't know whether to laugh or fight back because the other girl just made her feel so small, afraid, and unsure of herself. Eventually the girl did something that sabotaged their relationship for good, and it wasn't even over a boy. It was business related. So Taylor cut all ties. This song is a way to stand up to her.
The reason why I am telling you this is not because I want to share gossip with you, but rather because I had a similar experience when I first moved here to LA. I vividly remember other fitness people wanting to bring me down. Honestly, I don't even understand why someone would do this to anyone else. I was nice to everyone! Not because I'm trying to be, I just am. Sometimes I'm too nice. They tried to steer me in the wrong direction ON PURPOSE, they accused me of something I didn't do (more than once), and then made me feel like the tiniest, dumbest person ever when I knew I did nothing wrong.
It was horrible. I distanced myself away from them and unfollowed them on all accounts, making sure that I could keep me real life and my online life as positive and happy as possible. You know how I tell you to delete negative people from your life? I tell you that because that is exactly what I did to heal from that terrible experience.
During the secret listening session, Taylor brought out baked scones and chocolate chip cookies for us all. Afterwards we all took polaroids with her from a real polaroid cam from literally 1989. Her are some pics!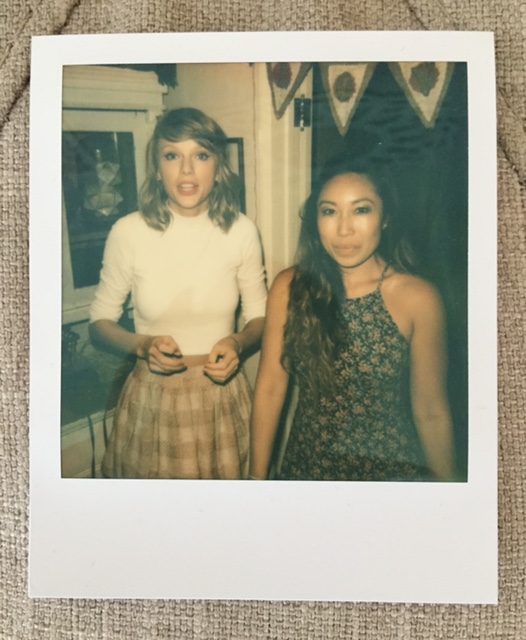 I asked the photographer to take a crazy pic of us on the count of 3. But she snapped on 1.
We tried again. MUCH BETTER!
Her parents were there too! There's me, Meredith, Jackelyn, and her mom!
My sis and I will never forget this experience!!
Even got a keychain to remember it forever. We def feel special 🙂
So basically that was my Taylor Swift secret listening session experience! I feel so lucky and thrilled to have been chosen to come. So in honor of it, here is a Taylor Swift workout I did 2 years ago. Enjoy!
Hope you're having a fabulous Monday! Sorry your new video is delayed. I am having major editing issues right now. So will let you know when its up. I think you're going to love it! It's called "Train Insane HIIT"! And you will indeed, train insane 🙂
<3 Cassey