AHHHHHH!!!!! I am officially married to my best friend, the love of my life, and my partner in everything…Sam Livits! After 10 years of being together, we walked down the aisle, said our vows in front of all of ur friends and family and had THE MOST MAGICAL day of our lives! The ceremony was so emotional for both Sam and I. I don't know what it is about weddings, but it heightens all the feels. I was laugh-crying (but like a different kind than I had ever experienced) as I was walking down the aisle. I am so grateful to have found my soul mate and am soooooo happy that we got to spend our day with the people we care about most.
I am currently in a state of bliss but also majorly crashing from the high. No one tells you about these post wedding blues. Ugh. I never wanted it to end!! So that's why I NEED to do a lot of blogging – to keep the happy feelings alive!
So, this is part 1 of the Enchanted Oasis Wedding series! In this post, I will tell you everything I did to plan the wedding of my dreams! And let me warn you…I let my creativity and extra-ness run wild! Ready!!???
#1. FINDING THE DRESS
As soon as I got engaged in Kauai, my sister IMMEDIATELY booked some bridal gown try on appointments in LA! OMG I cannot tell you how fun this was. I truly felt like all my princess dreams were coming true. Like, can I just do this for fun all the time as a hobby!!???
I decided to keep my "audience" small for this. Low drama. Not too many opinions. So the only people in attendance were me, my sis, and the person helping me put on the dresses! The mission? To find 2 gowns. An ultra grand one for the ceremony and a whimsical, romantical one for the reception!
The designer we ended up choosing was Galia Lahav! Walking in to her store was like walking into a haute couture dream. Here are some of the stand outs I tried on!
This is the Gia. I was so close to getting this one! The corset fit so well and the skirt was just so flowy.
Okay, I just had to try this on. A bridal cape!!??? Why not!!!
As soon as I put the Lidya, I knew this had to be my reception dress. I loved the little polka dots and how the dress hugged my silhouette. It was the definition of romantic. I ended up customizing the dress by adding fluttery drop sleeves to soften the look.
The train on the Ms. Elle was DRAMA DRAMA DRAMA and I LOVED IT. I mean, when else in life can you really drag a huge train behind you?!!??  I loved how the exquisite little beaded details on the dress elegantly complemented the low back before it waterfalled out into a longest tulle train I have ever seen!!! This was TRULY GRAND.
To customize the gown, I ended up changing the color to blush, I added in a dramatic low V detail to the sweetheart in the front, changed the low back to a V shape as well (to help make my booty stand out!), and then added fierce side cut outs to accentuate my waist.
Then I waited several months to even get a first look at my gowns! They were all hand crafted in Tel Aviv!
#2. FINDING THE VENUE
This was really hard. We spent several weekends driving all over California trying to find the most magical, whimsical venue that "hadn't been done" before. I basically wanted a modern day castle on the West Coast. So, my sister and I looked into renting out private estates.
The problem? Well, at first, a lot of the listings we ran into were fake! Some websites collected pictures of gorgeous venues in Italy and France and then put it in a gallery to trick brides! Then when contacted, they told me to pay a fee to see the venue. Like…what!!??
So after running into a bunch of those scammers, scouting numerous hotels, countless wineries, and some beautiful homes – nothing felt right.
I was exhausted from looking, so I took a break for a couple months.
Then one night…I came across a random real estate listing that ended up leading me to the PERFECT venue: The Solomon Estate in Rancho Mirage, CA.
When Sam and I first walked onto the property late January 2018, we fell in love!! It oozed glamour, class, and Gatsby vibes all with a west coast feel.
The best part? We found our dream wedding planner. When I first met Laurie Lund of The Events Department (she's the planner for this specific estate), I was drawn to her positivity and her energy. She's such a happy person!
I told her everything I wanted to do (which included miniature horses and other crazy wild ideas at the time), and she was ALL IN. To be completely honest, I do not think our dream Enchanted Oasis wedding would have happened as seamlessly as it did without Laurie. Not only is she an experienced veteran in the wedding planning business, she's so giddy and happy about all the details as if it were her own wedding! The woman is amazing and truly made my journey to wedding day as fun as can be.
(Oh yeah, and just for fun, there's a "mini" lake in the front :P)
Finding the venue is what set the tone for the wedding theme. Three themes that really stuck out to me were "Enchanted Forest", "Boho Desert" and "Tropical Jungle". I cannot tell you how many hours I spent on Pinterest (probably thousands) trying to figure out what I wanted. When I couldn't find a theme that was exactly what I was going for, I decided to mesh them all together to create our own: "Enchanted Oasis".
#3. THE INVITATIONS
Now that we had our venue, and we knew what the theme was going to be, the next step was to create the invitations! I wanted to set the tone for Enchanted Oasis RIGHT AWAY so that our guests could start dreaming up what was waiting for them!
I knew from the beginning of time that we HAD TO  have acrylic invitations! (Thanks Pinterest.) I also wanted it shipped in a classy box so that the whole opening process would feel luxurious.
The logo you see of "Sam & Cassey" came to be from a bunch of doodles I was making back in February. I had an issue with "Sam" looking like "Jam". It took a while to figure it out!
I am fortunate to have learned graphic design and how to use Adobe Illustrator back when I was an intern at a fashion design company in college. Those are the same skills I use today at work! And the same skills I used to draw the custom monstera leaf cut out for the acrylic. (The leaf was my sister's idea by the way.) There wasn't anything like that on the market (boy don't I just make wedding planning so easy on myself…LOL) so I had to find someone to custom laser cut the acrylic leaf shapes for me!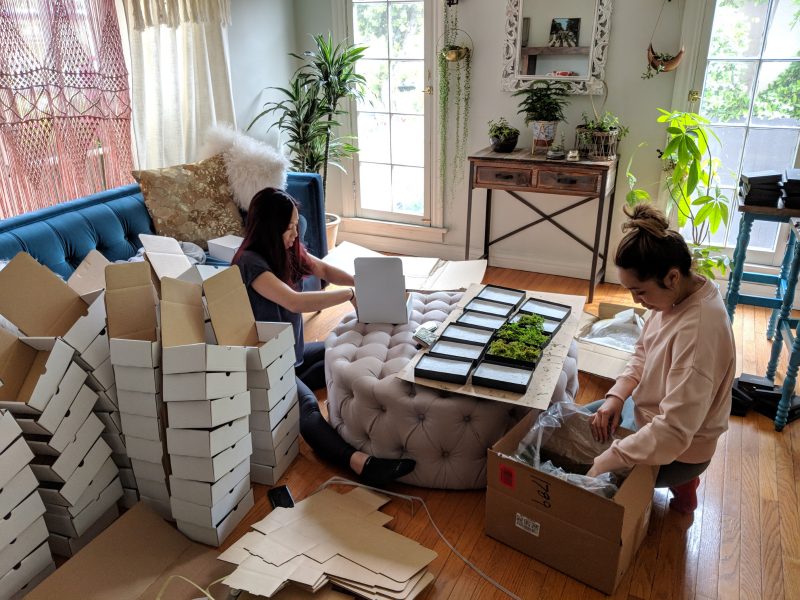 Then I ordered supplies, DIY'd hard, and made an assembly line at home. My sister became a pro at folding cardboard boxes and I fine tuned the art of stuffing small boxes with live moss. It was tedious labor.
Though oftentimes unsure of why I have to make things so complicated for myself, Sam understands my hunger to embrace art and design. He's always so supportive! I am proud to say that Sam and Jackelyn's boyfriend Nick helped on the assembly line too!
#4. THE FOOD
Sam and I are foodies. We love eating. A lot. In fact when we first met, we both gained so much weight because we explored restaurants and even fast food joints as a hobby. Hahaha.
Since Sam and I are of two totally different cultures, we wanted to unite our guests through food. So, we worked with Fusion Flair to create a totally authentic menu that would represent both the Chinese and Vietnamese flavors for my side while also paying tribute to the Israeli and Jewish side for Sam. Instead of doing a sit down plated dinner, we got everyone up and tasting "cultural tapas"!
Ah yes, the tacos. No they are not Asian or Mediterranean, but they were there to represent our life in LA okay!!??! And we didn't end up going with the tomato soup and grilled cheese (though it was super good) and opted for a vegan gazpacho instead to be more veggie friendly!
The tasting was SO MUCH FUN and we were SO FULL. Chef Heng did an incredible job with the food. Everything was extremely flavorful and delicious.
#5. THE CAKE
The one cake that Sam and I both equally love is Blue Velvet Cake. Have you ever tried? If not, YOU MUST. We first discovered it at MILK in LA when we first moved here together. It's so buttery and dense! With fresh blueberries and thick cream cheese frosting (ugh I am salivating as I write this), you cannot go wrong!
So we knew even 5 years ago that our wedding cake HAD TO be blue velvet! I called up MILK to ask if they could make our wedding cake, but unfortunately they're not in that business. So we asked our wedding planner to help us find a bakery out in Palm Springs that could help make our cake. Laurie recommended Exquisite Desserts and they did not disappoint!
Here's what our tasting looked like. All sorts of cake flavors and a wide variety of frosting flavors. Everything was SOOOOOOOO GOOD. But nothing beat the blue velvet. So, we decided to go all in and get the ENTIRE 4 tiered cake all in blue velvet with cream cheese frosting!
#6. THE MATCHA BAR
Sam and I LOOOOOOOVEEEEEE matcha!!! So much so that we even made a shirt that is one of our best sellers on POPFLEX:
Since I don't drink alcohol, and I know some of our friends don't either, I wanted to create a unique bar experience. We thought that in addition to the regular bar bar…why not also have a matcha bar!!??
I reached out to my friends at Midori Matcha and asked if they'd be down to make this happen. They had never done a matcha bar for a wedding before, but were excited to make it a reality for our cocktail hour!
Midori also catered the matcha desserts table for the reception! Above is a photo from our initial tasting. OMG everything was SOOOOOOO GOOD – but ESPECIALLY that matcha croissant. I basically LIVE for it.
If you guys are ever in Southern CA, check out their newest Midori Matcha Cafe location in Old Town Pasadena at 165 S. De Lacey Ave #1049, Pasadena, CA 91105! They also have a cafe in Little Tokyo and Orange County!
#7. THE FLOWERS
Did you know that the amazing person who did the flowers for our wedding also did the flowers for the Bridal Bootcamp series?
Jeany, the owner of Lovesome Blossoms is also a POPster and she reached out when she found out that I got engaged! It was so special to have a florist who I felt connected with!
The photos that inspired everything floral for the wedding were this cupcake photo from Baker P (OMG look at that color palette)…
…and this whimsical chuppah photo from Mark's Garden.
To create the "oasis" look, we decided to incorporate some tropical greenery! We specifically chose to decorate with the Monstera leaf – yes, the same leaf that I drew out for our acrylic invitations  – to bring out the tropical-ness!
#8. THE LIGHT BOX TENT
In 2016, Sam and I went to Australia for my POP Pilates tour and while there, we walked through one of the most beautiful structures I had ever seen!
This light tunnel was so magical. It never left my thoughts. So when it was time to design the outdoor tent for our dinner reception, I knew we had to recreate some version of this!
Here's a picture of me admiring the tent construcuted by BRIGHT 2 nights before our wedding. At this point, it was totally still in progress and did not have the hanging florals and glass orbs that Jeany would later suspend from the top!
#9. INCORPORATING PETS
Before we got our puppy baby love Sir George the Magnificent, I wanted to have a miniature horse walk down the aisle with our flower girl! Yes, totally leaning in to that magical theme. But then…in January 2018 we were blessed with our first puppy, so we canceled the horse idea and began thinking of interesting ways to have Sir walk down the aisle!
(Don't mind his back arm – he just got a shot at the vet and they had to shave him!)
At first I was like, maybe he should float down the aisle in a hot air balloon! Then we deemed it too dangerous.
Next, I was like, let's have 4 men in tuxedos carry him down the aisle in a Cleopatra style bed! Jackelyn and Sam were like NO.
I thought I was close when I decided that we should construct a mini rose parade float for him to ride on! But there was no way we could find someone small enough to "drive" the car beneath the float.
Finally, Jackelyn had the genius idea of having him drive down the aisle in a fancy car.
BOOM. So that's what we did.
#10. THE FIRST DANCE
Sam knows I love dancing, so when it came time for first dance discussions, there was no negotiation that it would be a choreographed number! I was so surprised at how much Sam embraced the lessons and the rehearsals. In fact, most of the time, it was HIM who initiated dance practice at home!!!
"New Light" by John Mayer was our song of choice. Why? We just liked the song! We learned a fun two step by our dance teachers at Your Night Choreo!
#11. THE CALLIGRAPHY
My goal for 2018 was to learn how to do calligraphy. I NEVER expected to do it for our wedding, but when the person who was supposed to do the calligraphy bailed on us, I was left with no choice but to do it myself! Through numerous YouTube videos, one live class, and tons of practice, I eventually got here:
Not bad, eh!?
I am still trying to find my style, but I am proud of how far I've come in less than a year! I'm glad that person bailed because the situation made me a better calligraphist!
View this post on Instagram
#12. THE SURPRISE
Concerned with cocktail hour (I've been to so many weddings where this time period is just so awkward and boring), I wanted to have an activation that would get everyone talking and having a good time!
First I thought…tethered hot air balloon? We tried, but then found out we didn't have enough space.
Ferris wheel? Eh, but then kinda scary.
Maybe a rotating swing set!? Someone's gonna be whacked.
Then I thought…wait a minute…a carousel!!! A carousel would be so whimsical and magical! The imagery of our friends in their evening gowns riding the horses with their legs swept to one side was all I needed to lock down the idea!
This was no easy feat though. The Solomon Estate did not have a carousel. We had to bring it in. It was almost impossible at first because we were told that the big semi truck could not fit through the side of the house to get to the backyard.
But then Laurie had an incredible idea. Bringing in the pieces one by one, by hand. Amazingly, Christiansen Amusements agreed and made it happen!!!!
YESSSSS now that is the level of commitment to excellence that I'm talking about!!!!
Oh boy.
That concludes part 1 of the Enchanted Oasis Wedding series! The planning!
If you loved the visuals but want EVEN more, watch me and my sis talk ALL wedding deets with over the top giddy-ness in my latest YouTube video!
Until part 2…tell me…what would your dream wedding be like?