Hey guys!
Hope you're having a great start to your week! Monday has already been off to a crazy beginning, as we have a HUGE shoot at the end of the week with over 21 people involved! It's the biggest cast and crew I've ever led.
What are we shooting you ask? Well, remember those body image videos I was casting for? We're finally shooting them! I'm excited to be meeting and getting to know quite a few POPsters really well this Friday! And you'll get to meet them later this year when we release the content 🙂
The reason why I am taking a mini break from shooting new workouts is because I need to give my brain some time to focus on bigger projects, like these creative videos. I have some messages I want to send out to the world, but I want to send it out in a manner that makes you think about what you just watched. Right now, there are no sponsors or anything for these videos, so 100% of the production cost, the wardrobe, the hair and makeup, the camera crew, the location etc. – it is coming out of my pocket. My only hope is that the videos will impact a lot of women.
Anyway, let's talk about what Sam and I did on Sunday!
Yesterday's Recap:
My Fit Journal entry. I started off the day with a 9am weight lifting class! I'm starting to see more muscle definition in my arms and I AM LOVING IT! I feel so strong and powerful. Yay!!
After class, I headed home and got ready for our 1 year anniversary brunch at Inn of the Seventh Ray! We've driven past this enchanting place a quite few times whenever we were headed to a hike in the mountains, and I have always wanted to go!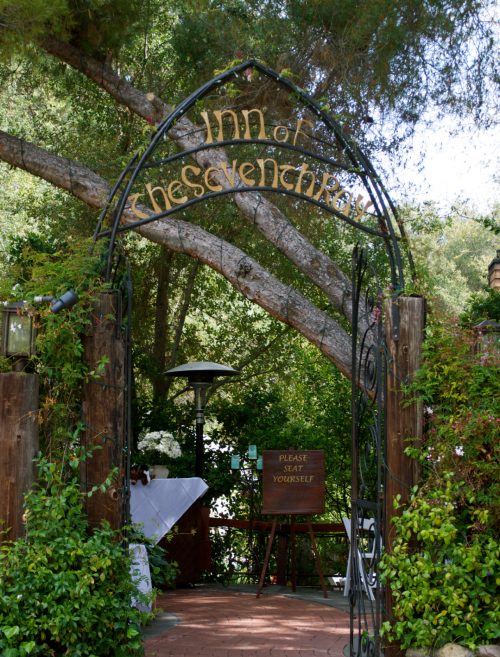 How cute is this? It's a restaurant that's tucked away in the forest! You get to eat al fresco (my fave type of dining) and the atmosphere is purely relaxing as soon as you walk through these gates.
Look at this view!!! How gorgeous right!!?? I asked for us to be seated by the creek, but sadly the creek was dry 🙁
BRUNCH:
13% carbs, 68% fat, 18% protein
938 calories
For brunch, Sam decided to do the brunch buffet (looked ABSOLUTELY DELISH) and I ordered a duck bacon omelet with brie cheese, apple slices and a side of salad along with a bowl of chilled avocado cucumber soup! I've never had duck bacon before. I've also never had apple in my eggs. But guys, the flavors were PERFECTION! A perfect mix of sweet and salty!
I normally would have done the brunch buffet, but I know me, and I know I can easily overeat, like waaaaay crazy past fullness! My parents always told me that in order to "make your money back" from a buffet, I needed eat enough to make the restaurant go out of business 😛 So, with that mentality ingrained in my brain from a young age, it is safe to say I do not have a healthy relationship with the buffet. So, it's best that I just don't 🙂
The ambiance was so incredible that I was literally smiling the whole time! I seriously wish I could eat al fresco for every meal. I loved eating in the forest so much. Sam on the other hand, really enjoyed all the food he got to try. That is what makes buffets so amazing – the variety at your fingertips!!!
SNACKS:
91% carbs, 6% fat, 3% protein
176 calories
When we got home, we had an Edible Arrangements delivery from Sam's parents! So lovely! I forgot to take a pic of the whole arrangement, so I snapped this after I had pulled off the fruit to store in the fridge. I had a some juicy strawberries and pineapples! YUM!
Then, I had some Bubbly Rose kombucha from Health-Ade along with some organic raspberries. I was so sad that my raspberries were not sweet at all. I actually consciously chose to buy the organic raspberries for $2 extra because I thought it would guarantee sweetness.
But sadly, they were tart and bland. Ugh. Now what do I do!!??? I have a whole 'nother package left 🙁 Maybe a smoothie?
DINNER:
49% carbs, 41% fat, 10% protein
321 calories
For dinner, I made cauliflower rice with green beans and chanterelle mushrooms. This was a completely vegan meal that did not disappoint or leave me craving more! Honestly mushrooms are so hearty, I would probably choose them over meat for many dishes!
Yesterday came in at 1,434 calories and 31% carbs (112g), 54% fat (84g), and 15% protein (52g).
HOW MUCH PROTEIN SHOULD I BE EATING?
I need to make a more conscious effort to up my protein intake, especially if I want continued muscle development. But, how much protein?
Well…that's not a simple question apparently.
According to the bodybuilding.com Recommended Protein Intake Calculator, my recommended protein intake should be 151g for my goals. But there were a bunch of comments saying that the calculator was inaccurate and outdated.
According to the USDA calculator recommended by Harvard Medical School, my protein intake should be 46g.
According to Calculator.net's Protein Calculator, they say that American Dietetic Association (ADA) recommends a woman at my age and height to have at least 58 – 104 grams/day; The Centers for Disease Control and Prevention (CDC) recommends 54 – 190 grams/day; and the World Health Organization's safe lower limit is 48 grams/day.
Hmm. OKAY.
I wanted to know how these "calculators" were calculating my recommended protein intake. So I found a formula on verywellfit.com.
Here were their directions:
"To determine your protein needs in grams (g), first calculate your weight in kilograms (kg) by dividing your weight in pounds by 2.2. Next, decide how many grams of protein per kilogram of body weight is appropriate for you.
Use the low end of the range if you are in good health and are sedentary: 0.8g per kg.
Use a higher number (between 1.2 and 2.0) if you are under stress, pregnant, recovering from an illness, or if you are involved in consistent and intense weight or endurance training."
Okay, so let's give this a shot:
126.6 lbs/2.2 = 57.5 kg
Recommended g of protein for a person involved in consistent and intense weight or endurance training is between 1.2 and 2.0g per kg.
So, my range would be 69g to 115g of protein.
Well, you know what this means. THERE'S NO RIGHT ANSWER! I think I will start by upping my protein intake to over 100g per day as a start and I'll make note of how I feel.
If you've been with me from the beginning, you've seen me go from lazy keto, to strict keto, to moderate fat/moderate protein/low carb to now testing out high protein/lower fat/low carb. Flexibility is key in this 90 day journey if I want to understand my body better.
OH!!! Also, tomorrow I get my blood test results back!!! So excited to see what I learn!! I'm going to ask the doctor a billion questions. I am hoping tomorrow's blog posts will be very enlightening for all of us!! But…at the same time, there's a possibility that I will learn nothing at all. Guess we will just have to wait and see!