October 6, 2018.
One year ago today I wore the dress of my dreams, walked down the aisle of my dreams, and married the man that l thought only existed in my imagination. ☁️✨ When I think back to the feelings of our wedding day, the vibes were thrivin' on a whole 'nother level!!! After 10 whole years, Sam and I finally became HUSBAND and WIFE. 🤵🏼👰🏻We were caressed by pure love and joy that day as our closest friends and family celebrated. The energy was body-heart-and-soul INFECTIOUS!!!! I had never been on such a high my entire life!!!
Sam and I enjoying the carousel! Got to ride around so many times!!!
Sam and I after the "first look" and before guests started arriving.
My only regret is not going on our Honeymoon straight after…because we still haven't gone!!!
To my husband Sam – I love you sooooooooooo much and I can't believe I'm lucky enough to live this life with you. Everything I do is a billion times better when I get to do it with you.
If you guys want to relive our wedding, here's the video 🙂
And, if you are a bride, soon to be bride, or just love weddings in general, indulge yourself in the following blog posts where you can read about every single little detail about my wedding!!! I had the best time planning it, an even better time seeing our guests enjoy it, and the best time experiencing it with my love.
PART 1: How I Planned My Wedding
Oh and if you want to try my 28 Day Bridal Bootcamp (brutal, just warning you), here's the wedding workout calendar!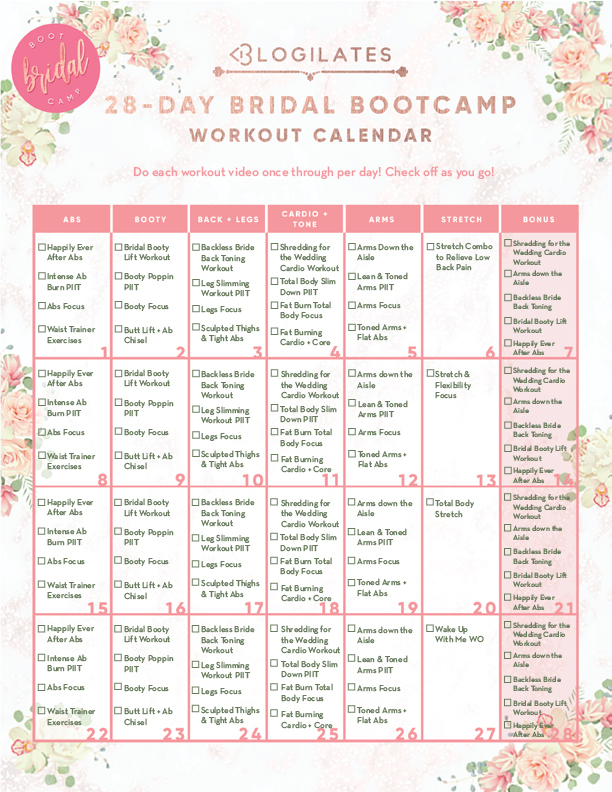 Click here for the hi res PDF where you can actually click and access the videos of the day!
Now back to our 1 year anniversary…to celebrate, we went jet skiing in Newport Beach!
We love love love jet skiing so much – the thrill of going ridiculously fast, no limits, just flying wildly, living crazy – ahhhh it is one of the most freeing feelings in the world. We took turns – Sam in the front, then me in the front. The speed is exhilarating, terrifying, and peaceful all at the same time!
Then today, I booked a special brunch for us at a cool restaurant wedged in the forest. I'll show you tomorrow! For now…
Yesterday's Recap:
Here is my Fit Journal entry! I started the day with a Cardio Dance class! Then we drove directly to Newport Beach for jet skiing!
LUNCH:
19% carbs, 47% fat, 34% protein
621 calories
After jet skiing, Sam and I went to a Mexican restaurant nearby and I got a fajita chicken salad with guac. This was absolutely delicious!
POST LUNCH DESSERT:
45% carbs, 46% fat, 9% protein
415 calories
After lunch, Sam got a milkshake at a local ice cream store and then we went to a Pressed Juicery so I could get my fave dessert of the moment, the strawberry freeze! I got blueberries and strawberries on top. The worker put a TON of almond butter on so I made sure to not underestimate my measurements for MyFitnessPal.
DINNER:
25% carbs, 49% fat, 26% protein
570 calories
Dinner was chanterelle mushrooms sautéed with salt and pepper, green beans, and left over baked salmon.
After dinner, I had some Strawberry Lemonade kombucha from GTS for my probiotics. This flavor is super delish! You can find it at Trader Joes for $2.99.
Then to end the night, Sam and I went to get massages! It was such a perfect day 🙂
Yesterday came in at 1,607 calories and 28% carbs, 47% fat, and 25% protein. It's always hard to guesstimate though when I'm eating out, so I did the best I could! Either way, 'twas a magical day!