For all my Blogilates Brides out there, I have created this 28 day Bridal Bootcamp Workout Calendar that you can do the month leading up to your wedding! Don't worry about hiring an expensive personal trainer or getting a fancy gym membership. You can get super fit right at home with my Bridal Bootcamp. And the best part? It's absolutely free.
So here's how it works:
#1. Choose the day you want to start your 28-day Bridal Bootcamp. Then STICK TO THE CALENDAR. Do not stray in order to see your best results.
#2. Five days out of the week we will target a new muscle group. On the sixth day, you stretch and rest. The seventh day is optional but highly recommended if you're really looking to challenge yourself and burn more fat and build more muscle.
#3. Do each video once through and check off as you go. You can actually click on the videos in the PDF or you can get them on my YouTube channel!
Here's your calendar: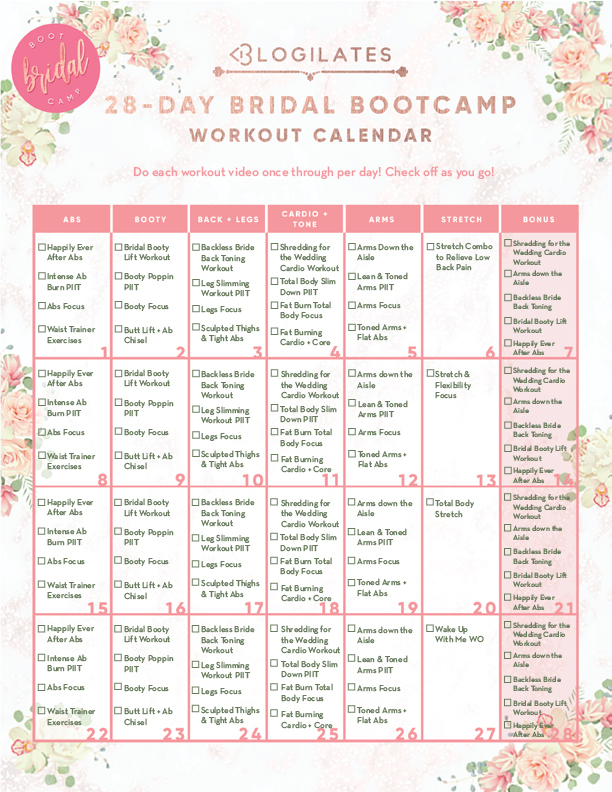 Download PDF calendar | Download high res calendar
I hope my Bridal Bootcamp helps you to feel your best on your big day! If you find the calendar helpful to you, please share it with another bride! Word of mouth really helps this community thrive! Also…I'd love to see you in your wedding dress! Hashtag #BlogilatesBride and #BridalBootcamp so I can see!
Ahhh I am so excited for you! Good luck with the wedding planning and the workouts. Remember, the most important thing throughout all of this is to ENJOY THE JOURNEY! Take a deep breath…and let's do this!!!