Swimsuit Blast! May fave bikinis so far!
Swimsuit Blast! May fave bikinis so far!
I LOVE this swimsuit from Rosa Chá, but it's Spring 2009. Ugh! If you've never heard of this brand, they are manufactured in Brazil and are carried in high-end stores such as Barney's New York, Bergdorf Goodman, Language and Fred Segal.
Maaji Swimwear 2011 collection. This is a juniors line of funky prints. Above is the Peachy Lucky Hit Bustier Bikini. $99. I love the buttons down the middle. Makes the top look retro and the cups look like they will give you some extra oomph in the boobage department. Maaji is also so much more affordable than Cha!
Reddish Frenzy Bikini from Maaji. $145. I like the nontraditional scoop neck of this bikini. I have a U-neck bikini from VS that is also very flattering.
Mythicaleidoscope, $112. OMG so cool. Off the shoulder? Yes!!! Another great lounging suit but this would make for WEIRD tan lines. I don't want white cuffs circling my upper arm.
Crossfire Lady, $125. Maaji. Digging the scoop neck and criss cross effect on the bikini top.
Mighty Wings, $112. Maaji. I love the ruffle straps and how they come down to caress the cup.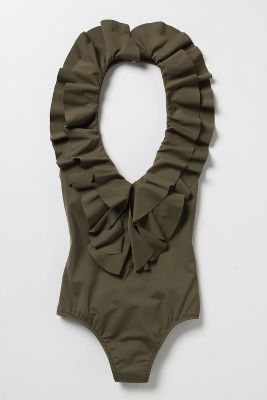 Elephant Ears Maillot from Anthropologie. $160. I like the ruffles, very regal looking. Wonderful lounging suit in big glasses while reading your kindle.
Digital Floral Bikini from ASOS. $35.86 top and $22.41 bottom. I like the retro bikini halter.
Abstract Print Long Line Bikini from ASOS. $35.86 top and $26.90 bottom. I can't get over the neck line here and the slightly longer top. It's so chic. And the price is so doable.
Wow, I am so lucky I stumbled upon Maaji and ASOS. I actually think I might buy a suit from either of these guys once the weather gets warmer. I love love love swimsuit shopping. It makes working out even more satisfying, don't you think?
Love, Cassey