30 Days & 30 Stretches to Splits! #JourneytoSplits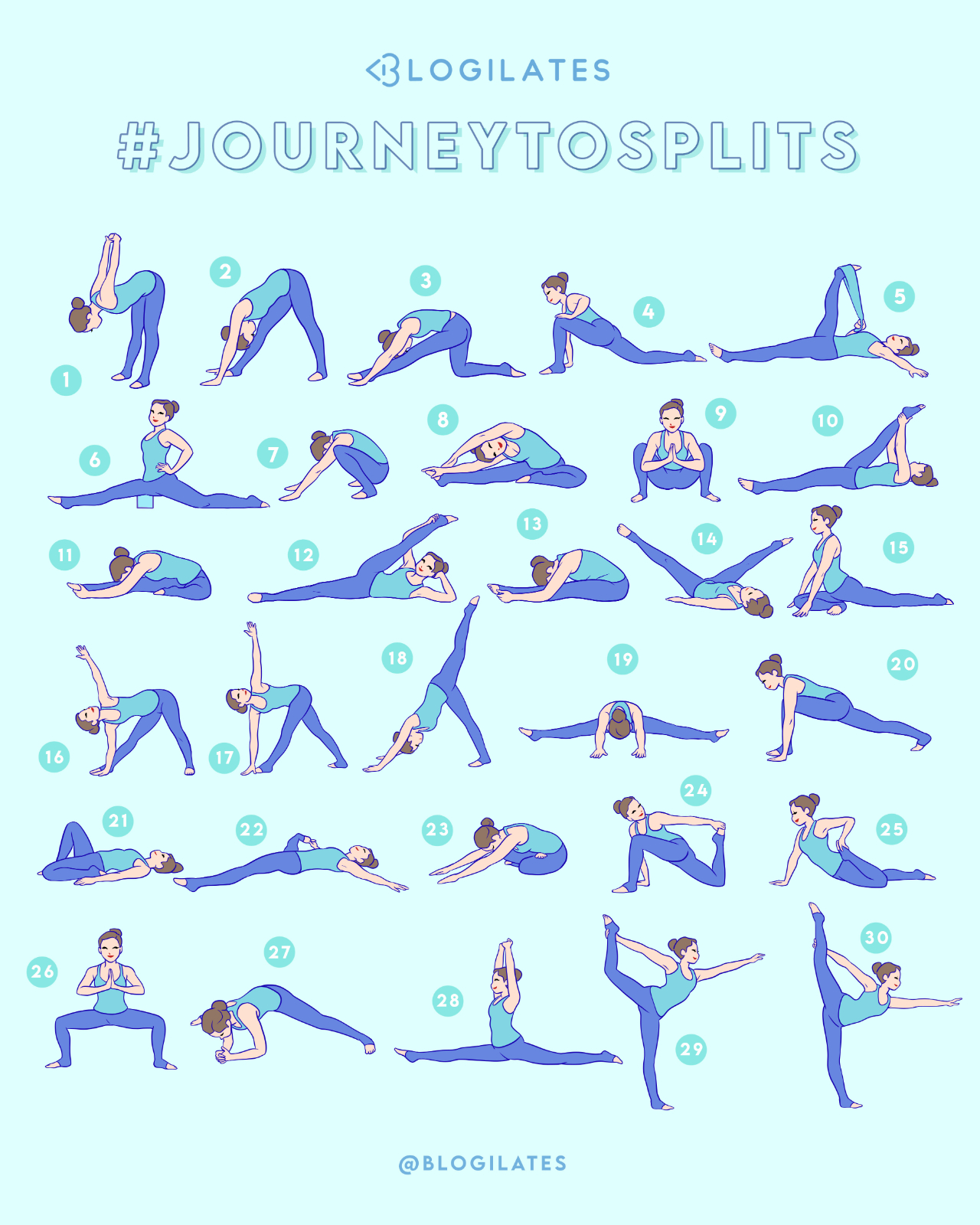 Hey guys!
Introducing your 30-day stretching challenge, #JourneytoSplits!! I'm going to teach you how to get into the side splits in just 1 month. This will be a VERY REWARDING journey, however, you will need to show me that you are DEDICATED. Increasing your flexibility at this level TAKES TIME. A little every day.  You will need to stretch for at least 10 min a day if you're serious about getting into the splits in 1 month. But let me assure you right now that this feat is not impossible! Get excited because we're going to get there together 🙂
SO HERE'S HOW IT'S GOING TO WORK:
1. First of all I want to know that you're IN! Post this graphic to Instagram and make sure that you hashtag #JourneytoSplits and #Blogilates. Follow @blogilates and @poppilatesofficial!
2. Stick to the 30 days. Do not skip a single day. Promise? That's how you'll get into the splits. Every day I want you to post a picture of the pose of the day as a sign that you did your stretches. Hashtag #JourneytoSplits and #Blogilates.
3. Every day I will need you to do stretches 1-5, your foundational stretches. You may not skip them. So, the first 5 days, you are doing the first 5 stretches! Then beginning day 6, you will just add one move on. So on day 6, you will do 1-5 and 6. On day 30, you will do 1-5 and 30. Get it? So you will do 6 moves a day beginning day 6.
4. How long to hold? I want you to hold each stretch for around 30 sec to 1 min per side. Total, each day you should spend around 10 min. stretching.
Yes, this is dedication! But, just like how I felt when I got into the headstand for the first time, it was PURE BLISS. You will feel so happy, accomplished, and just VICTORIOUS! Unlike losing weight or getting slimmer thighs, your goal is not driven by fitting into skinny jeans, societal pressures or vanity. It is genuinely for yourself regardless of what anyone else thinks. There's freedom in knowing that.
Need some new gear to get you motivated during your splits journey? Check out our latest collection from POPFLEX!
Here are your stretches for the month!
Forward Fold with Clasped Hands
Pyramid Pose
Half Splits
Low Lunge
Supine Hamstring & Hip Stretch with strap (bring the leg out to the side)
Supported Splits
Deep Squat with Reach
Seated Hamstring Stretch with Side Body Reach
Deep Squat
Supine Hamstring Stretch (keep leg centered)
Seated Hamstring Stretch with Forward Fold
Side Lying Hip Opener
Seated Forward Fold/Pike
Supine Straddle (you can do this with a wall)
Pigeon Pose
Triangle Pose
Revolved Triangle Pose
3-Legged Dog
Straddle with Reach
Runner's Lunge
Reclined Single-Leg Hero Pose
Supine Hamstring & Hip Stretch
Double Pigeon with a Forward Fold
Low Lunge Quad Stretch
Quad Stretch
Plié Squat
Middle Splits
Splits (make sure to do both legs!)
Dancer's Pose
Straight Leg Scale
ALRIGHT!!!
Are you excited!!??? I am!! Let's get this party started! Just post the pic and tag as many friends as you can. Let's get everyone to get more bendy!