DISCLAIMER:
I'd like to start off this blog post by VERY clearly stating that if you are triggered by numbers and transformation photos, PLEASE do not read this post.
I'd also like to VERY VERY clearly state the following:
NO, I do not have an eating disorder.
NO, I do not have a body image disorder.
NO, I do not hate myself.
NO, this journey was not for you.
It was for me.
Are we clear?
Kay good, moving on.
***
Wow! Guys, first off, I CANNOT BELIEVE 90 days flew by SO FAST!!!! WHAT!!!???? It's insane how when you're so focused, when you want something so bad, and when you're genuinely enjoying the process, it does not feel like work. Not once did I ever feel deprived of happiness or of food. With every day that passed, I felt more and more like myself. I shed away the old Cassey who was afraid of other people's opinion of her and grew into a more confident, happier, stronger, and sassier version of myself.
I LOVE ME Y'ALL!!!
This Part 1 blog post is going to be all about the numbers and the external metamorphosis. We're going to dive deep into what worked, what didn't work, and any correlations I saw in regards to weight versus calories, weight versus carbs, weight versus protein, and weight versus fat. Part 2 will be the internal metamorphosis.
Before we go into the numbers, I'd like to step back to day 1 to see where my head was.
My Day 1 Feelings:
"Working out used to be something that I enjoyed quietly as a "regular person". Blogging used to be a safe place where I could truly spill my honest thoughts. But now – everything that I do, eat, or say is critiqued. Of course 100% by my choice for being a public figure…but…the public judgement of it all has made me a more timid, scared person. I tip toe around sensitive personalities and treat everything like it's so fragile, but NO MORE. I'm gonna grab life "by the balls" and JUST LIVE LIFE the way I want.
So today is day 1. Of 90.
I said it. And I am not taking it back.
This is a personal journey I want to embark on to get in the best shape of my life – mentally and physically. It begins today August 16th and will end November 14th."
My Original Goals:
"My physical goals?
Hmm, I'll make 2 goals:
Weight goal: 120 lbs
Body fat % goal: 20%
(So I can be in the "athlete level" for women, according to the American Council on Exercise)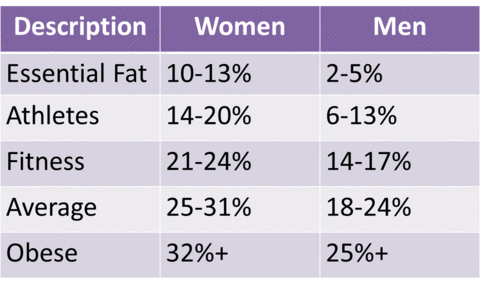 I can already say right now that 120 lbs is going to take a lot for me to get there. But I'm putting it down on paper right now and I'm going to try everything I can (only healthy ways of course) to make it happen!
My wellness goals:
I will reward myself with 1 self-care thing a week. So that means a deep tissue massage every week!
My blogging goals:
My goal is to blog how I am feeling DAILY. I hope I'm not setting myself up for failure here (as I have not blogged consistently for a few years now), but I'm going to say it out loud: I WILL BLOG EVERY DAY FOR 90 DAYS!!! Even if it means a small paragraph, I need to blog because it will be my way of journaling."
Now, let's start analyzing!
The Workouts:
This is the 12 week game plan page from my Fit Journal. I FEEL SO SATISFIED LOOKING AT IT!!!!
On average, I was working out 6 days a week with 1 day of rest. It was a combination of Pilates, HIIT/PIIT28, Dance, and Weightlifting. I was very consistent until the last week and a half of my 90 Day Journey due to travel, rehearsals, and shoots.
The Food:
The first month of my 90 Day Journey I was doing "Lazy Keto". So high fat, low carb, moderate protein. I wasn't calculating my macros or calories, but I was very conscious of my carb levels being low and my fat levels being high in comparison to each other. I allowed myself to eat cheese (which I normally don't eat) so it made going keto super fun and exciting!
(In the photo above, I made a keto pizza. The base is a mixture of egg + almond flour + mozzarella cheese that I mixed together and put on the pan like a pancake. Then I just added marinara, cheese, and chicken sausage on top!)
Around 1.5 months in, I saw a stagnation so I switched to a more strict form of keto excluding dairy and nuts.
(Above was one of my staple meals…cauli rice with shishito peppers and a lean protein, like scallops.)
But at the start of month 2, I was getting some terrible headaches, I was constantly thirsty, and super fatigued. I realized that these were the symptoms of the "keto flu". Eventually, it passed, but came back again even worse. So I consulted a keto expert who told me that the reason why I was getting these symptoms wasn't because I wasn't having enough salt and I wasn't taking enough supplements.
Per his advice, I began to eat much saltier foods and I started taking some MCT oil powders, probiotic powders, and exogenous ketones. It definitely helped cure my keto flu! However, after a couple weeks of doing all that, I came to the conclusion that if keto required me to take these extra things to feel balanced, then keto wasn't for me. I'm a huge believer in letting food be my medicine, and medicine be my food.
So around mid month 2, I began to incorporate in more fruits while lowering my fat intake. My staples were berries and kombucha 🙂 Oh and there was a whole phase of me eating pumpkin pie hummus! I felt sooooooo much more balanced!!! PLUS there were no more headaches, no more fatigue, and no more dry mouth.
But then, things started to stagnate again!
So I decided to get honest with myself. It was time to calorie count. I did not want to do this originally, but I suspected that I was overeating (I am an overachiever when it comes to eating :P), so I wanted to know by how much.
So by the end of month 2 and into month 3, I was tracking all of my food in MyFitnessPal. Originally, I was DREADING the fact that I'd have to do this, but actually, I ended up weirdly enjoying it.
Tracking my food so meticulously relieved a lot of stress from my life. Before tracking, I was always calculating in my head what I was consuming. But the moment I started logging, it immediately relieved my brain of that duty and gave me much needed mental space to breathe. Tracking also allowed me to "make room" for fun things like ice cream 🙂 The one pictured above is my new obession, Oatly vegan ice cream.
Weight Change Graph:
Here is a graph of my weight change every day for the past 90 days. Some people may call daily weighing "obsessive", but I call it consistent data point collection 😉
As you can see, my 90 day journey was not a straight line down. There were plenty of ups, downs, and plateaus. 3 prominent plateaus in fact.
Plateaus:
And because I wrote down every single thing I ate in my Fit Journal, I can tell you why those plateaus happened.
1st Plateau: I was making great progress doing keto until about 8/21. During this time I was snacking on nuts and cheese quite a bit. I had not started calorie tracking yet, but I was consuming a lot of nuts and cheese simply because it was keto friendly. On 9/6 I decided to stop eating so much dairy. That helped me push past the first plateau.
2nd Plateau: It was the nuts. Instead of snacking on nuts and cheese, I was snacking on nuts, nuts, and more nuts. It was at this point that I decided it was time to get honest with myself about how many calories I was actually consuming – even though they were healthy calories. Clearly I was overeating. So on 9/26 I started logging my food in MyFitnessPal while cutting out the nuts. 9/26 was also the day I started taking my first Heels class and making dance a priority! Why? Cuz dance de-stresses me and makes me happy. This is how I pushed past the second plateau.
3rd Plateau: Food wise, there wasn't anything I could really pinpoint to this plateau. But in reading through my Fit Journal, it seems that I did not sleep very much during this time period as we had a huge shoot I was prepping for on 10/11. The plateau was probably caused by a severe lack of sleep that increased the levels of cortisol (stress hormone) in my body which made me hold on to more fat during this period.
Weekly Progress Report:
Here's the chart I filled out every week for 12 and a half weeks. I recorded my weight, body fat % and muscle mass % each week. I actually loved doing this – there was something so satisfying about "weighing in" – no matter if it was a higher or lower number! I felt accountable, and I liked that.
In yellow, you will find my FINAL weigh in numbers.
On my 90th day, Nov. 14th, 2019, I weighed in at 118.6 lbs, 20.8% body fat, and 34.9% muscle mass.
YOU GUYS. I surpassed my weight goal of 120 lbs and nearly made my athlete body fat goal of 20%!!! WHAT!!????!!!! AHHHHHH!!!!!
My Before and After Photos:
Front shot. Everything looks a lot tighter and more toned, especially my stomach and my arms.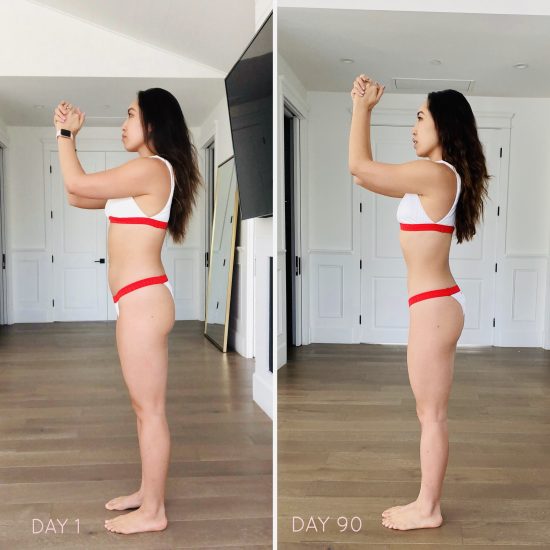 Side shot. When Sam took the day 90 shot for me, he asked if I was "sucking in" and I told him no. I can't believe how much my abs have changed! That's where I hold most of my fat. Also, there seems to be a bit of a booty lift! Like a teeny tiny one, but still, I see it, so it must be mentioned!
Back shot. Back muscles poppin! Big difference in my waist and hips!
OMG. I am shocked. Like, I actually can't believe this!!!!
MY BODY IS ROCKIN!!!! HECK YAHHHH!!!! And I did it on my own terms!!!!
The only other 2 times in my life when I went on an intentional fat loss journey, I was guided by male personal trainers. I appreciated their guidance and the accountability they gave me to stay on track. However, I did not love the food I ate and I did not truly enjoy my workouts either. It was the same boring food and the same ole weight lifting stuff almost every day. Everything was strict and there was no room for flexibility. As much as I enjoyed the progress I was seeing, I wanted it to be over so bad because I couldn't see myself sustaining that lifestyle forever.
This time, it was so different. I set my own rules. I allowed flexibility in my diet. And I did a variety of workouts to keep me excited. My 90 day journey was one fueled by nourishing decisions…and unlike the other journeys I've been on, I am sad this one is over! I 110% enjoyed the entire process and can definitely see my myself continuing this way of eating and working out in the long run.
The Total Change: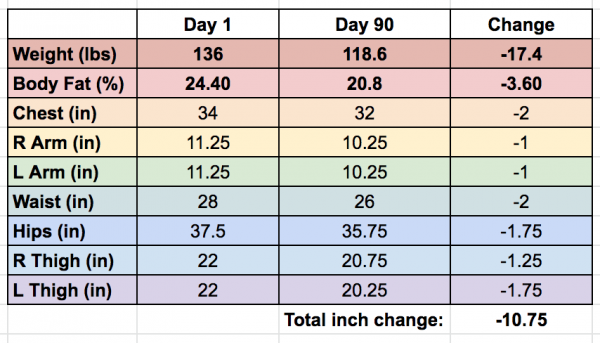 From Day 1 to Day 90, I have lost a total of 17.4 lbs! That is WILD!!! Body fat decreased by 3.6% and overall, I've lost 10.75 inches over my entire body! CRAZY!
Over the past several years, I've had so much trouble losing weight due to my metabolic damage from the bikini competition in 2012. At that time I was eating about 1,000 calories a day and training 4 hrs a day. Though I was seeing progress, my brain was cloudy, I was terribly moody, and I was never happy with the way I looked, even though I got down to about 113 lbs.
This time, I have loved my body every step of the way, from Day 1. I want to make it clear that I didn't go on this journey because I hated my body. I went on this journey because I loved my body so much that I wanted to dedicate time towards improving myself – mentally and physically.
Noteworthy Correlations:
Since I collected so much data over the past 90 days, I wanted to spend some time putting together graphs of certain things I recorded in case I might discover something unusual about the way my body reacted to different calories and macro breakdowns. This is what I found.
The lighter colored lines are "trend lines". Also, the red line graph begins at 9/26 because that's when I started tracking calories and macros. There is no data before that.
Weight vs. Caloric Intake:
I noticed that in general, the less calories I consumed, the lower my weight became. This would seem pretty obvious, but it's necessary to point out since there are a lot of theories out there about "starvation mode".
According to Healthline, Starvation mode is…"your body's natural response to long-term calorie restriction. It's your body responding to reduced calorie intake by reducing calorie expenditure to maintain energy balance and prevent starvation." Technically, it is called "adaptive thermogenesis. Anyway, I did not experience "starvation mode" as the lowest I ever went with calories was around 1,200 – but even so – it was never really that consistent. My calories fluctuated a lot based on what I felt like eating that day!
Weight vs. Protein % Intake:
The more protein I consumed (percentage wise, in comparison to fat and carbs), the lower my weight became.
Weight vs. Fat % Intake:
The less fat I consumed, the lower my weight became.
Weight vs. Carb % Intake:
The more carbs I consumed, the lower my weight became!
What's interesting to me is that in my Genetic Fit blood test, my reports told me that the best diet for fat loss would be a low carb diet that was about 30% fat, 40% carbs, and 30% protein.
When I got these results back, it was during the time I was experiencing my issues with keto. So it was a no brainer for me to go away from high fat consumption, given my symptoms, the stagnating weight on the scale, AND this test.
It's clear to me now that keto was NOT the diet for me. As you can see above, the less fat I ate, the more weight I lost. And the more carbs and protein I ate, the more weight I lost. This is the exact opposite of what keto is. I am so happy I tried it though! It for sure helped jumpstart my 90 day journey!
Keto has worked for a ton of people! So if you're curious, do give it a shot! Maybe it will work better for your body than it did for mine.
Reflecting on my Day 1 goals:
I do not regret ever deciding to embark on my 90 day journey. From the beginning, I said it was going to me for me, and I kept true to that. Unexpected challenges arose during my journey, but I kept going back to my why. I wanted to get in the best shape of my life mentally and physically. I feel so proud for completing my 90 days, and completing it with total love and compassion for myself.
I did it. I can't believe I did it.
A strong why helped me push through all of the negativity I endured from external factors throughout this journey. But, I'll save all my feels for PART 2 of my 90 Day Journey Recap. I need some time to digest what has happened and how much it has affected me.
But before I leave you today, I want you guys to know how lucky I am to have a husband like Sam. I remember breaking down in that car ride to the airport telling him how lost and inauthentic I felt to myself. He asked me what I wanted to do about it and I said I wanted to set some personal goals for myself and freakin CRUSH them. I told him that it was probably going to upset a lot of people, but I needed to discover myself again through this 90 day journey. He told me to not be scared and to just go for it, and that no matter how angry people got, at least I would be happy. And isn't all that matters my happiness, his happiness, and Sir's happiness? 😉
A thank YOU to you…
Before I leave you today, I want to thank YOU, my blog readers, for being so lovely over the past 90 days. It's been a a rough journey. The comments on YouTube have been so harsh, but coming to read your comments here gave me a sense of peace and calmness. I enjoyed writing back to you guys and getting to know you.
So, as a thank you, I want to extend a 40%  discount on the 12 Week Fit Journal just for my blog readers! As you know, I've been using my fit journal EVERY SINGLE DAY on my 90 day journey and it for sure has kept me accountable, and without a doubt, it is one of the reasons why I crushed my goals.
I thoroughly enjoyed writing in my 12 week Fit Journal daily and reflecting on my goals in my weekly recaps. So, if you're now INSPIRED to start your own journey, you can grab your own Fit Journal for 40% off using the code 90DAYJOURNEY on popflexactive.com. The code will expire on Tuesday November 19th, 2019! Hurry!
Enjoy! Until then…have a great weekend…I'm gonna go get a massage today and a facial tomorrow to celebrate the end of my 90 Day Journey! And I already did some online shopping damage, so I'm feeling pretty good right now 🙂