1 month after the Bikini Competition – how am I doing?
1 month after the Bikini Competition – how am I doing?
I just got my CD of pics from the Bikini Comp I did in May! I can't believe it's been a month! WOW! That was fast…it seemed like a completely different time in my life. Let's go through some pictures and commentary before I talk about how I've been holding up emotionally, mentally, and physically and whether or not I "rebounded".
Ok now pretend you are watching me on stage.
My heart's racing as I wait for my number to be called. I see the girl in front of me take her first steps out into the bright lights…she begins to hit her poses and I almost can't breathe as she pivot turns, pivot turns to finish her routine. I'm not ready, I'm not ready! No, go slower!
"Number -"
No, no, no, not yet!!!!
"89!!!"
Deep breath. 
GO.
I flash my BIGGEST smile, put my left hand on my waist, and sway the life out of my hips and walk like the biggest diva model there ever was.
Shoulders back, chest up, long neck, suck that belly button in Cassey, long legs, sway sway SWAY. MUST ACCENTUATE MY HOUR GLASS FIGURE!!!
Now I'm almost at the front of the stage, get ready to hit that first pose.
DO IT LIKE YOU MEAN IT!
SHA BAMMMM!!!!!! First pose! My heart is still racing and I can't move my mouth. That smile is pasted. My cheeks are quivering from the intense cheesin. All I can think is how Kip told me to tense up all my muscles – gotta make everything, all that hard work POP!
Next part of my routine…back shot. VERY IMPORTANT. I need to show off my glutes! Pivot turn, hit hips to the left hard then to the right even harder – don't mess up, don't mess up!!! And do it with style!!!
KA POW! Now I'm having fun! I'm here to rock the stage because for these 10 seconds, I own it. Judges, look at me! Look at how hard I've worked! Look at this bikini I made. Look at these freakin' eye lashes that are so heavy I'm burning serious calories just trying to keep my eyes open. Do you see me judges!??
Okay, it's time for my last pose. I gotta make this count! Strike it and HAVE FUN! SMILE BIGGER! Cock that hip!
Hold for 3 seconds…don't rush, don't rush! Squeeze those legs! If not for the judges, do it for that expensive CD of pics you just paid for so that you could share these pics on your blog…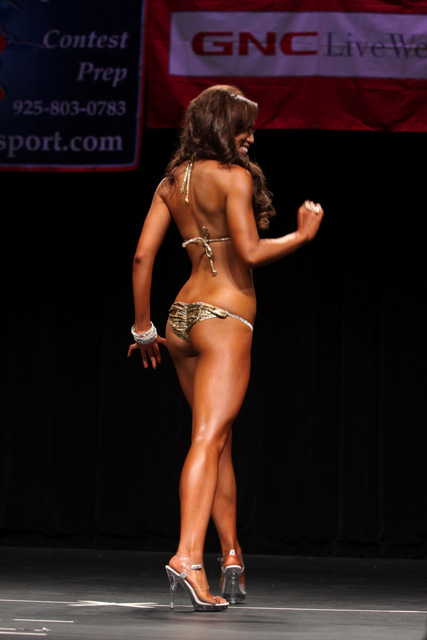 Okay, now turn and leave like you just owned it. It's over.
After my 10 sec modeling routine (which sadly, I do not have a video of) I walked back to my spot on stage for Bikini Class C (it goes by height). The judges then called out some of the contestants for "comparisons". Here we stand in line like human specimens and get rated side by side against each other.
We all struck our very best here for our front pose. It seemed like everyone favored the one leg out, hip cocked thing – but personally, I liked my S curve! So I stuck with it.
Then the judges told us to turn around for a back check! Well, more like a booty check! OMG! SCANDALOUS!!! Am I really posting this!!?? Hahaha, oh well, it's part of the sport.
These are the girls that ended up placing Top 5 in my Bikini Class C. The girl in yellow was the winner of my class. Like I said before, my intention for the competition was not to win, but to use it as a tool to push myself to the next level with my fitness. In that respect, I totally owned it and won it!
Now that I have these pictures, it makes it easier to analyze what the judges were looking for and what type of body makes the so-called "perfect bikini body" as determined subjectively by a panel of a dozen men and women. The feedback I got was that I need more upper body. Looking at my comparisons photo, I can see what they mean.
But you know what? Despite the results, I am very happy in regards to how everything turned out. The whole bikini competition experience was rewarding and fulfilling. I now understand how hard I can push myself and how important diet is to building a certain physique! I know what it means to be a competitor. And it's pretty cool 🙂
Will I ever do it again? I don't know. I really liked the pageantry of it all – getting dolled up and modeling around! But it was a lot of time and money spent. And the worst part was probably the fake tan!!! Ugh I hated being spotty orange the week after. It was so weird!
As I was dieting down for the competition, I got a few comments that said I should beware of serious weight gain after the competition and that I would rebound. Even Kip told me that I would not be able to maintain that weight and body fat percentage. So what has happened as of now?
Well if you look at my Bikini 1, Bikini2, and Bikini 3 videos – it looks as though I have been able to maintain pretty well. I've gained a couple pounds back and my abs are definitely not as lean but I'm also not working out 2x a day and eating high protein and veggies only. In fact, I've been eating fruit (lots of it OMG!), nuts, Ezekiel bread, peanut butter, pita chips, all types of grains and my love…Sriracha 🙂 I am working out about 1 hr a day – lifting and running and doing HIITs.
I hope to maintain  a little higher than where I was, but honestly, who knows what'll happen! I'm eating clean and living life again. That's the best I can do right!? I don't live in the gym and I can do normal people things like eat out with friends! Life is about enjoying what you do, loving the people around you, and finding happiness. That's the ultimate goal right? So if I have to work SO abnormally hard to maintain a certain physique and sacrifice the precious joys of life, then maybe that is not where my body was meant to be. Sure it's cool to discipline yourself and "get in shape" for bikini season or a bikini competition, but we all need to realize that there is an "in season weight" and an "off season weight".
In season or competition weight takes work to get to and usually cannot and probably should not be held throughout the year. Usually body fat % is very low and mood is not so friendly! You can miss your period and for the most part, people will not want to be around you. One can get very irritated when she cannot have the food she truly craves!
What I am working on right now is finding my balance. Where is my body meant to be? If you look at some of my older videos and compare them to how I look now, I definitely look different. I have a lot more muscle now and less fat. My diet was also not 100% clean back then and I didn't workout as much as I do now. There are a lot of factors that have changed so it'll be interesting to see what my natural maintenance weight is.
So, tell me what you think! Do you think you've found your natural, balanced, and healthy weight yet? Or are you still on a journey towards it? And…did this post inspire you to try a bikini comp!?!!?? Or are you scared now 😛
Have a fab rest of your weekend! And don't forget to enter the Blogilates Activewear Giveaway! There are 3 BIG PRIZES! All you have to do is #1 sign up for my newsletter (top right hand corner of this blog ) and #2 leave a comment on my giveaway post. Here's the link.
<3 Cassey