Hey guys!
I'm drooling as I write this post because OMG this might just be THE most delicious vegan dish I have ever made! I'm not vegan but I've been eating this for lunch for 3 days straight and I am not getting sick of it. The best part is, it's 100% meal preppable, so one cooking sesh will last you a few meals (or more depending on how much tofu you decide to marinate).
Oh and speaking of the marinade, I used one unusual ingredient to make it, and it is the reason WHY this bowl tastes so good.
Cucumber juice.
I had never even tried drinking cucumber juice until I discovered Evolution Fresh's Organic Cucumber Glow. I was a little hesitant to taste it, given that I am not a big fan of celery juice, but you know what??? You've always got to try new things because you don't know what you're missing out on!
I was actually REALLY surprised! Cucumber juice is super refreshing and cooling! If you've ever had spa water with cucumbers floating in the water, it's like that, but with way more flavor! There's some tart lemon and a dash of Himalyan pink salt in Organic Cucumber Glow, creating a perfectly balanced flavor combo. I loved it way more than I thought I would! You can find it in the refrigerated section at most grocery stores along with other fresh-pressed juices!
So anyway, I started drinking Organic Cucumber Glow and was like…wait…what if I cook with it!!??? I started experimenting in the kitchen and omg, I came up with one of the best bowls I've ever made! It's totally meat-free and so so sooooooo good. Seriously, you've got to give this recipe a try. It's 100% 90 Day Journey friendly too!
I present to you…my Vegan Buddha Bowl!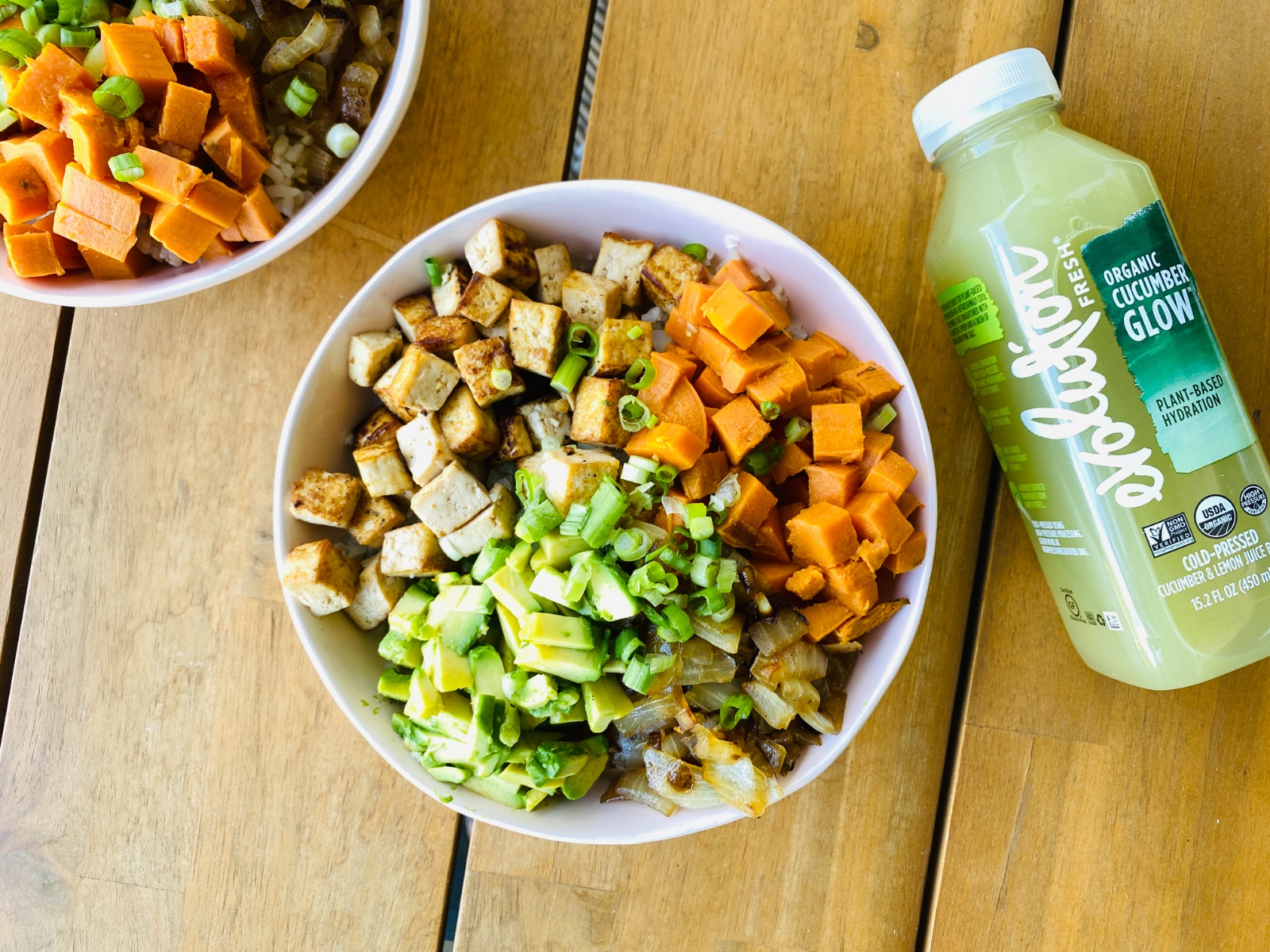 Ingredients for Vegan Buddha Bowl (1 serving)
⅓ container firm tofu, marinated and cubed
½ sweet potato, boiled and diced
½ medium onion, diced and sauteed
½ large avocado, cubed
1 cup cooked cauliflower rice
1 TBS green onion, chopped
Ingredients for Marinade:
½ c @EvolutionFresh Organic Cucumber Glow juice
¼ c coconut aminos
1 lime
Salt to taste
Step 1: Make your marinade! Mix the Evolution Fresh Organic Cucumber Glow juice, coconut aminos, and lime juice in a bowl and add salt to taste! Feel free to double this to save some sauce for pouring over your bowl before serving!
Step 2: Grab your firm tofu and dice it into little cubes!
Step 3: Carefully place the tofu dices into your marinade in some tupperware. You can let this sit for 15-30 min, turning the tupperware over every once in a while to make sure all dices are touched by the sauce. But if you want to REALLY want to go all in, you can even let the tofu sit in the marinade overnight in the fridge so that the flavors can deep DEEP within your tofu!
Step 4: Meanwhile, boil your sweet potato for 10 minutes or until soft enough to easily stick a fork through the potato. Once done, peel the skin off and dice it.
Step 5: Dice fresh onions and saute with some oil. I like sesame oil best because it gives the onions that rich Asian flavor. You can sprinkle with some salt (just a pinch) to bring the sweet onion flavor through.
Step 6: If you feel like your tofu has sat in the marinade long enough, now you should saute it! Add some oil (sesame oil is best) to a pan and then pour the marinated tofu (plus marinade) into the pan. Heat your pan to high heat and cook until all sides are golden brown and most of the marinade has evaporated. This will probably take about 10 min. Make sure to turn over the tofu cubes every few minutes.
Step 7: Scoop half a large avocado out and dice into cubes.
Step 8: Chop some green onion for topping.
Step 9: Microwave some cauliflower rice in a bag! I buy mine from Costco and Trader Joes. if you're buying a bag of fresh cauliflower rice, saute in a pan for 5-8 min or until the cauliflower rice is a bit softer.
Step 10: Once everything is done, time to decorate your bowl! I put the cauliflower rice on the bottom, and section out the tofu, sweet potato, onions, and avocado on top! Then I sprinkle with some chopped onion. If you've got extra marinade, feel free to pour some on your bowl at this point to add even more flavor!
And that is it!
This Vegan Buddha Bowl is one of THE most amazing meals I have ever had. It's high protein, delicious, energizing, healthy, and makes my digestive system very happy!
If you want to see where you can find Organic Cucumber Glow, head to Evolution Fresh's store locator to find a grocery store near you that carries it!
PS: This post was written in partnership with Evolution Fresh! All opinions are of course, my own and I only share things with you that I strongly believe in!
Let me know what you think of this recipe and if you've ever had cucumber juice!
P.S. – Watch the Vegan Buddha Bowl make an appearance in my "Daily Routine" vid below!