Comparing Female Bodies – is there one perfect shape?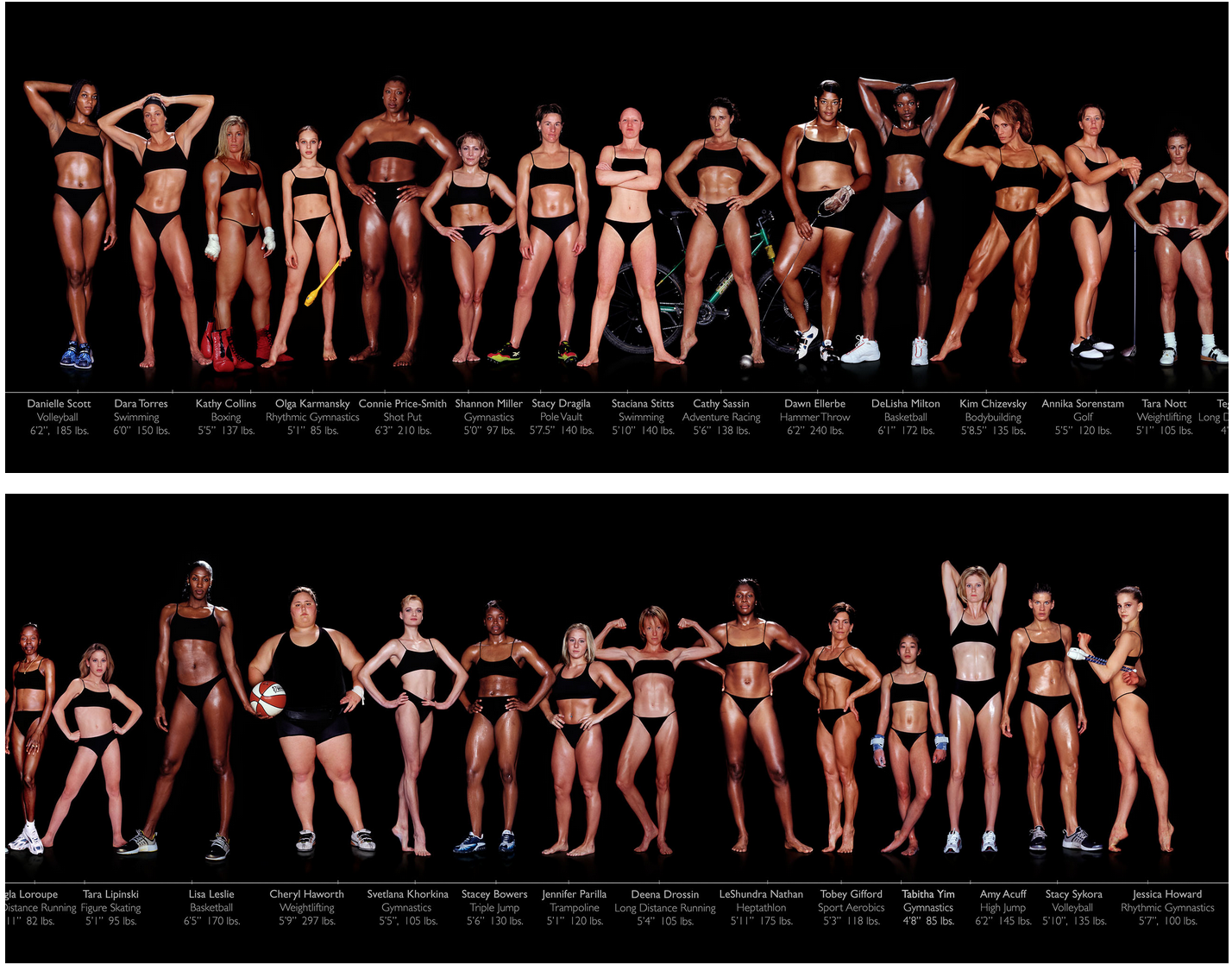 Hey guys!
Yesterday on Facebook when I posted this photo of female athlete body types, you guys had such a passionate response that I wanted to expand on it here today on the blog. The photos were taken by photographer Howard Schutz who interviewed hundreds of professional athletes at their physical peak. He was interested in seeing their musculoskeletal differences.
As you can see every woman here is shaped differently based on the sport she is involved in. All are fit and excel at their profession, but there is no perfect structure or perfect body type. The body type achieved is a result of her practice. The focus is to win the game and be better, faster, and stronger than your competitor. And to beat your personal record from last year.
The fitness world, or the commercial fitness world differs in that we are all so focused on looks, looks, LOOKS! How to get a six pack. How to get an inner thigh gap. How to get rid of muffintops. And you know what, there's nothing wrong with that initially. If vanity is what first drives you to pay attention to your health, so be it. But it is important to note that vanity will not stay with you in the long haul. It is also not enough to make you stick to your goals. It is too superficial. Dig deeper and find the fire that fuels your drive. Is it to get more energy? Is it live happier? Become more confident? Be a role model?
If you are on a fitness journey to lose 20 lbs, take the focus away from losing that 1 or 2 lbs a week. Instead, put the focus into becoming the best dancer in your cardio dance class or improving speed and stamina on your run. You know what will happen? Your pounds will shed anyway. They always say that the moment you stop searching for something, it appears. This is the same. Stop waiting for the numbers to drop. Put the energy into improving yourself!
I always related this to finding a job you love vs. making money. If you slave away at your job just for the purpose of making money to buy things, what has happened to your life? Your job is at least 8 hrs of you day, you will HATE a majority of your life! If you find a job you LOVE and work at it for 10-12 hrs a day or more and make menial amounts of money, then you are happy for a majority of the day…so a majority of your life. But guess what? It doesn't stop there. When you put your heart out there and do what you truly were meant to do, and are passionate, it all comes back to you. Your talent will be noticed. You'll get a promotion. You'll start your own business. The money will pour in.
So same with working out. Stop focusing on shedding pounds. Focus on loving your workout. The more you love it, the less it feels like work, and the more you look forward to it! MEANING the easier it will be to get fit. Make sense? I hope you find POP Pilates to be enjoyable! I love seeing you guys kill your calendars every month. It makes me so happy to see you getting stronger!
Now back to the athletes. As you can see, each competitor looks different but that does not mean that a rhythmic gymnast is a better than a long distance runner or a weightlifter. What do you mean by better anyway? They each have a different skill set and their focus is to be the best at their sport. Their body structure is simply a result of their training. It is definitely not the goal. The goal is to be strong, to be confident, and to win.
So what is the perfect body shape?
The one that makes you feel confident. The one that was sculpted from your desire to find happiness and health in doing what you love.
POPsters, today I ask you, why do you work out? Go ahead. Take a moment to dig deep and pull out your answer. Leave your thoughts in the comments below!
Love you,
Cassey
PS – I'm going to see Hunger Games tonight. I am really scared. I think my eyes will be closed for 3/4 of the movie. Eek!!!