Hey guys!
I hope you had a great weekend. It was a pretty good one for me – I got a deep tissue massage, Sam and I ate out once at a Mediterranean restaurant (I had a chicken kabob salad with falafels and tons of hummus) and I even started a new hobby! I got myself a Cricut machine! How did THAT happen you ask? Well I wanted to buy something personalized on Etsy, but didn't like the fonts they were offering. So then my friend was like, "Well…you know if you just invest in a Cricut once…"
Lots of confusion and tons of YouTube videos later, here I am, a proud Cricut Maker 3 owner. I made my first customized sticker yesterday! Not the best, but whatever, I did it. There is just SO much potential and SO little time!
ANYWAY! I cannot believe I am just 2 days away from the HALFWAY POINT of my 90 day journey! WHAT!!!
Yesterday night, before I went to bed had I had an inclination to just start looking at competition bikinis. I started hearting a bunch on Etsy. I could look at these forever. They are so so beautiful.
You know, when I first competed, I could not afford a real bikini competitor bikini all decked out with crystals, so I bought a normal bikini and my mom and I went to the fabric store to buy rhinestones to adhere ourselves. We looked at pics on google and sewed in a scrunch butt to help with the bootylicious factor and major boob pads to help with the boobylicious factor. There's a lot of love in that suit, and I do not plan on ever getting rid of it.
I could barely sleep last night because I kept thinking about how sparkly those suits were. No really, I woke up at like 3 am and kept thinking about those bikinis. (This is the mind of a person who is stimulated by shiny things.)
Well, I woke up this morning and knew what I had to do. If I am going to reclaim my bikini past, I want to reclaim ALL aspects of it – INCLUDING the fashion!
SOOOOOOOOOOO…
Help me design my 90 day journey bikini 🙂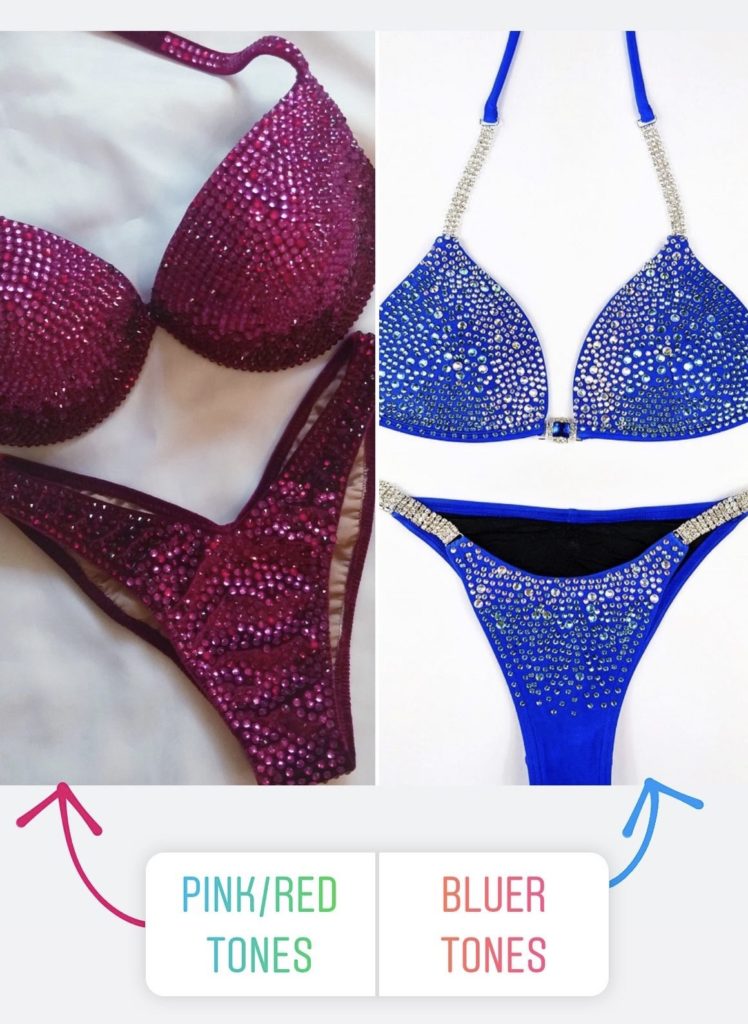 What color should I go for!? Comment what you think.
I am literally SOOOOOOOOO excited for this!!! I glad I am doing this now because these custom suits can take several weeks to create. Eeeeeee!!!! I cannot wait to put on a real competition bikini for the first time. Ahhhhh maybe I'll even buy clear heels and choreograph a little posing routine for funzies!? Who knows. I just want to wear this so bad.
Photo recap from the past week of workouts:
I am feeling stronger and stronger every week. It is so crazy. Exercises are getting easier and I can lift even heavier. It is so cool. I am also beginning to see my body change more, especially around my legs and hips.
Here is my updated meal plan for week 7! Introducing a new menu item: Vietnamese inspired spring rolls…
Inside the rice paper is butter lettuce, chicken, and avocado! The dip is a mixture of sugar free BBQ sauce + lemon + sriracha. Traditionally, a REAL Vietnamese spring roll is filled with vermicelli noodles, pork, shrimp, mint, and some greens. The sauce is hoisin with peanut butter. I am 100% sure fellow Viets would look at me like I am crazy, but trust me, this is REALLY GOOD. I could eat this all day, and the macros are fantastic 🙂

Yes, rice cakes are on here again. I love rice cakes and will continue eating rice cakes til I get totally sick of them. Like I said in an earlier post, when I get obsessed with something, I can't get enough of it. Until one day, I wake up and decide that I just CANNOT stand them anymore. I'm just weird like that!