Vegan Peanut Butter Cheesecake
Hey guys!
I know it's summer and we all want to keep fit, but I just had to share this recipe with you! OMG, it is so creamy and satisfying and peanut-buttery delicious, I'd feel like a bad friend if I kept it all to myself. Here's its highlight reel: vegan, low carb, low sugar, gluten-free, made from healthy fat, and really simple. No, you cannot eat the whole thing guilt-free, but a slice, oh yeah, you MUST!
Regular cheesecakes can be a little fussy to make. They often crack on the top, and it's hard to know when to pull them out of the oven to ensure the center is soft, smooth and firm, yet creamy and not over-baked. And let's not even talk about all the gluten, sugar and cream cheese that it takes to make one! This perfectly sweet and subtly salty cheesecake is made in two simple steps and is no-bake! I'm dying to know what you think of it when you make it! Be sure to let me know on social media and tag your pics so I can enjoy them!
VEGAN PEANUT BUTTER CHEEECAKE
Yield: 8 servings
Serving Size: 1 SLICE
Prep Time: 15 min
Chill Time: 6 hours
Ingredients:
Crust
1/4 cup dry roasted and salted peanuts
1/4 cup raw almonds
6 medium pitted dates
2 teaspoons coconut oil
Filling
1 1/2 cups raw cashews
3 cups water
1/3 cup granulated zero-calorie sweetner
1/4 cup chilled coconut cream from the can
2 tablespoons natural peanut butter
1 tablespoon powdered peanut butter (or peanut flour)
2 tablespoons coconut oil, melted
1/2 teaspoon vanilla extract
1/4 teaspoon sea salt (plus a pinch for topping)
Method:
Soak the cashew in the water for 6 hours, or overnight. Drain and rinse.
Coat a 7-inch springform pan with cooking spray.
In a food processor, add crust ingredients and process until it resembles fine crumbs. Press into the bottom of the pan. Place in freezer as you make the filling.
Place the soaked cashews and remaining filling ingredients into the food processor and process until completely smooth (about 5 minutes). Pour over the crust. Sprinkle the top with a little extra sea salt, if desired.
You can make a fun trim around the top using crushed peanuts, if desired.
Place in fridge for 6-8 hours, or until firm, or place in a freezer for 2 hours and then a fridge for 2 hours.
Cut into 8 slices, and serve.
I cannot wait for you to make this and tell me all about it in the comments!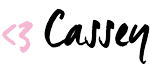 Nutrition Info:
Calories: 267 | Protein: 7g | Fat: 22g | Net Carbs: 11g | Fiber: 2g