Hey guys!
Motivation has not been easy for me lately. After I completed my 90 Day Journey to Muscle, I was just speeding through my workouts or skipping them altogether. Really this isn't surprising at all for me. At this point in my life I know my personality pretty well, and I know that I feel bored and unsatisfied if I don't have some kind of challenge ahead of me.
When I posted about this on my IG and Tiktok, a lot of people called it "disordered." But is it though? I agree that feeling like I can always do more or push harder is a blessing and a curse (I wouldn't be here if I wasn't this way!), I wouldn't call it harmful.
So this got me thinking about motivation. What exactly is the key to firing up motivation and then more importantly, how do we keep that fire going? Is it different for all of us?
Another thing – I hate that not feeling motivated is so often deemed as failure. I've never believed that struggling to stick with "it" is all due to laziness or lack of willpower. I've always felt it had to be something deeper. But what exactly?
Obviously we're not getting TOO too deep here, but you know I can't resist some science. After reading, see if what you've learned about motivation changes the way you think about your goals and how you will approach them.
The advice I always see about motivation is like "mind over matter." "Just train your brain." But how?!
How you complete any given task depends on how you think about that task. Let's use working out as an example.
When you wake up and get ready to workout, there are two ways you might think about getting it done:
Ugh, I don't feel like working out, but it's part of my plan so I have to. Let's get this over with.
My body feels strong today, and I get to workout. I know I'm going to feel even better when I'm done, and I'll be one step closer to my goal.
Can't you just feel how the vibe for the workout changes when you read those two thoughts?! According to psychologists, the thing that kills motivation is resistance. And the key to feeling more motivated is overcoming 3 types of resistance:
1. "I have to"
Have you ever noticed that doing something is often less exciting as soon as it becomes an obligation? Good news – you don't have to settle here and fight that feeling! Make a point to catch yourself in these moments and find ways to change your thinking to "I get to."
I get to workout. I get to prep these veggies for lunch all week. I get to go to work.
Some tasks are easier to view as opportunities than others. I totally get it! But think of this as a practice, and this way of thinking will start to feel more natural over time.
2. Your values
If the task doesn't exactly align with your values, of course you're going to feel some resistance! Even things that don't bother you in a big way can chip away at your motivation over time.
An example – Taking time to workout is making you feel guilty because you're not spending time with your family. Even if you know exercise is self-care and it's only an hour, etc. …leaving your kids at home, letting them have more screen time, or doing whatever you do to squeeze that time in isn't fully aligning with your values. Over time, your motivation wanes. So what do you do?
According to the same psychologists, you change the task or add more value to that task. Maybe you choose to workout early in the morning when the kids are still asleep. Maybe you quit setting exercise goals for physical reasons, and focus on how exercise is good for your mental health and therefore helps you stay more present as a parent.
3. "I can't."
Sometimes you're not feeling motivated because you're scared to fail. We've all been there, right?! I definitely have, so many times.
This feeling is powerful and difficult to push through. But it's possible and like the other pieces of this puzzle, it's a practice. You have to remind yourself constantly that any effort you put into your goal makes you better, even if you fail. 
Fall 9 times, get up 10, right?!
But is mindset always enough? Getting more sciency…
Ready to dig a little deeper with me? This stuff is so cool!
So dopamine is a chemical messenger that communicates between nerve cells and the brain. The scientific term that you've probably heard is neurotransmitter. These chemicals are suuuuuper important for mental health and a ton of other things. But we're talking about motivation today and guess what? Dopamine is a big part of the motivation puzzle.
Dopamine is part of the brain's reward center, and makes us feel good in response to certain actions or experiences. Our brains remember that "feel good" reward, which motivates us to do more.
So, more dopamine = more likely to feel motivated.
I even read about one study where piles of food were placed behind a wall that rats needed to climb in order to get to it. Can you guess which rats were less willing to climb the wall for food? The ones with lower dopamine levels!
Cool, right? But wait. It gets even more interesting. The brain is pretty complicated right? So of course it can't be this simple!
Dopamine also targets different areas of the brain.
Another study I read actually analyzed the brain patterns of people classified as "go getters" vs. people who were "slackers." What did they find? The "go getters" had higher dopamine levels in the reward/motivation parts of the brain. But the "slackers" had higher levels of dopamine in the emotion/risk areas of the brain!
So let's circle back to the mindset part of this post. Specifically the "I'm afraid to fail" part that overshadows motivation.
I think this is a perfect example of why there's no one size fits all approach to any of this stuff. If you're someone who has more dopamine in your emotion/risk area of the brain, it's going to be a lot harder to get past the "I can't" barrier. Right?!
So the takeaway here isn't to immediately assume your brain chemicals are messed up so you'll never feel motivated. NO. Not the point. 
The point is:
More proof that lack of motivation isn't something to be shamed.
To know what could be going on in your brain, as proof that you have to get to know yourself to make change. You can't compare yourself to me or anyone else! You have to change your approach to fit YOU.
And of course you should reach out your health professional if you need more guidance or advice for ANY of this!
Motivation isn't the same as willpower!
Can you feel super motivated but still struggle to get things done?
YES.
Motivation and willpower seem to be used interchangeably, especially in the fitness world. But they are not the same thing.
Motivation = wanting to get the thing done.
Willpower = executing the thing.
Here's where this gets super interesting. There has been some research that shows we only have so much willpower each day. It literally runs out at some point, exhausting your ability to go from motivation to action. How do you know this is happening? Decision fatigue.
Ughhh I did NOT know this was a thing until I started looking more into motivation and I can't even believe how many times I have dealt with decision fatigue and assumed I just wasn't feeling motivated. But actually, I was just drained.
Of course this is one of those things that will vary from person to person. But paying attention to how your willpower changes throughout the day and how soon decision fatigue starts to creep in could be life changing. If you pay attention, you can prioritize your day to be the most productive and set a routine.
This is also a good reminder that you have to be realistic with your goals. You (literally) can't take on too much! So before you take on your next challenge, make sure you have the space. Decide what is most important to you and get rid of anything unnecessary weighing on you.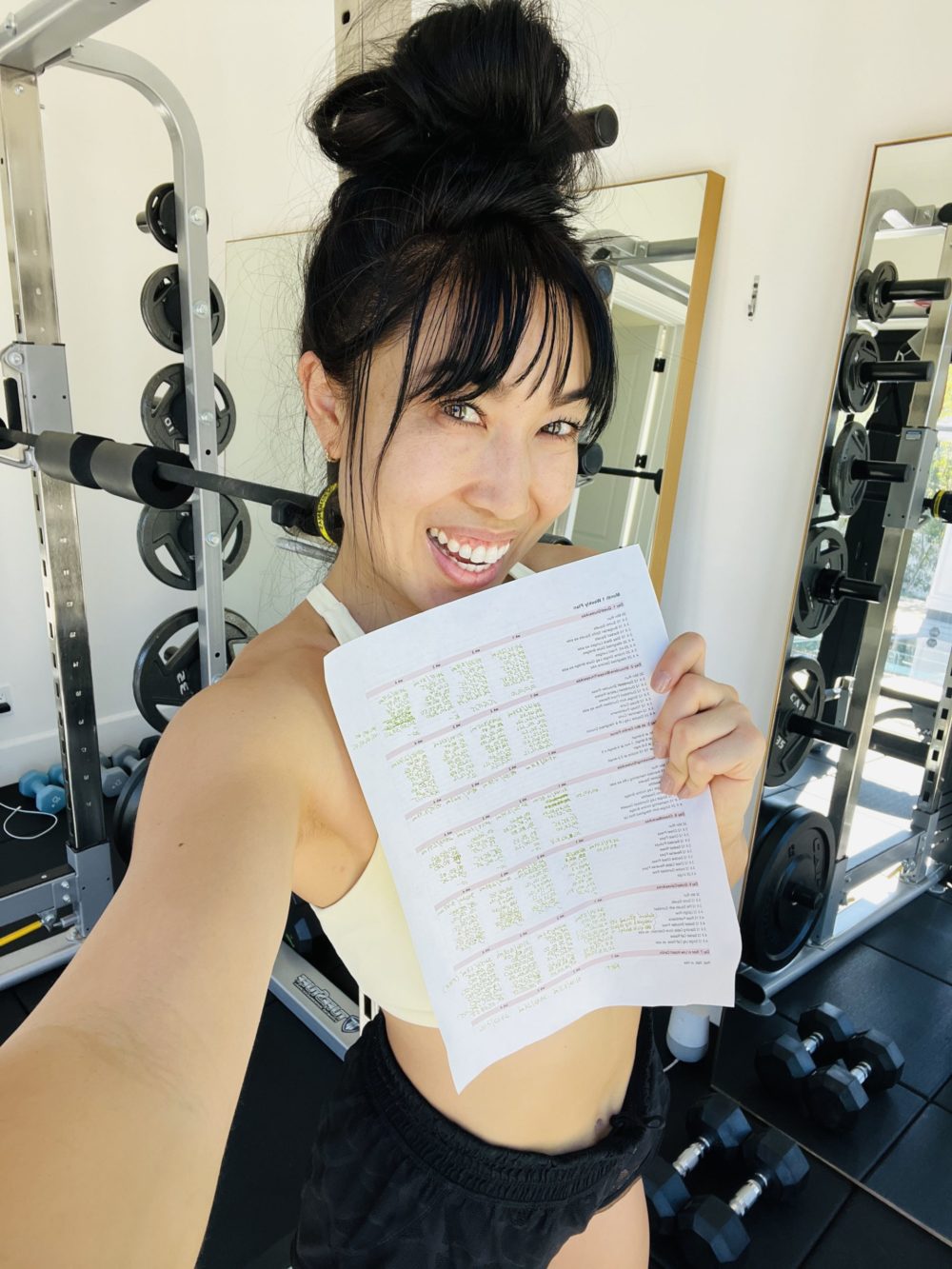 If you weren't feeling motivated, hopefully this helps!
The truth is, I've been feeling like the vibe of 2022 has been a little different for all of us. It's not shocking at all that we're all a little tired after the past few years, right? If you're feeling like it's harder than ever to find motivation, I feel you.
Hopefully we can use this time to dig deep within ourselves and find what we really need! Even if it's not fitness related, if you weren't feeling motivated before to do something productive for yourself, hopefully you are now.