That time I wanted boobs
|
July 13, 2017
|
24 Comments
Hey guys!
I cannot believe we are on the 6th episode of The Sheroic Podcast! It's been really fun being able to get deeper and share more stories with you guys. This week's episode is on Plastic Surgery and Lisa and I have quite a bit to say. To start us off, here's a picture of me back in 2012 backstage at my bikini competition with some of my fellow bikini competitors – all really sweet girls!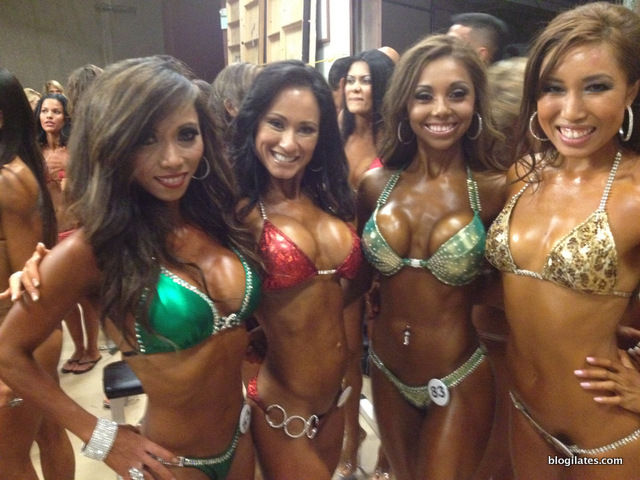 But, my own personal body image issues started after this photo was taken.
Never had I ever thought of altering my body until I saw the stark difference between the girls who won and the girls who lost. Every girl that I met that day was uniquely beautiful, but what I noticed was that the girls who placed Top 5 in my contest all had breast implants. I on the other hand, placed near the bottom 5.
Whether or not this was the case, it led me to believe that if I wanted to be a winner, I'd need to get breast implants too. But I see now that I set myself up for my own mental state of weakness. When you WILLINGLY put yourself up against other women in a physical bodybuilding competition, you better be ready to have your entire worth be based on how you LOOK. Not who you are. Not your GPA. Not your talent. Not how nice you are. It's literally how low your body fat % is and whether or not the ratio of your waist to your boobs and your butt is better or worse than the girl next to you. And guess what? Your literal value that day is dependent on a panel of judges who spend a few seconds looking at you like a piece of meat.
In my moments of weakness, I did not see the situation clearly. I saw myself as less-than and I wanted to do whatever it took to win. I wanted boobs. Boobs were gonna make me win, I thought. The problem was…the reason for changing my body wasn't for myself. I wanted to change my body for a panel of judges I didn't even know.
And that's where I stand on plastic surgery. 100% do it if it's for you. I'm never gonna judge you for it! But if you're doing it because someone else wants you to? Stay far FAR away from plastic surgery! Changing your body to make someone else happy is a NO-NO.
If you want to hear the entire story, listen to the podcast (free) or watch the YouTube video above! I think you will learn a lot about yourself and what makes you TRULY beautiful. This is definitely one of those episodes that you should share with another girl in your life 🙂
Also guys! Could I ask you for a favor? Could you please please please rate and review the podcast? I know it's super hard (like why tho) and kind of a hassle, but with each review, you will help more women be able to find The Sheroic Podcast. I would be SO GRATEFUL for any review you leave. I just want you to be honest!
I actually couldn't even figure out how to leave a review until today (had to read a tutorial)…so no worries if you haven't done it yet! In case you're having a hard time, here's how to do it on mobile and on desktop FYI ;P
HOW TO REVIEW A PODCAST ON YOUR PHONE:
#1. Go to your iTunes app and click search. Type in "sheroic" and you will find us! Click on the cape shoe!
#2. Then click "SUBSCRIBE" and tap "Reviews".
#3. Down in the center of the page, click "Write a Review".
#4. Tap however many stars you think we deserve (umm 5 ok?), write a lil message for me, and then hit send!
HOW TO REVIEW A PODCAST ON YOUR COMPUTER:
#1. Go to bit.ly/besheroic and click on "View in iTunes".
#2. Once you're in iTunes, click "subscribe".
#3. Then click on "ratings and reviews."
#4. Once you're here, click the amount of stars you think we're worthy of, leave a message, and hit "submit".
That is all!
Let me know in the comments what topics you'd like Lisa and I to cover next!
Love you so much!