Hey POPsters!
How's #Blogilates127 going!? I am seeing your signatures and I am approving them all! GREAT JOB!!! Y'alls are crazy. Crazy amazing that is 🙂
If you haven't printed the April Calendar yet, no worries, click here to get it – you can still make up for the days you've missed.
And just cuz I need to say it…you know that the 8 Min Abs video I posted wasn't really my audition video in 1988 right? I'm reading the comments on YouTube and have had enough laughs to last me a lifetime. Hope you had a great April Fools. I really enjoyed all the tricks people played on me. It was kinda fun.
Anyway! Today I wanna show you a healthy recipe for macaroons! But before I get into the recipe, I want to quickly explain the difference between macarons and macaroons. When I shared my creation with some friends they were like wait…those aren't macaroons!!! But yes they are. What people nowadays as macaroons are actually macarons…the ones all the fashion bloggers are gaga over. So once and for all…with pronunciation…here is the difference between a macaroon and a macaron!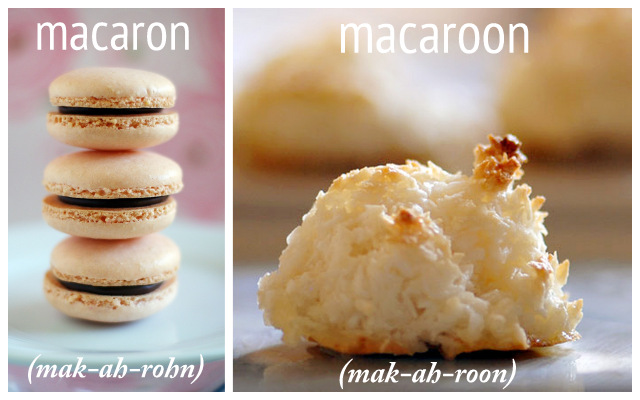 Macarons are meringue based and made of egg white, almond meal, sugar, and food coloring.

Macaroons are made of egg white, sugar, and shredded coconut.
So today, I am going to show you a recipe for a confused macaroon. He is somewhere between both, but unlike the ones you see above, he doesn't have any added sugar and is a much healthier option. Ready for the Blogilates macaroon recipe? Here it is!
INGREDIENTS:
– 1 cup almond meal (you can get this at any healthy food store or you can take almonds and blend them until fine)
– 1 cup  + 1/4 cup shredded coconut
– 4-5 TBS of organic honey
– 1 TBS of non dairy milk
– dash of salt
Mix all of the ingredients above together in a bowl with your hands. Except for the 1/4 cup of shredded coconut.
Look at dat honey!
Carefully sculpt them into little balls and roll around in the other 1/4 cup of shredded coconut. Then chill in the fridge for 10-15 min.
BAM! That's it! You're done. These were so delish and super sweet. 1 ball with a nice cup of tea is a perfect dessert! Now, I am not saying that these are so healthy that you can eat all of them because it does have a high natural sugar and natural fat content. It's just a better option than the traditional macaroons/macarons you see at the dessert shop. But seriously, so easy to make and you don't even have to bake them! I hope you enjoy this recipe and will make them for your friends! Takes about 15 min to make!
Next, I will try to see if it is possible to make the pretty macarons healthy style ones…I am already thinking…beets to make them pink…I like that they are made of almond flour and egg whites. Sugar can be subbed with Stevia. This might be possible…so I will letcha know when I can figure that one out!!
Love you!
<3 Cassey