June Workout Calendar. Sign up for newsletter & the PW will be emailed.
Hey guys!!
I'm posting your June 2015 Workout Calendar a little early this month because I am SUPER excited about our brand new 30 day challenge…THE STRETCH PROJECT.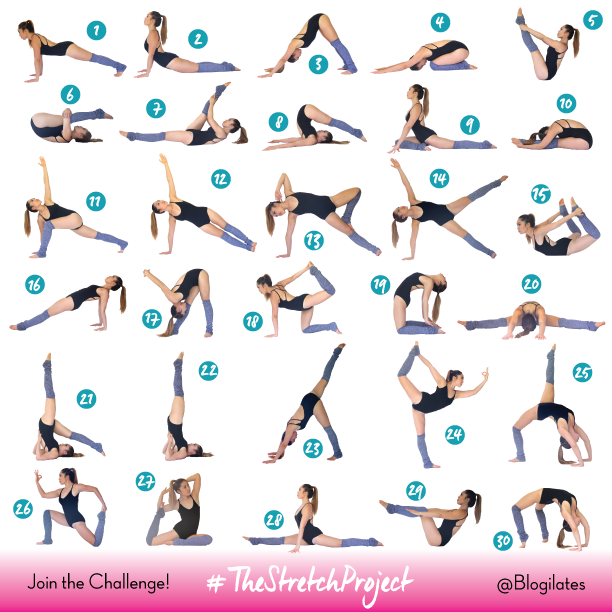 So what's going on for June? In the new month, I want you to complete your workouts of the day as listed on the June Calendar. Please download and print the calendar above! I always love seeing you guys check off your videos. It's one of the most satisfying feelings!
Also…go download the Blogilates App now! (It's free on iPhone and Android!) The calendar that you can subscribe to is in there, the exclusive new video of the month "Ab-centric Pilates Workout" is in there, and the community is just thriving inside. I feel like you guys are less hesitant to open up within the safety of our community, post what you truly feel, and show everyone your rawness. I love that. I love that we can trust each other to be real 🙂
Then, after each day…you have a mini challenge to complete. This one is different than what we've done before because it's all Instagram based!
(Haha there's me in a leotard with leg warmers. It was so fun to dress up! You obviously don't have to for the challenge :P)
I want you to participate in THE STRETCH PROJECT because sooooo often we focus on losing weight, gaining weight, maintaining weight…that we forget to work on releasing our muscles, bettering our posture, and getting more flexible! That's why June's 30 day challenge is focused on STRETCHING.
Here's how to participate!
1. Save #TheStretchProject image and share it on your Instagram as a sign that you're in! ???? Invite your friends to join.
2. Follow @blogilates and @poppilatesofficial
3. Everyday beginning June 1, post a pic of the stretch of the day. ???? Hashtag #thestretchproject and #blogilates
4. If you don't feel comfortable posting everyday for 30 days on your personal Instagram, make one that is dedicated to fitness! ???? You can use the words "Pop" or "blogilates" in your name so we all know you're a popster!
5. Follow each other and like each other's stuff!
6. Every single day for 30 days, I'm giving away a daily prize for participating! Blogilates flash tattoos!
???? Use the hashtags and make sure you're not on private so your post can be found. Winners can be from anywhere in the world.
7. On day 30 I'm giving away a GRAND PRIZE – my summer beauty package! One winner will get a Polaroid camera, the Blogilates Fit Journal, Steve Madden Sunglasses, an Essie Nail Polish Collection, my fave eye makeup essentials, Pura Vida bracelets, and a flower crown!
Let's make real life look like Instagram…
That's it! Make sure you hold each stretch for at least 15-30 seconds on each side. Ease into it. Do your best! I'll be posting daily to remind you! We'll feature our faves on @poppilatesofficial and announce daily winners there too! Yay and lets do this!! Are you in?