Today, I decided to do something scary. Something I try to avoid at all costs for my mental health. But, in David Goggin's book "Can't Hurt Me", he talks about being so strong that you can't even let hate can't hurt you. This 90 day journey isn't just about becoming physically stronger, but mentally and emotionally stronger as well.
So, I took a deep breath. (Okay more like several.) I closed my eyes. And when I opened them, I said "Let's go."
My heart literally tensed up and my breathing became irregular as I invited unsolicited, hurtful opinions about me into my safe space.
I'm posting some of them here, and I'll tell you why after you read them.
I put this here because I want you to know that there is a difference between criticism (that can sometimes be hurtful but also helpful) and opinions like the above, that don't serve me in any way. All it does is fill me with doubt and make me feel stupid. But, I have to remember – who knows my body best? Who's the expert in my journey?
Oh ya. Me.
View this post on Instagram

I need to keep remembering that. I am where I am today because I trusted myself, from the very beginning. And you know what? If I am wrong, I'll tweak, adjust, and learn from my mistakes.
*sigh*
Anyway, on Wednesday, it was my big check-in day! 1/3 of the way through, I booked an appointment at Bodyspec to get my Dexa Scan for my official Day 30 results. I was SO NERVOUS. No really, I was. With me not having concrete data points (besides scale weight) over the past 30 days and all of this doubt buzzing around me, I really did not want to fail myself and honestly, as confident as I was about my workout plan and meal plan, the things people were saying about me injected fear and doubt into my nerves.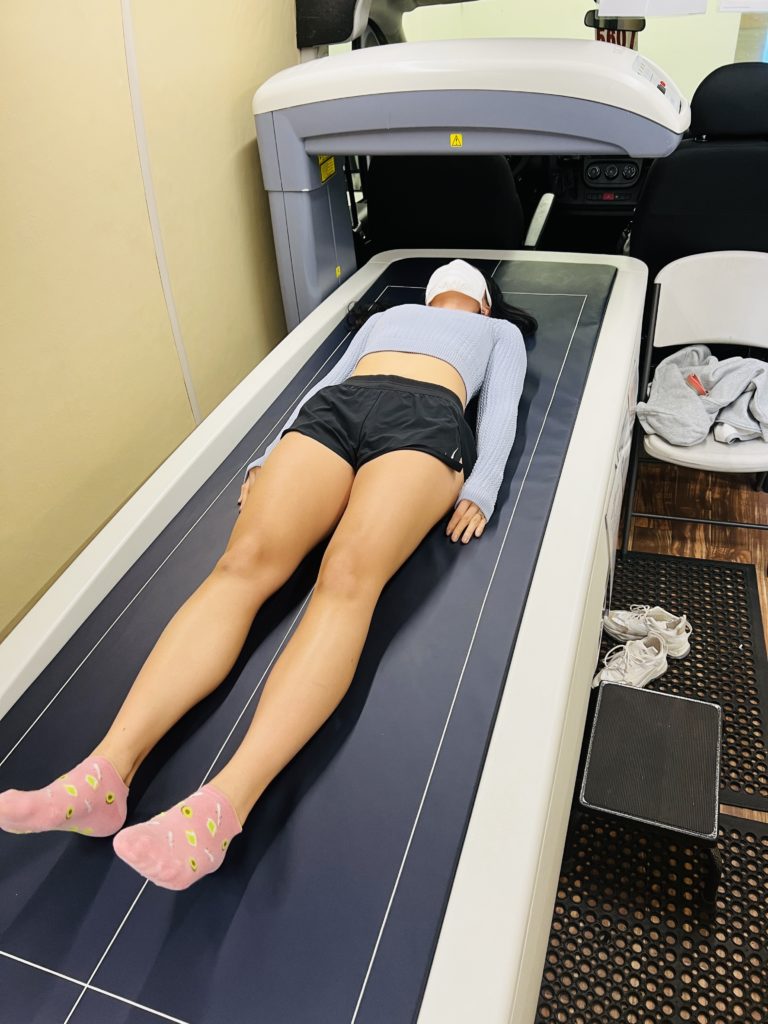 I was so scared that maybe they were right…maybe the cardio was killing all of my gains…maybe I wasn't eating enough…maybe I was working out too much…maybe I had no clue what I was doing.
Well.
Here are the results.
Remember, my goal?
TO GAIN MUSCLE AND GET STRONGER.
Let's see if I'm on the right track…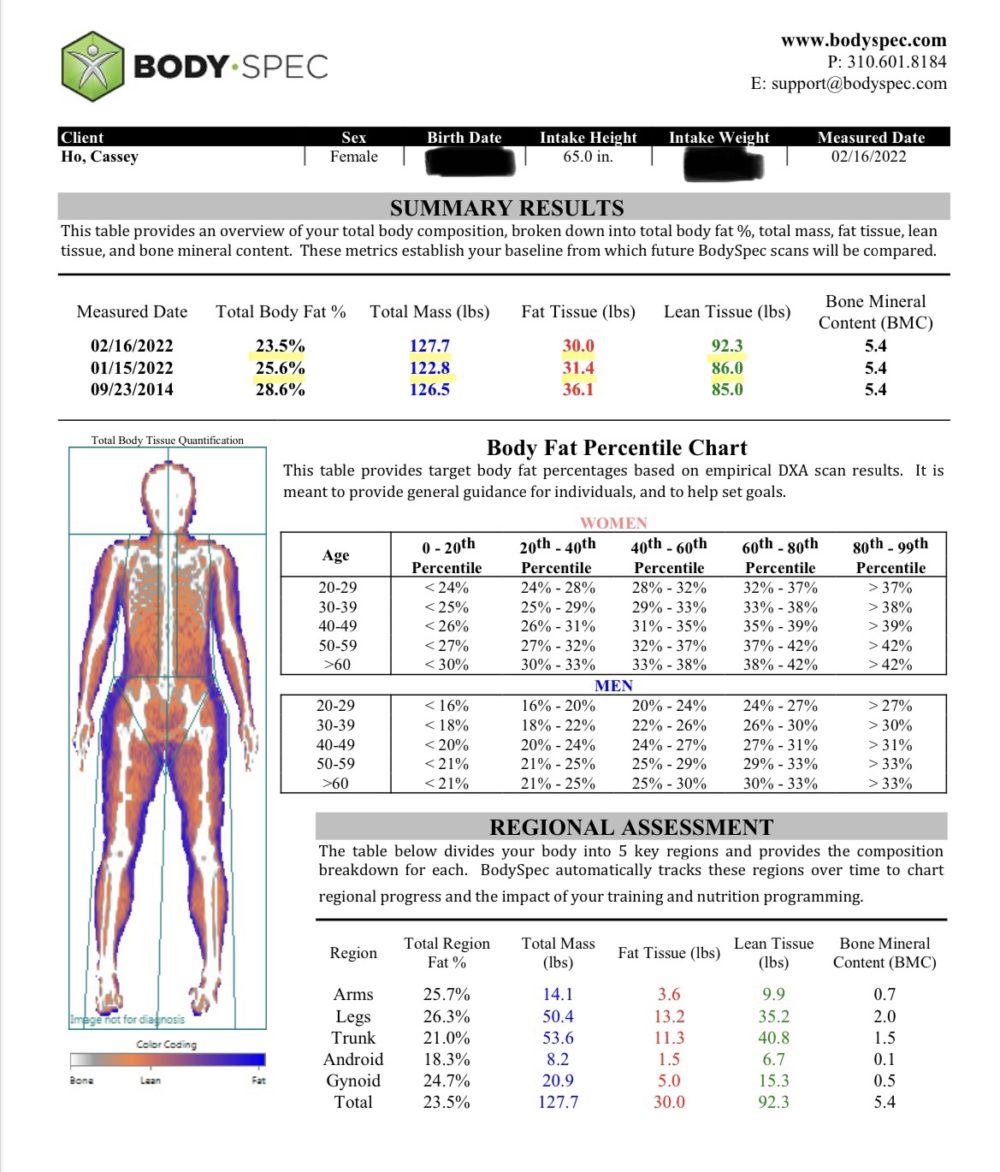 !!!!!!!
!!!!!!!!!!!!
!!!!!!!!!!!!!!!!!
DO YOU SEE THAT!!!???!!!!! OMG OMG OMG OMG!!!!!!
Wait hold on, I did the calculations for you in my 90 day journal!
The guy who did my scan was like…wait hold on…the last time you scanned in was how long ago? 30 days ago??? We both started geeking out over the numbers!!!
Guys…I honestly cannot believe. I was hoping to at least gain 1 lb of muscle. I mean, even less was ok as long as I was in the positive. BUT TO GAIN 6.3 lbs of PURE MUSCLE in 30 days!!!????
Let's deep dive into on how that muscle gain is being distributed.
WHOA. A big chunk of that muscle gain was in my legs. 4.2 lbs! Torso at 1.5 lbs also makes sense with the 3 inch increase in my chest circumference.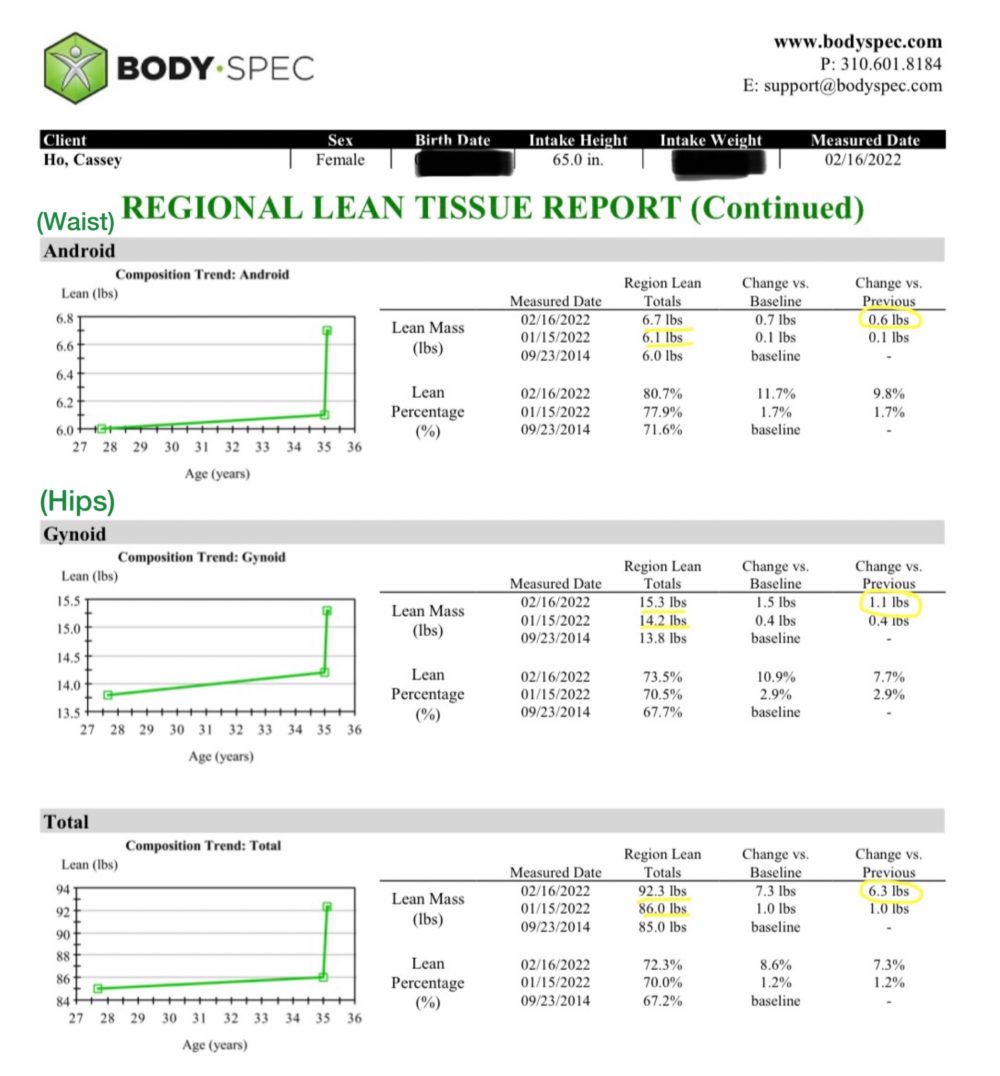 Hips up 1.1 lbs makes sense with the slight hip circumference measurement.
Honestly, these results are pretty dramatic, and I think the drastic change is due to the fact that I have not lifted heavy and consistently like this for over 10 years. So, my body is in "newbie" mode and really reacting to what I am doing. In contrast, for those who have already trained like this for a long time, I hear that it is harder for them to gain muscle.
I want to talk about "body recomposition" (building muscle while losing fat) in a future post. I've read a lot of articles and studies on this and it's a tricky thing to do. I did not anticipate being able to this, especially in month 1 of my 90 Day Journey, but clearly, it's happening. I want to dig hard into this and try to understand how and why this is occurring in my body.
I find all of this SO fascinating. Numbers can be scary or they can be data points. When you look at it as the latter, you can empower yourself with information to help guide your next step towards accomplishing your goal.
ALSO! I took day 30 pics for myself and will keep on my phone, as there is nothing too exciting about them. I pretty much look the same. BUT! I do want to show you my back pic!
Cuzzzzz
You know how I always tell you how hard it is to work my glutes???
OMG. Wait. I literally went from no cuppage underneath my booty to like, cuppage!!??? I don't even know what to say. We've got 60 days to go, and maybe by the end of this I'll have enough jigglage for a proper twerk! Actually, has THAT been my Why all along!?
;P
Well, now I know that what I am doing is EXACTLY what I should be doing. I will pretty much eat and work out similar to what I've been doing the past 30 days for days 31-60, but will tweak a bit here and there to keep things fresh and fun.
And no, I am NOT going to stop running. It took me over 30 years to get to a point where I actually have positive feelings towards cardio, so I'm gonna keep doing it.
Oh and btw, to answer some of the people above…
To the one who said my Green Oats is "disgusting" – it's actually one of my favorite meals and it's inspired by the Chinese rice porridge my grandpa used to make me. So, I'm actually "sorry" you won't ever get to taste it.
And to the one who thinks I should stick to just making activewear – POPFLEX is doing great, thank you, in fact growing quite rapidly. So, yes, I will stick to it like you suggest, but I will run the biz while also being on this 90 day journey, cuz ya know, I'm allowed to do more than one thing at a time in the modern age.
Alright that's enough sass for one night.