Hey guys,
It's Sunday night and 10:48pm. Already failing my sleep schedule goals – more on that in this blog post. Ugh. Anyway, I am going to blog as quick as possible so I can go upstairs to prep for bed!
I cannot believe 1 full week has passed since my 90 day journey has started. I honestly feel like it's going by too quick. 90 days or 12 weeks or 3 months – it's the perfect amount of time to create significant change in most people's physique. But the truth is, I am a little uncertain of what my results will look like. I have not lifted consistently like this for 10 years, and I'm scared I'm not going achieve what I am set out to do. I do not know how my body will react to the food I am eating and the workouts I am doing, and the truth is – I am afraid of failing. Muscle building is a much longer process than weight loss, so my fear is that once I figure out that something is "not working" I won't have that much time left to fix it.
But then again…I am actually the one in charge of this journey, so I guess if I need more than 90 days, I DO have the power to grant myself the time 🙂
Anyway, let's recap week 1 shall we?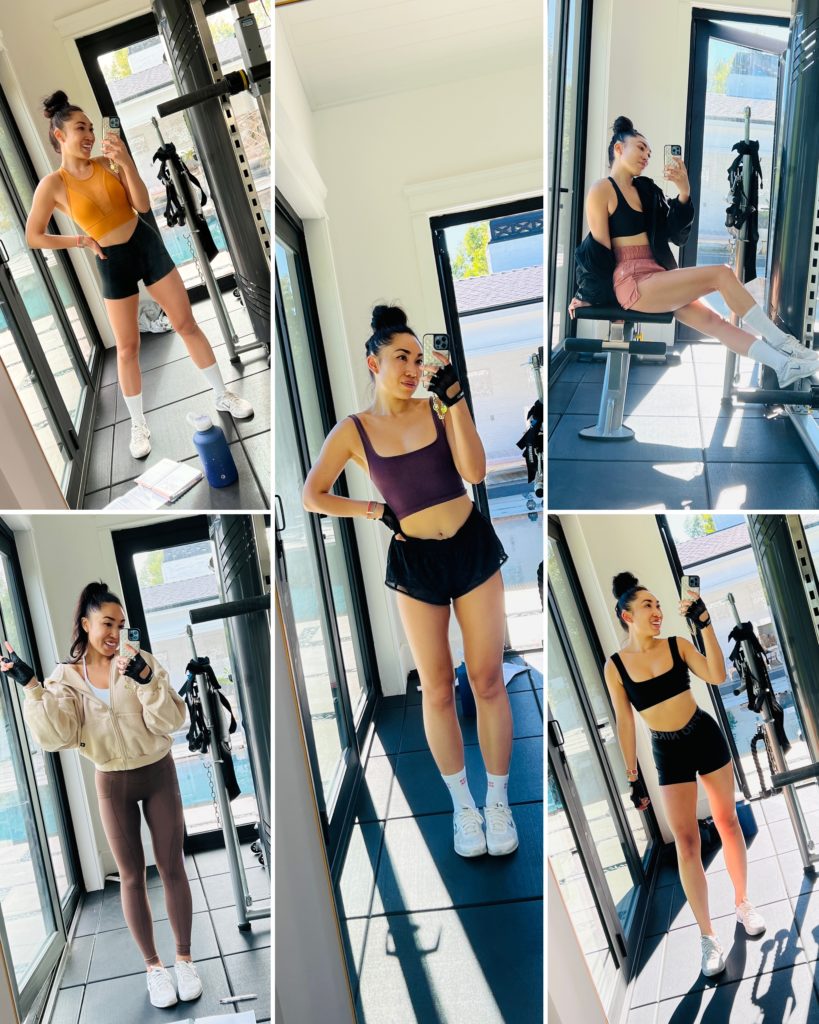 Some outfits from my workouts this week! I TOTALLY forgot to shoot what I wore on Cardio Day (Wednesday) and the perfectionist in me is DYING. I must not forget for week 2! I need to have all 6 outfits or I will be really mad at myself.
Also, v happy that we came out with some POPFLEX mesh workout gloves last year because now I get to use them almost everyday in the gym!
My hands are so delicate and will get callouses really easily, so gloves are a necessity for me. Without gloves, I am not able to deadlift as heavy because the weight feels like it's literally ripping my skin off.
This week's workouts were so intense. Like, OMG. They destroyed my muscles. So much so, that by Day 6, I just could not do it anymore. I was EXHAUSTED. So, I listened to my body and took my Rest Day one day early. Good news is…this means I am truly lifting as heavy as I can handle, and I am very, very happy about that. There's something so empowering about working out for the purpose of GAINING (muscle) instead of losing (weight).
Overall, the meal plan for week 1 was very good. I was STUFFED. Almost too stuffed. All the protein kept me full, in addition to all the fiber from the veggies I was eating.
Winning recipe of the week was a tweak I did to my protein pancakes. I added some tapioca powder to them and AHHHHHHHH they tasted like buttermilk homestyle pancakes! Like, for real!!! Fluffy, light, and does not taste like I used any protein powder. I am going to keep these protein pancakes on the menu for week 2.
Blogilates Homestyle Protein Pancakes
2 scoops vegan protein powder
1/3 c egg whites
1 TBS tapioca powder
1-2 TBS water
1 tsp baking powder
90 Day Journal entries:
Week 1 was great workout wise and food wise, but it was a struggle sleep wise. I did not hit my 7-8 hour daily sleep goal 2 days of the week. There was one night I woke up in the middle of the night with too many ideas that I stayed up for an hour trying to sift through my thoughts. My mind is extremely active and never wants to rest. I started incorporating magnesium the back half of the week and I think it's helping to relax me, so I will continue this.
The progress.
Unfortunately, I am not going to be getting a Dexa Scan every week, so I can't track my body fat % and lean tissue mass. All I have to go by is my weight, which is the part that scares me. My weight went up this week by 2.4 lbs and I have no idea if it's fat mass or muscle mass. I mean, it could also be water mass, food mass, or period mass because THAT just started on Friday!
So, earlier in this blog post when I said I was scared, it was because of this. I don't have all the info I want at my fingertips and I am afraid I won't be able to tweak effectively and efficiently. I was planning on getting a scan at day 30, day 60, and finally day 90. But what happens if on day 30 I find out my progress has been going in the wrong direction this whole time!? It would feel like such a waste of a month. So, I might want to consider getting scanned a bit more frequently so I can empower myself with more information.
Anyway, that is how week 1 went! Overall, really happy with my workout plan and will upload my new meal plan tomorrow. K, gotta go to bed now!