*Deep Breath* I'm doing it again.
Hey POPsters!
How are you? Are you enjoying #OMGOctober? Make sure to print your calendar and your fitness journal if you haven't already!
Okay….
So…
I've been debating this "thing" for a while now. Like seriously, I've been having chats in my head like a crazy person. But sometimes when you get too caught up in the details you just gotta STOP. Turn around. Then on the count of 3 jump forward, spin yourself around, and go with your gut!
You know what I mean?
So guys. On twitter and FB I announced that I was going to trek a similar journey very soon and a good amount of you actually guessed what it was! Reina got it right on the dot!
Yup. That's right. I'm doing another Bikini Comp.
AHHHHHHH!!!
I can't believe I am saying that but after much self-debate, I wanted to challenge myself physically and mentally again and do it for my birthday which is on Jan 16th. It's not as SCARY as it was the first time I made the decision, but it is still pretty darn scary! But I am sooooo happy and excited. Truly I am, and am glad I will be documenting the whole transformation on the blog for you to see.
Here are some pics from last time: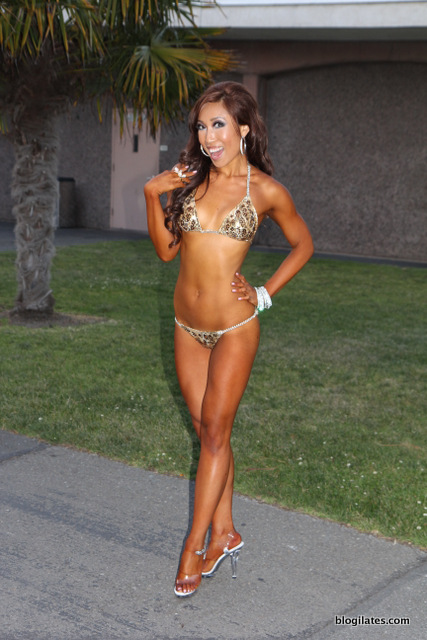 You can see more pics from my May 2012 Contra Costa NPC competition here.
I really cannot wait to take my fitness up to a new level. Because this will be my 2nd one, I already have built muscle over time from weight lifting so my physique will be perhaps even more toned. Plus this time I am giving myself an extra 4 weeks or so to prepare so I won't feel rushed. I wanna be able to just walk into the comp feeling ready instead of upping my cardio like crazy at the end. That was pretty stressful last time.
I already have my heels and jewelry so that won't be a prob. I'm very excited to shop for a new bikini. I think that is the funnest part! (I know "funnest" is not a real word, but Steve Jobs did use it to describe the iPod as documented by GrammarGirl.) That'll probably happen after Thanksgiving and into the first weeks of December. I wonder what look I should go for this time. What do you guys think? Should I do something cute like hot pink? Or do you like the prints? I am also thinking I might do for some underwire this time to help with the "oomph". I wanna put sequined appliques on my own bikini like I did last time. Oh I am getting so excited!! Swarovski crystals galore!!!
Ahhhhh!!!!
As weird as this sounds, I am doing the comp as a present to myself. It's almost like a hobby/leisure thing that sometimes makes no sense financially but I like the pageantry of it and dressing up. I gotta work on my model walk this time too. I know I need wayyyyy more pizaazzzz. I wasn't able to capture footage for you guys last time, but I will for sure this time around. I am not looking to win a crown, a title, or a trophy, I really just wanna work as hard as I can and see what happens! Seriously, it's quite subjective, so what can you do? You just do your best because that is all you have control over! You do your best and you CHOOSE how you want to react to the results and the environment. I choose to make the whole experience positive and rewarding no matter the outcome. This is my thinking going into the 15 week process.
I AM READY.
I AM BEAST.
GRRRRRRRRRR
It's going to be pretty tough I will admit though. Who the heck goes on a bikini comp diet through the holidays? Only crazies. Like me. LOL. I'll still have Thanksgiving dinner and Xmas dinner, no worries – just clean style! Which is still yummy style when done Blogilates style. OMG I suddenly have an urge to do Gangnam Style.
Hold on lemme turn on Spotify.
Ok, there, I feel good now 🙂 This will now prevent me from getting the song-stuck-in-your-head disease.
But you know what? If you wanna go on a bikini comp diet with me for the next 15 weeks, feel free! At least you'll know we're doing it together. In fact, if you wanna do the diet and train and meet me at the comp in LA in Jan, heck, do it!!! We can be like workout buddies from afar!!!!
I'll do my best to post what I am eating so you get a feel for it all. The best place to follow me for that is on Instagram. My username is Blogilates on there. If you want quick updates on how my training is going and how I feel up to the minute, that's my twitter, same username.
So yea, tell me what you think about this! Are you excited or do you think I am nuts?
Hope you're having a wonderful day and I'll see you guys for a new video on Thursday! I'm filming and editing all day tomorrow to make sure it's on time!!!
<3 you,
Cassey
PS: I totally forgot, today we got into FORBES!!!! GO POPsters!!! WHOOO!!! Read the article here. Thanks for being a part of this amazing Community. Y'all make my world go round.