Hey guys!
There has been so much going on behind the scenes at Blogilates that I have been DYINNGGG to tell you about! Thanks to a few delays in production and shipping, I had to wait even longer and the fact that I can finally tell you what I've been working on now almost doesn't even seem real.
But it IS real. So here we gooooo! I've been working on…
A Blogilates Nutrition line exclusively available at Target!!! 
Even as I write this, I still feel like I'm living in a dream with any of my designs on Target shelves. And now nutrition products?! This has been a dream of mine for YEARS (literally, but more on that later), and you better believe I poured my heart and soul into formulating every product. Plus I've been using them throughout my entire 90 Day Journey! Now it's your turn to give them a try.
Here's the Blogilates Nutrition lineup:
⭐️ Sculpt + Debloat Protein Powder with Probiotics
⭐️ Beauty Collagen Peptides with Keratin
⭐️ Unwind Magnesium Powder
⭐️ Glow Up Superfood Powder
⭐️ Jumpstart Energy Powder
The goal? To not only FIND the joy in fitness, but also FEED the joy in fitness.
Let me tell you a little about each one!
Shop Blogilates Nutrition at Target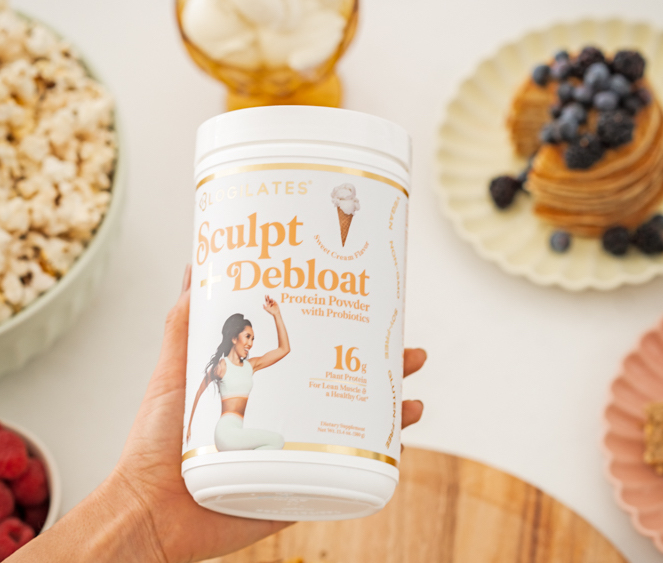 Sculpt + Debloat Protein with Probiotics
Flavors: Sweet Cream and Chocolate Shake
The product that started it all.
I actually started working on a protein powder over 8 years ago!! I was told that creating a product with everything I wanted was impossible. I even gave up once, only to come back to my dream later because I couldn't let it go. And we finally did it!
My goal was to create a vegan protein powder that:
– Is a complete source of protein to support muscle building
– Contains probiotics and fiber to help with my bloat issues
– Tastes delicious and dessert-like
– Has amazing cookability
When I finally tested the product that checked all of these boxes, I nearly exploded with joy.
Sculpt + Debloat is a blend of yellow pea and organic brown rice protein, which provides all 9 essential amino acids to support muscle building. I added a probiotic blend to help eliminate bloating, and a fiber blend for even more gut support. It comes in two flavors, inspired by my obsession with ice cream: Sweet Cream and Chocolate Shake.
This protein is smooth and creamy mixed into some almond milk, but my favorite thing to do is cook with it! I've used Sculpt + Debloat literally every day in my protein pancakes. I love the macronutrient breakdown too – each serving provides 16 grams of protein! I know some powders have higher amounts of protein per serving, but I found that this was the sweet spot to avoid the gritty texture I noticed many plant-based proteins have.
Beauty Collagen Peptides + Keratin
I started taking collagen peptides to help with my hair and skin and OMG what a difference. My hair has been growing at record speed. You've even noticed and asked me what I was using! Collagen!
Beauty is unflavored bovine collagen peptides plus keratin for extra hair support. You can mix it into pretty much anything, like your favorite beverage, coffee, tea, or a smoothie. You can even bake with it!
And collagen isn't just for your hair. It can also help with skin elasticity, joint health, and even gut health.
Unwind Magnesium Powder
You guys know sleep has been a struggle for me for a lonnnng time. I just can't turn my brain off!
That was the inspo for Unwind. Magnesium supports stress relief, relaxation, and ✨better sleep✨
The Strawberry Cream flavor is amaaazing and all you have to do is mix it into some water! I like to drink this in the evening (you know, for the sleep issues ;))
Glow Up Superfood Powder with Probiotics
I looove using this to fill in the nutritional gaps to make sure my body is getting everything it needs to be healthy from the inside out. One serving of Glow Up provides 22 (!) greens, fruits, and mushrooms. Glow Up is packed with antioxidants, probiotics, and fiber to give your body a boost of tons of good stuff with no added sugar or other unnecessary additives.
Of course nutrition should always come from food first! But I feel really good about adding a scoop of this to some water or a smoothie to know I'm getting so many important nutrients no matter what the day throws at me. TBH I think the Tropical Greens flavor is my fave of the entire lineup!
Jumpstart Energy Powder
Energy has been huge during my 90 Day Journey. I wanted to experiment with something to support and boost my energy during workouts without making me feel jittery or making me crash later. That is seriously the worst and I have nooo time for that. I also didn't want something packed with sugar. Soooo Jumpstart was born!
The star of the show here is ashwagandha. If you've never heard of it, it's a functional herb that's been used for thousands of years! It offers plant-based energy by helping your body manage stress more efficiently. Exercise is technically stress on your body, so this helps your body handle the stress so you have more energy for your workout! I also added Green Tea leaf extract for plant-based caffeine.
And the Acaí Bowl flavor? OMG.
Like I said, I've been taking all of these products throughout my 90 Day Journey. This one seriously blew my mind, especially since I hadn't found an energy powder that I liked before. I noticed my mile time was a little faster when I take this, which is crazy! I also I have a little more power during my workouts.
Blogilates Nutrition at Target.com
You can also find Sculpt + Debloat in Sweet Cream and Beauty Collagen in-store!
I can't wait for you to try these!!! Make sure you tag me on IG @blogilates so I can see what you make with the protein!