Best Obliques Workout + NYC Recap!
Best Obliques Workout + NYC Recap!
Hey guys!
Just got back from NYC a few hrs ago! You know, as much as I love New York…I just cannot with the cold. I don't know what it is, but coldness makes me sluggish and unmotivated but cold can't stop us POPsters! I had such an amazing time meeting all of you in Soho and Nanuet!
ANYWAY!! Before I get into the photos…do my new obliques workout! 6 Min to a Sexy Little Waist! Make sure that during the Rainbow Obliques, you are giving me a full curvature from your toes to your fingers. This is how you will truly feel the move in your waist.
Alrighty…now to pics!
This was the SOHO meetup! So many POPsters in 1 room. You guys KILLED IT! Great rhythm. Amazing energy. OMG, you guys made me so happy that day. Loved hugging all of you and hearing your stories 🙂
I also want to give a personal shoutout to my under 18 year olds. When I arrived at the SOHO 24 Hr gym, I saw a girl crying at the front of the gym and I asked her what was wrong. She said she couldn't go in because she didn't have a guardian. I was super confused and upset. Went upstairs, talked to some managers and found there somehow was a big miscommunication. I was super heartbroken. So girls…I am so sorry, I take full responsibility and I will make it up to you in 2015 when I come back for the Blogilates National Tour. Promise.
The next day I had another meetup in Nanuet and then went on to train my new POP Pilates Instructors! This is a glimpse of the New York team in training! I seriously cannot wait for the classes to get started up in Jan 2015. Craziness!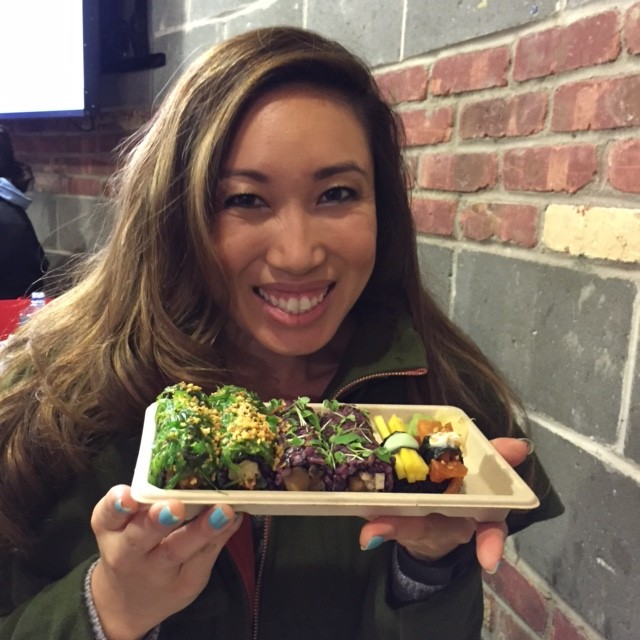 Let's talk about food. (How can you not when you're in NYC!?) The one thing that I could not wait to eat was my fave sushi in the world at Beyond Sushi. It's vegan sushi and it has the most amazing flavors ever!!! Your tastebuds will be sent to heaven! You just trust me on this one.
That pic above was my ultimate YOLO in NYC. I found this place called Pizzarte near my hotel (chic sit-down restaurant) and OH MY GOODNESS the pizza was sooooo good! They have a whole gluten free menu if you're interested, but I went hard core for the ridic stuff 🙂 I ordered the "Pizzarte" which was made with Burrata Cheese, Butternut Squash, Spicy Italian Sausage, and Thyme. I nearly died at the first bite. SO. GOOD.
Alrighty, well that is all for now! I am home now and just about ready for bed. So have a fantastic start to your week 2 of the 8 Week Hot Body Challenge! And I'll see you soon!
<3 Cassey