At last…the Bikini Competition Recap!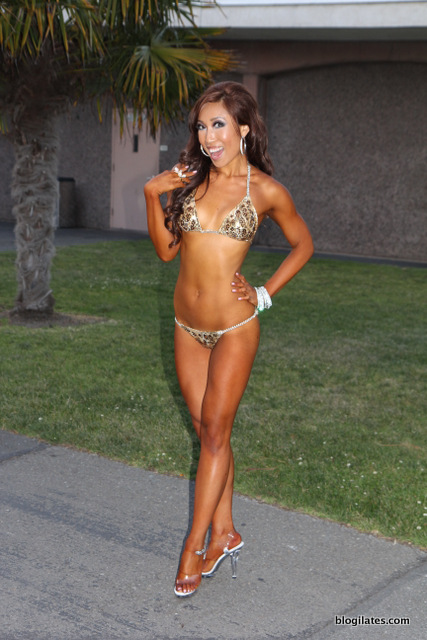 OKAY!!!!!! SO again, BIG TIME APOLOGY for this delayed post! Like I said previously, the timing for my blog migration to a new server was not scheduled out so magnificently so I felt super bad for making you guys wait for this! Especially after weeks and weeks of anticipation leading up to the event!
So let's start from the beginning shall we!!???
Friday morning Danny-J and Aubrie from The Sweaty Betties flew in to support me at my very first fitness bikini competition! It was the first time we met in real life but I felt like I already knew them! Such funny and random girls. They stayed with me for the weekend.
That's Aubrie, me, and Danny!
Danny-J took me to my registration at the local Crown Plaza to get my height checked. Oddly, I was measured 5'4″ when I know for a fact I am 5'5″! I had just gone to the doctors to get my height checked 2 weeks ago. I spoke with some of the other girls and they said they were all about 1/2″ to 1″ off. Weird. So anyway, that put me in Bikini Class C which measures from 5′ 2.5″ to 5′ 4″. There were 12 girls in my class. I later found that class D had only 5 girls!
That night my mom helped me finish up my bikini (we made it ourselves) and I tanned up for the last time (I did this 5 times) and went to sleep dirtying some old sheets. Tanning is no fun. It's nasty, dirty, smelly, toxic, and when that aerosol spray hits you, it's effin cold.
Got up bright and early Saturday morning at 6am to do my hair and makeup!!! Mommy did hair, I did makeup. The girl at MAC told me to wear double eye lashes which I had never done before, so I took her advice…but they were sooooo heavy on my lids. Now after looking at the pics, I don't think I should have. It looks like my eyes are closed!!! Anyway, here I am with my trainer Kip! He brought me a bag of resistance bands so that I could pump up right before hitting the stage. You know, to make my muscles pop! Crazy last minute techniques huh? He gave me a little pep talk and wished me luck. We worked really hard together for the past 1 and a half months so today was the time to strut and shine!
Here's a glimpse of what I got to look at backstage. Girls tanning. Guys flexing. I mean, not too bad, right? 😛
Here I am with some of the other bikini competitors in class A and B I believe. I love how all of our bikinis are different and all glammed up! These girls are seasoned competitors. My backstage friend Valerie (#83) helped me with last minute posing and we also helped tan and oil each other up. She flew all the way from New Mexico to compete and was such a sweetheart. It made the whole experience a lot more friendly. Which reminds me…I have a funny story to tell you when I vlog about the bikini comp. Not everyone was so nice…and it makes me laugh.
More backstage pics! The two ladies on the left are Figure competitors. That's Cori Ann and Christy! Very cool peeps! As you can see, they are more muscular than Valerie and I.  Their suits are a little different too. Their bikini bra criss-crosses in the back and their bottoms have more of a high V look on the sides. The routines that Figure competitors have to do are also much more different than Bikini. Figure body fat %'s also tend to be lower than Bikini. Bikini girls are allowed to have more of a "softer" more "feminine" shape.
Hellooooooooooooo 6 packs!!!!!! Wait make that 12!!!! Here I am some Men's Physique competitors along with another one of my super cool backstage friends Merredith! Doesn't she look like Britney Spears!!???!!! Men's physique is a newer division for the guys that is kinda "one step down" from bodybuilding. I don't mean that in a bad way, I just mean it's kinda like the step down you take from Figure to Bikini. In this division, the judges are looking for more of the ultimate "beach bod" look so you don't have to be as big/built/ripped/cut as the bodybuilders. The guys also wear board shorts instead of male thongs, wait, I mean "posing trunks". Haha, just kidding, just kidding.
OOoOoO!!! Now let's go the other direction! Here is Stacey a woman bodybuilder!!!! Look at those mature muscles! OMG. There's me trying REALLY HARD to form a puny bicep next to her mega arms! Oh man, here you can really tell the difference between the different female body types that can be seen at these fitness competitions! So crazy!
My parents came out for the event. And if you must ask, no I did not feel weird prancing around in almost nothing next to my Asian mother and father. Hahaha. In fact, they were quite supportive of my whole bikini contest journey. They saw the discipline and dedication it took and just let me be. I mean, my mom thought I was totally insane for eating the same food everyday and my dad thought I had no life because I lived in the gym for hours at a time, but in the end, they still loved me because I set a goal and completed it!
Do I look more like my mom or my dad? Or none because I look like a dolled up oompa loompa? Hehe.
I was so surprised when I found out that my best friend and former college finance tutor Sam flew in from LA to come support me at this competition!!!! He knows how much this journey means to me and bought a ticket last minute to make an appearance! I felt so loved. Even though he thought I was a crazy B throughout the whole process, he too, like my parents, was very proud of me for the hard work and time put in to get ready for this bikini competition. He had to deal with a lot of me on the phone going "Ughhhhhhh…I'm so carb depleted…..ughhhhhh only 10,000 more hours of cardio….." Hahahaha, he must be so happy now that he doesn't have to hear me complain!!!
So anyway!!! For the show, I had to prepare a 10 sec modeling routine for the morning show (pre-judging) and then once more for the night show. Apparently the winners are pretty much determined at the morning show, and you know if you make Top 5 if you are called out to be compared in the "comparisons" against 4 other competitors.
The judges are looking for overall muscle tone, proportion, and I was TOLD that a nice booty and sexy legs help too.
I don't have the CD pictures of me on stage yet, but I found this one online.
I don't know what's going on with my pinky, but otherwise, I was having a grand ole time 🙂
I  really wanna show you the modeling routine I worked on for the month and a half! Kip had me practice 30 min a day religiously. It was really good practice not just for the contest but for life…LOL…I am now so outrageously graceful, confident, and bouncy in clear 5″ stripper heels 🙂
Anyway, gotta grab the footage for that…but until then just imagine me cocking my hips side to side and doing T-stands and smiling a lot. Pivot turn, pivot turn, you know.
So what were the results? Well I did not make Top 5 in my class. I later got feedback that I did not have enough upper body. I needed more muscle in my shoulders and back compared to the other girls. But you know what? I totally love the way I look and am happy with my body!!! Yes I entered myself into a contest to be judged physically and their standards for the perfect bikini bod may not be my standards, but I do not regret getting involved in this world of fitness that was so foreign to me until now.
I wasn't bummed since my original goal was to just be able to work hard enough to stand next to these bikini girls and look like I wasn't out of place. I also wanted to shape up for the POP Pilates DVD, so as a tool, using the competition to bust my butt off totally worked 🙂 I have never been this lean in my life. Like I said in previous posts, the entire experience has been incredibly rewarding and positive the whole way around. I am sooooo happy I followed through with the training and the prep work needed for the competition. Now I know what it takes to be a competitor and how hard I can push my limits. This will not only help me gauge my own level of fitness during workouts, but will also help me have a sharper eye when it comes to instructing and training students!
Here is the girl who ended up winning the whole Bikini division. Congrats Traci!
I have much much more to say about the contradictions and hypocrisy I encountered while training for this event, but I will save it for my vlog which I will post tomorrow. It's gonna be juicy 🙂
So what did I do after the event ended? Umm I totally ate cheesecake. DUH.
And then what did I do on Sunday after I cheesecake? I ate cinnamon ice cream with snickerdoodles.
Haha, no worries guys – I did not gorge!!! I shared these desserts with friends and having food with sweetness and flavor again was just heavenly. I always like to say that eating dessert is eating for the soul. So my inner Cassey was very full and happy this weekend.
I didn't go nuts though because I had another photoshoot on Monday! Kip told me to book a couple shoots this week just to capture the hard work that went into the whole journey. Good idea. I shot with photographer Hardy Wilson who does amazing work and he was so much fun to work with. I can't wait to see and show you the fitness and swimsuit photos we did!!!!
One drawback of the competition has been the leprosy I have developed. Just kidding. It just looks like it. I look like a reptilian mutant. My back, abs and chest are all scaly and disgusting. I am wearing black long sleeves to teach nowadays and I feel super self conscious about my orange skin tone. Ha, I guess I should just hang around other competitors for the next week so we can be all mutant together.
So that's that guys! Part 2 with my vlog on my thoughts of the competition will be up tomorrow. I leave you with a picture of my dad who became inspired to compete after watching the show 😛
Much love!!!! And thank you for following me on my bikini journey. So excited to be back to regular life and to be able to cook with a variety of ingredients again!!!! More time for YouTube workouts and more time for blogging.
<3 Cassey