Ahhhh I made it to Day 28 and my final workout of my Month 1 Plan!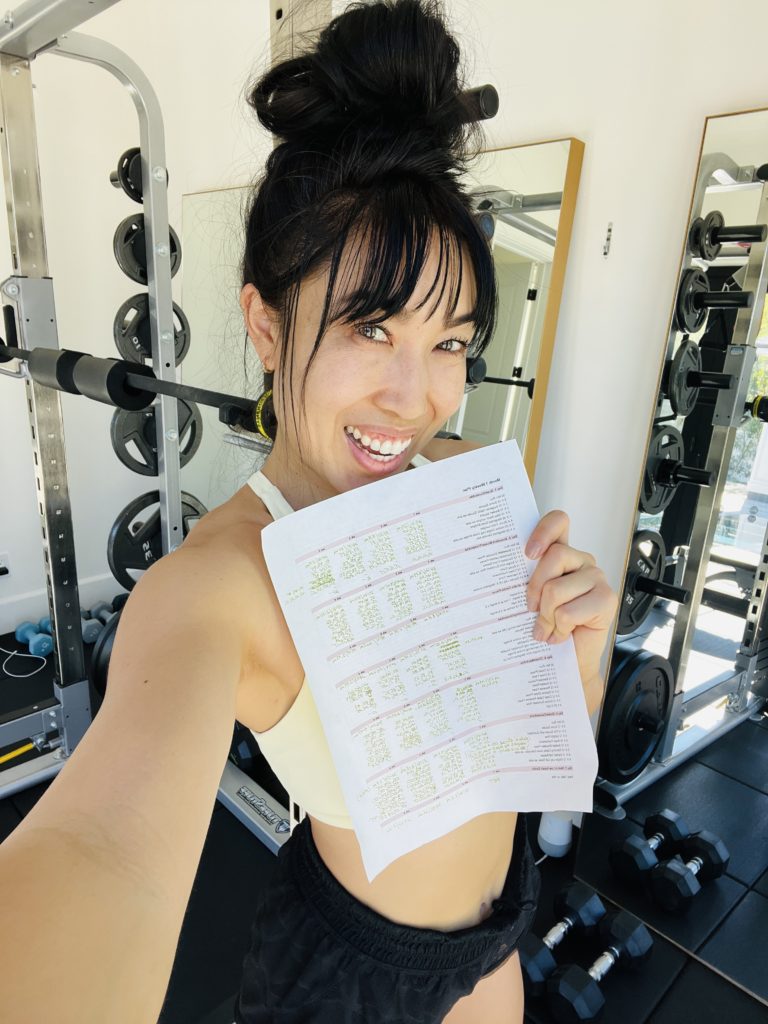 It was so satisfying to fill in the last boxes of this page that has been with me everyday, in the gym, for the past 4 weeks. I can feel my body getting stronger week by week, and the physical change is beginning to show itself too! I can see a slight visible difference in my legs, abs, and arms – but I don't really see too much change in my butt! My butt is the hardest to grow – I blame it on the genetics. My Month 1 workouts were written to give more focus to lower body than upper, and you know what? The body will react how it is meant to react. I think next month, I will change some of my runs into incline hikes to help with booty growth while getting my cardio in!
Heres's my week 4 90 Day Journal recap:
Last week was not the best for me food wise. I started getting bored of my food, and then I had some occasions where I could not follow my meal plan so it totally threw me off track for a few days. But by the end of the week and into this weekend, I adjusted my meals to better suit my current desires (taste wise) while still keeping macros generally the same. After the adjustments, I felt much more at ease.
Also I finished "Can't Hurt Me". Biggest lessons I learned from the book:
It's ok to be uncommon. It's ok to not have everyone like you.
When you think you're working hard, you've only hit 40%. You have so much more potential. You can endure more. Tap into your mind and keep pushing.
Only listen to the people who have done it before. Do not listen to those who haven't even come close to attempting what you're trying to do. They have no say.
If you fail, you're not a failure. You can try again and again and again.
If someone's not willing to see you achieve, it's not your problem, it's theirs. Surround yourself with people who have champion mindsets.
When it comes to haters, sometimes you can find truth between the lines. If you've hit a wall, don't be afraid to dive in and dissect what they're saying to improve your game.
I truly enjoyed this read and will try to implement David Goggin's "Stay hard" mentality throughout all aspects of my life personally and professionally. I got through that so fast so am now scrambling to figure out what my next book should be! Any suggestions?
Below is my final mini check in before my Dexa scan on Wednesday, which will be the official day 30 check in with ALL the data.
Over the past 28 days, I have gained a total of 3.8 lbs. I am really curious to see what that means. How much of that is muscle? Fat? Water? Whatever the outcome, I am excited to get the data and tweak accordingly.
Tomorrow, I will update you with my new Month 2 workouts. I am going to hold off on updating the meals til after Wed, in case I learn something that will affect my nutrition.
Oh, also…
HAPPY GALENTINE'S DAY!!! And happy Super Bowl Sunday! I am about to go make some fresh guac to bring to a friend's house. I make a REALLY good guac…ah I wish I could make some for you! It's basically: avocado, lime juice, tabasco sauce, monkfruit sugar, salt, onions, tomatoes, and cilantro all to taste. YUMMMM. Oh and trust me…the monkfruit is what makes it special 🙂
Finally, if you haven't seen already, I put all of my gym bags and backpacks on sale for Valentine's Weekend! Everything is 30% off with code "BAGS30" at popflexactive.com.
The Belladonna is the bag I use for travel, gym, work – everything!!! Here's a lil video for your enjoyment!
View this post on Instagram
Let me know what color you end up getting! Love you guys and see you tomorrow for my workout plan update.