Thanks to LÄRABAR for partnering with me on this post!
Hey guys!
So I've been reading your comments and messages regarding the 28 Day Reset Challenge and I am BLOWN AWAY by your results so far…and we're not even done yet! I could not be happier!! You are beginning to understand how to be in full control of your health!
Last year around this time is when I first released PIIT28 1.0 and The 28 Day Reset. I finally was able to create a program that truly worked for me – an exercise routine that didn't ask me to be in the gym for hours at a time and a way of eating that didn't make me feel like I was in a food jail.
It's really amazing to find balance – especially with food because I feel sooooo at peace and in control! The 28 Day Reset asks you to free yourself from dairy, gluten, alcohol, processed foods, and added sugar for 28 days to pinpoint your food intolerances. At first it was hard, but after I was done, I wanted to go truly stick to my new eating habits. I didn't even crave YOLO meals. Right now, I feel so clean, so energetic, my skin is better, and I don't get bloated. AND, I don't feel deprived, ever.
To help you understand…I want to make the distinction between deprived with a lean body and nourished with a strong body:
I've gained some healthy weight since my bikini comp in 2012, but more importantly, I've gained back my life. I don't count calories and I'm not stuck in the gym all day! I'm happy. I'm balanced. I can honestly say that I really love the way I look now because it matches with the way I feel! This is a big deal for me. It took me years, but I now truly understand that being thin does not equal happiness. Having strength, being in balance, and feeling at peace is true happiness.
For those of you going through the Reset right now, I'm super proud of you! Keep going!! And for those of you who were on the fence about trying it, commit yourself to it. The Reset is only 28 days and it will seriously change your life!
Today I am going to share with you 10 of my favorite 28 Day Reset approved snack ideas:
#1. LÄRABAR Bars
For those of you who are super busy and want to just pick up and snack and go, this is it. LÄRABAR bars are 28 Day Reset approved. They are made from a few whole and simple ingredients. Just fruits, nuts, and spices.
They're gluten free, dairy free, vegan, and made from REAL FOOD. They don't taste fake or chemical. They are real. Stick to the ones without chocolate chips though.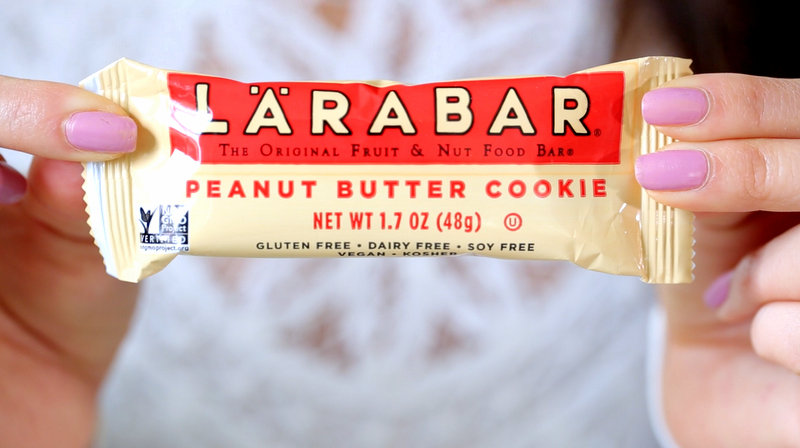 My fave is Peanut Butter Cookie. It's made from dates, peanuts, and sea salt. That is literally it!
And right now LÄRABAR bars are 25% off on Amazon through February 14 – so I suggest you go get yourself some right now. The Amazon store has so many yummy varieties to choose from! Click here to see em all!
The discount applies to the lowest priced item so grab a caddy!
#2. FREEZE DRIED FRUIT
I looooove eating astronaut strawberries when I feel like I need a good crunch. They are literally dehydrated strawberries, so it's only 1 ingredient, and they taste like tangy chips! A whole bag is under 140 calories! Just make sure you have water around because they are really dry and will make your teeth kind of red! If you don't like strawberries try astronaut bananas or astronaut apples!
#3. APPLES & PEANUT BUTTER
This one is classic. You can have 1-2 tablespoons of peanut butter with your apple. You could also try almond, cashew, peanut or sunflower butter if you're feeling like you want to try something new! You can pre-portion your nut butter for the whole week into mini plastic condiment cups, slice up your apples and slip them into Ziplock baggies. Make sure to squeeze lemon on your apples to keep them from browning. It'll take you less than five minutes to make this snack for the whole week! Another bonus is that raw fruit take a long time to eat, so by the time you're finished, your body will signal it's satisfied.
#4. BABY CARROTS & HUMMUS
Another classic. But choose your hummus wisely. Make sure you don't have any weird ingredients in there. Again, everything must be whole. This Eggplant Hummus I found at the grocery store was so flavorful and totally Reset approved! You get your fiber, carbs, protein and fat all in one snack. You can also pre-portion this one just like you did for the apples and PB for quick grab and go snack.
#5. EDAMAME
Edamame is a ready-to-go snack. It's a complete protein, and also contains some healthy fat and carbs. I don't recommend lots of soy, but a little organic edamame from time to time can really make your life easier! Sprinkle a little salt on top and it's perfect!
#6. CREAMY GREEN SHAKE
Shakes are the best post-workout snack because the nutrients get into your system quickly, helping with muscle repair. You can add protein powder or not, it's really up to you. Just make sure it's NON DAIRY. So now whey, no casein. If you've worked out, you really do need to get in some protein and carbs within the magic window (within about 30-45 minutes of your workout). Try 1 cup unsweetened almond milk, 1 TBS of nut butter, 1 bananas, a handful of spinach and 1 tbsp chia seeds. Blend it up with ice and you've got a portable, drinkable meal that's balanced and filled with antioxidants.
#7. FRUIT SALAD
Fruit is LIFE! You can easily make a fruit salad that'll last all week. Throw in your fave berries, grapes, kiwis, mangoes – literally any fresh fruit you like and pack it in some Tupperware. Fruit will help with your sweet cravings.
#8. OATMEAL
Super filling and delish. Try 1/3 cup plain oatmeal, 1 tsp chia seeds, 2 TBS chopped walnuts, and 2-3 chopped dates. Top with cinnamon and this is literally perfection.
#9. HOMEMADE TRAIL MIX
This is an excellent combo. Almonds, cashews, freeze dried strawberries and coconut chips (no added sugar). Don't buy the trail mix at the store because they can be filled with sugar and weird preservatives that you don't even know about. Dried cranberries may seem compliant but many are filled with added sugar! A serving is about a generously small handful!
#10. POWER POPCORN
Power popcorn is my fave. All you have to do is pop some unbuttered popcorn, spray with coconut oil, mix in a blend of stevia and cinnamon so that the popcorn gets coated, and then throw in some astronaut bananas for fun! SO GOOD, filling, and light!
As you can see, the options for eating 28 Day Reset are ENDLESS! Plus they get you to start thinking and eating really creatively! You will not go hungry and you will not feel deprived if you're fueling yourself with health fats, carbs, and protein. You really don't even need to be counting calories because you won't be filling yourself up with empty calories.
I want to give a very special shoutout to LÄRABAR for making Reset approved bars! That is something I definitely cannot say about most bars on the market.
So thank you LÄRABAR for supporting the 28 Day Reset and for partnering with me to help our POPsters stay healthy and on track!
Comment below and let me know how you're doing on the Reset! Don't forget to post your before and after pic and use the hashtag #28dayreset! I want to see your progress! I'm so proud of you guys!!!