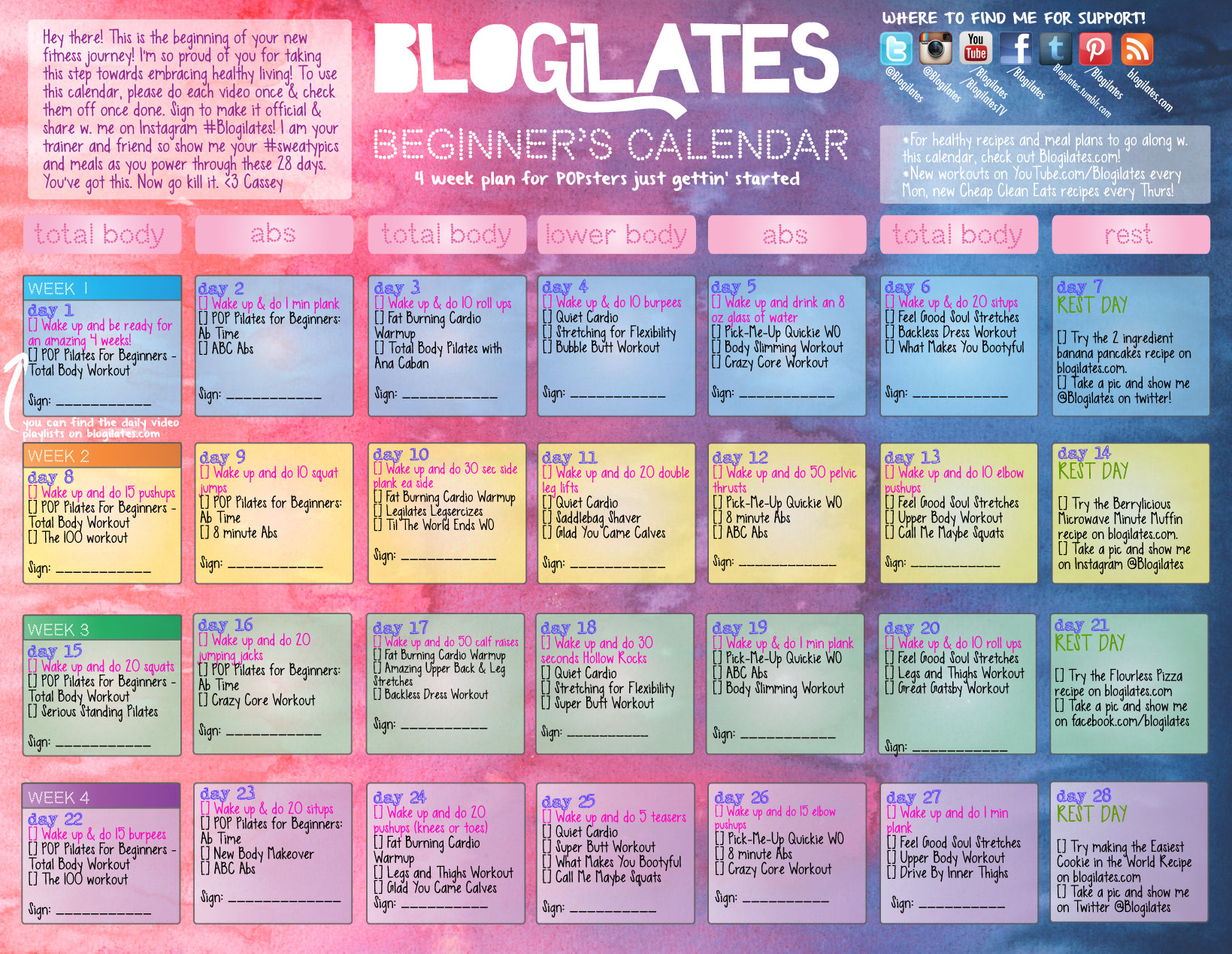 Click to enlarge
Click on the corresponding daysfor a full playlist of the workout videos listed. No more searching YouTube! You're welcome 😉
WEEK 1
Day 1   Day 2   Day 3   Day 4   Day 5   Day 6   Day 7
WEEK 2
Day 8   Day 9   Day 10   Day 11   Day 12   Day 13   Day 14
WEEK 3
Day 15   Day 16   Day 17   Day 18   Day 19   Day 20   Day 21
WEEK 4
Day 22   Day 23   Day 24   Day 25   Day 26   Day 27   Day 28
Hey POPsters!
I developed this Beginner's calendar to help those of you who are just starting out on your fitness journey and are unsure about how to ease into the routines. I want you to know that you are capable of ANYTHING and that all it takes is a little practice. This is a structured 4 week plan and compilation of videos that will really help you understand the basics of Pilates – like proper form, proper breathing, mind-body connection. Once you finish this calendar, I guarantee you'll be ready to do the monthly calendars!
HOW TO USE:
1. Subscribe to YouTube.com/Blogilates
2. Print the calendar and hang on your wall
3. Do each of the videos once (video playlists are listed per day in the table above)
4. Check mark each video you do
5. Sign off and then tweet or instagram me your accomplishment @Blogilates! (I highly recommend creating a twitter and instagram account to get more active in the Blogilates community. It is also easy to communicate with me there!)
NOTES:
New workout videos are uploaded every Monday on YouTube.com/Blogilates. "Cheap Clean Eats" recipes also air every Thursday for your healthy foodie desires 🙂 Although the new vids are not included on the Beginner's Calendar, I encourage you to take a look at them when they come out. Please try if you want to challenge yourself! If you can't do it anymore, just stop, and start again. NO BIG DEAL. Breaks are ok. Everything you do is PROGRESS!
Do the best you can! All it takes is hard work and determination. If you want it bad enough, your dream of becoming fit will turn into a reality. I promise.
Please let me know if you have any questions. I am your friend and your instructor and I am here for you!
<3 Cassey