Hey guys!
It's happening… we're about to say goodbye to 2020 and hellooooooo to 2021! There's really nothing that beats the feeling of a brand new year. That very first day is full of so much excitement, promise, hope, and dreams. Granted, no year is ever perfect, but it's that idea that we're giving this new year everything we have. I just LOVE how powerful the intentions are!
Speaking of intentions, are you ready to start the year off strong?!
I'm so excited to announce a BRAND NEW CHALLENGE! Introducing…
#21DayTone!!!!!
The challenge is simple: stay active for 21 days straight for at least 21 minutes a day! At the end of this all, there's a giveaway waiting for you…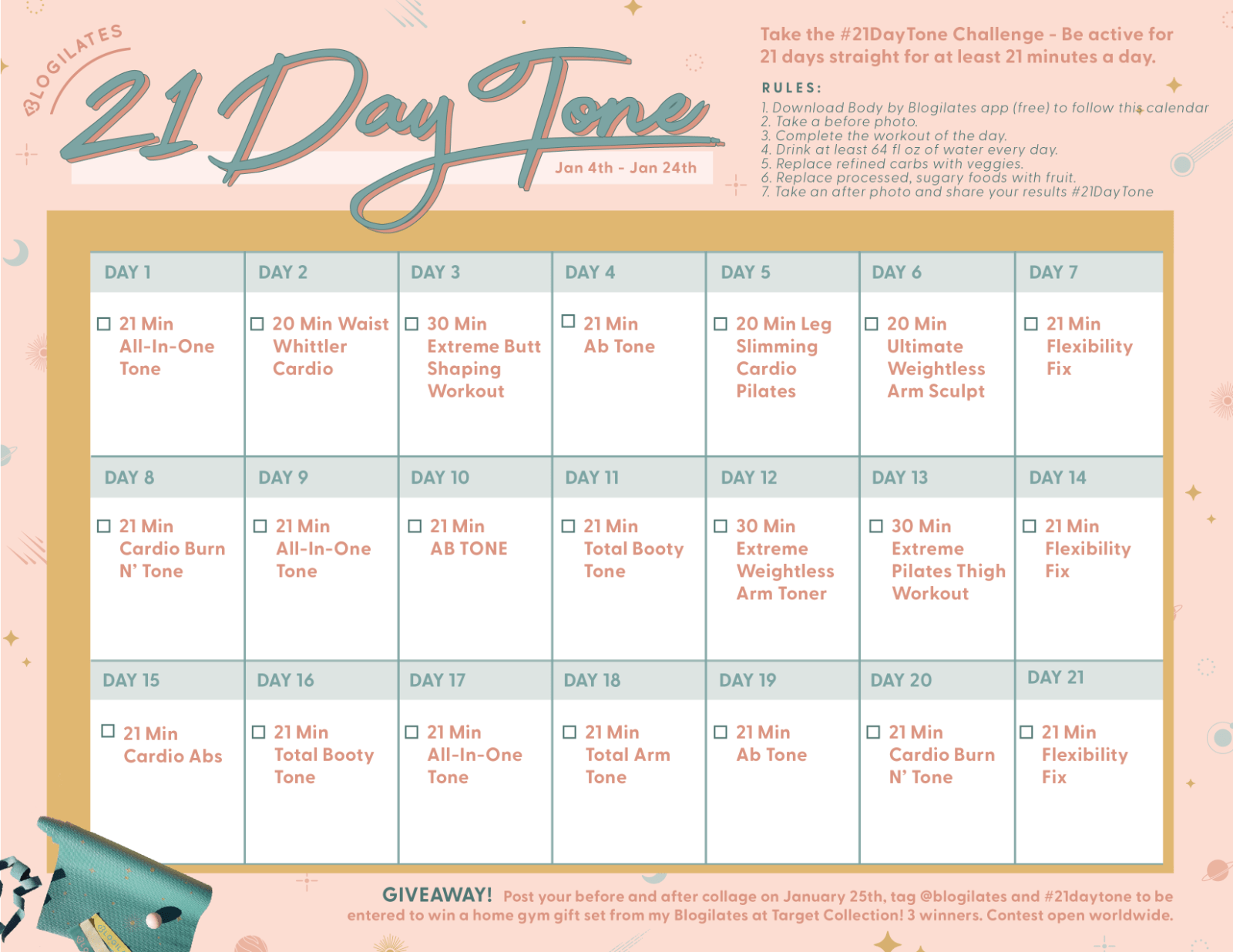 RULES:
Download Body by Blogilates app (free) to follow this calendar. The #21DayTone Program will go live on Sunday Jan 3!
Start by taking a before photo. Front, side, and back in a bikini or sports bra and booty shorts.
Complete the workout of the day.
Drink at least 64 fl oz of water every day. This GIANT bottle will help a lot!
Replace refined carbs with veggies.
Replace processed, sugary foods with fruit.
Take an after photo and share your results on IG with hashtag #21DayTone! Make sure your profile is public or else I won't be able to see your entry!
Challenge begins: MONDAY January 4th, 2021
Challenge ends: January 24th, 2021
GIVEAWAY: Post your before and after collage on January 24th, tag @blogilates, and #21DayTone to be entered to win a home gym gift set from my Blogilates at Target Collection! The 3 best transformations (not just physical, but mental and emotional too) will be announced shortly after and will win the gift set! Contest is open worldwide.
Alright… are you in?!!! Let me know in the comments below!
Day 1
Day 2
Day 3
Day 4
Day 5
Day 6
Day 7
Day 8
Day 9
Day 10
Day 11
Day 12
Day 13
Day 14
Day 15
Day 16
Day 17
Day 18
Day 19
Day 20
Day 21