Inspirational PIIT28 Before and Afters!
Inspirational PIIT28 Before and Afters!
Hey guys!
OMG! Your PIIT28 transformations are endless! I'm seriously blown away every time I search the hashtag #PIIT28 on IG and see all your amazing progress. No matter what round you're on, I can see how much stronger you're getting! And you know what? It's not just from looking at your pics – it's from reading your captions. You guys know how much dedication and hard work it takes to stick to a workout plan. You know that it's both physically and mentally demanding. But, you did it. You're DOING it. And I'm SO PROUD OF YOU ALL!
Here are some real deal before and after progress pics from the Spring 2016 season of PIIT28!
Meet Shannon, @go.mommybear
"PIIT day 84 is the last day of PIIT28 2.0! The before pic on the left was taken on March 1st at 3.5 weeks postpartum and the pic on the right is today at 16 weeks postpartum. I have seen such an improvement in my body and my mind. Thank you PIIT28!"
Meet Corina, @chill678
"Wow! You guys! The biggest difference I see right when I look at this is my confidence! In my before picture, the lighting was darker, I was slouching, I wasn't smiling – clearly I wasn't happy about doing this before picture … I see such a huge difference in my current photo. The lighting is brighter, I am stranding taller and straighter and I'm smiling. I feel amazing. So here's my story for any of you who ma not really know my journey. I lost 25 lbs 4 years ago doing POP Pilates with Blogilates and I was the most confident I have ever been in my life. And living on an island, always being at the beach, the pressure to feel good in your own skin is even higher here, and for the first time ever I felt great in a bikini, but something happened to my body after we got back from our Mexico/Jamaica trip in 2014, I started gaining weight and wouldn't stop. I don't eat bad nor do I drink that much anymore so I couldn't understand why, I was working out with POP Pilates still and following the calendar but my rive and focus wasn't up to par as I like it to be, I just wasn't happy or motivated, and I continued to gain all the 25 lbs back plus ten more, but then Cassey introduced PIIT28 to us and I initially was really excited to try it but was hesitant if I paid for it, would I even stick with it and I told myself give it two weeks and see how you feel … Well I never looked back and I wake up everyday motivated by each and every POPster and PIITster in the community that I see on Instagram. That motivates me to get into my POPFLEX gear and head to the mat! Seeing my before and after picture really makes me feel elated knowing that all the sweat that drips out of my body, all the pain my muscles feel doing plank jacks, and dead man walking was all worth it! I am so thankful for the program Cassey has introduced as it has given me a whole new perspective on being confident in my own skin – strong really is the new skinny! I am down 10lbs and 11 inches in 3 months! The journey of my transformation continues!"
Meet Jalé, @popster_23
"I finished PIIT 2.0 yesterday and I can't believe I've stuck with the PIIT program for 84 days. The results are beyond amazing and I am so much stronger than when I started March 1st."
Meet Emily, @popgoddessemily
"I am the WORST at before and after photos lmao, like I never have any continuity. Oh, well. Today was the last day of PIIT28 2.0 – crazy!! The last 3 months have been so transformative. I look and feel so much stronger – when I cross in front of a mirror I think, "damn!!" I think everyone should love their body as it is, but there is a certain type of pride in knowing you worked hard to improve yourself like this. To everyone still in the middle of the program, YOU'RE DOING AWESOME DON'T GIVE UP! And if today was your last day, CONGRATULATIONS, and who's going to join me for a second round of 2.0??"
Meet, Courtney @piit.fit
"Day 28: before and after. How do put into words how I feel? The past 28 days have been amazing. I have become my own motivation and inspiration. I feel unstoppable and I feel strong. I am so excited to continue this journey right into round 2."
Meet Kristen, @piitbridekristen
"I cannot believe these photos! Here are my before and day 28 afters that I took yesterday. I lost 8 lbs and 9 inches overall! I am so unbelievably pumped right now!! You better believe I'm doing another round! I feel so much better and stronger than I did 28 days ago. In fact, just finished my day 29 workout!! I also have to give credit where it is due in my diet. I've been doing The 28 Day Reset in conjunction with PIIT28 and I think it has made all the difference. Yummy food, no calorie counting and amazing results! What more could I ask for!? I even cheated a little and still got amazing results."
Meet MacKenzie, @mackiee.d
"PIIT has been super easy to follow and commit to every day. I love how clear it is each week that I'm getting stronger. More than any other workout program I've followed, I'm seeing myself build muscle rather than just losing weight. I've been doing Blogilates for 4 years and I feel like Cassey and I are best friends."
Meet Amanda, @amandalates_xo
"PIIT day 84 so here it is! I really am the worst at taking before and after pictures but ohh well! I'm still trying not to focus on vanity, and measure my progress by how I feel … Which is AMAZING! The before picture on the left was actually at the start of PIIT 2.0 and I was crazy bloated! I've noticed the most difference in the upper part of my stomach area – definitely flattened out a bit. Dresses that were tight on me in that area last summer are NOT tight in that area anymore! I did another comparison photo of my original day 1 photo vs. day 84 in the same mirror pose and it looks comparable to the pictures here. I probably should have turned on the light and not just rely on natural lighting. Anyways, I'm feeling truly amazing. I went outside tanning in my backyard yesterday for the first time this summer and was really loving how I felt in my bikini. May even post one of the photos I took! I started PIIT 2.0 again today and will continue doing it this week until I'm told what to do next. Also mixing in practicing POP 5 because my POP Pilates training will be here before I know it and I can't wait!"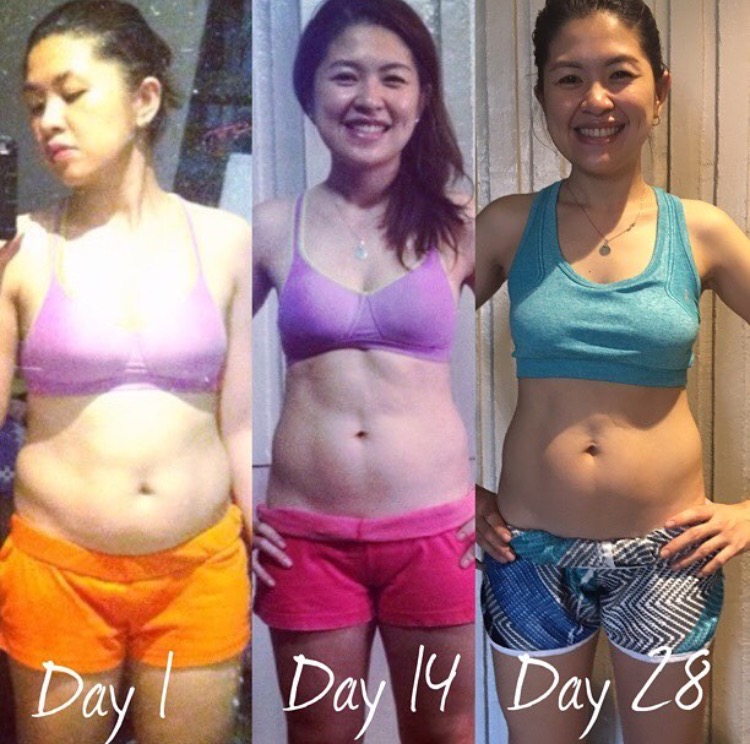 Meet Bim, @bibimpopster
"Day 28! Never in my wildest dreams that I'll be determined enough to finish such a challenge and achieve something like this. Thank you so much Blogilates for inspiring me and the whole #PIITfam as well. I have the Blogilates timer but I usually get bored… I prefer using the videos to hear Cassey's voice like she became my workout buddy. It takes 21 days to form a habit…we"re on the 28th!! I will continue for the 2nd round after my father's operation and a short vacay and that's after 2 weeks. I will surely miss it, but I promise to come back and I'll keep you posted for the "progress report."
Meet Alicia, @blogilates_alicia13
"Ok, so I've been really bad about posting stuff this month, but I wanted to post my Day 1 to PIIT day 84 pic! Holy crap! I'll be honest, I didn't do very well with the workouts during PIIT 2.0; I really miss Cassey's calendar and her videos, so I'll probably go back to doing that. But even though I didn't get all of the workouts in, I tried to stay active and eat well, and I think that helped a lot! Overall, I'm really glad I participated in PIIT28 and I would definitely do it again."
Meet Jennifer, @littlejuicebox
"Finished PIIT28. This is my before/after photo and I'm really proud of the changes I've made to my body. I feel stronger, more flexible and above all that a little bit more confident in my own skin. Although it took me a few days longer than the 29 scheduled, I'm so glad I completed it, and can't wait to do it all again with some added strength training! Until next month's progress pic …"
Meet Brina, @fitbribri
"Arms and back progress is the most rewarding. I know it's tough to stay motivated doing any sort of arm working or plank-based move, but pushing through and staying mentally strong will help you go so far! I love fitness because it allows me to test not only my physical strength, but also my mental. How far are you willing to go?"
Meet Katie, @popwithkatie
"YOU GUYS! We made it – it's time to post our before and after PIIT pictures! I gotta say, it's been awesome. It has been so much fun to go through both PIT 1.0 and 2.0 and watch us all get stronger, fitter, and more confident. I don't think I've ever posted a bikini picture online before – it feels weird but also kinda awesome 🙂 PIIT has changed me, not just physically, but mentally too. I push myself farther, hold my head higher, and expect a little more from myself each and every day! Fitness is a journey – a marathon, and not a race –  and getting in my 28 minutes of intense cardio and Pilates in every day gets me that much closer to MY finish line. I don't ever weigh myself, but I do like to measure myself – since starting PIIT, I've lost 5 inches overall and I feel so much more toned! My cardio has also improved tremendously, running has gotten easier and I actually like burpees now! I'm so proud of how far I've come and am so excited about how much farther PIIT and you amazing POPsters will take me! Onward to the next challenge!"
****
All of your stories completely amaze me! I am honestly so proud of you all. You inspire ME to be stronger, fitter and faster! This community isn't just about looking a certain way. It's about pushing your limits and reaching YOUR potential. We are a team and we are here to encourage each other!
If it's your first time completing PIIT28 1.0, then I suggest doing a second round before doing 2.0. If you just completed 2.0 then I would suggest completing 2.0 again! This time you will notice a HUGE increase in strength and endurance. I can't wait to see your progress after the next 28 days!