I'm always looking for ways to add nutrition to my meals and snacks, and protein is a key player. No, I'm not cottage cheese-ing everything or tracking my protein intake with a fine-tooth comb. I'm looking for meals that are filling, and steady energy throughout the day.
We love sharing our Trader Joe's finds around here, so I thought why not share some high-protein finds that I've been loving lately?
We're skipping the obvious things like chicken breast and canned tuna – we know those are some of the best protein sources and you can find those basically anywhere. I'm also skipping frozen meals to keep things simple. So don't come for me in the comments!
But first…
Keep in mind that protein isn't everything! I'm a fan of some of these picks because they offer more than just protein – Healthy fats, fiber, etc. Most of us have no issue meeting our protein needs during the day, so I don't want this to come off as one of those "protein fixes everything" articles. If your meals could use some "oomph" or your energy is crashing midday, it's just nice to have an arsenal of easy adds!
Oh and please comment with your favs! Always looking for an excuse to visit TJs 😉 .
High-Protein Breakfast Finds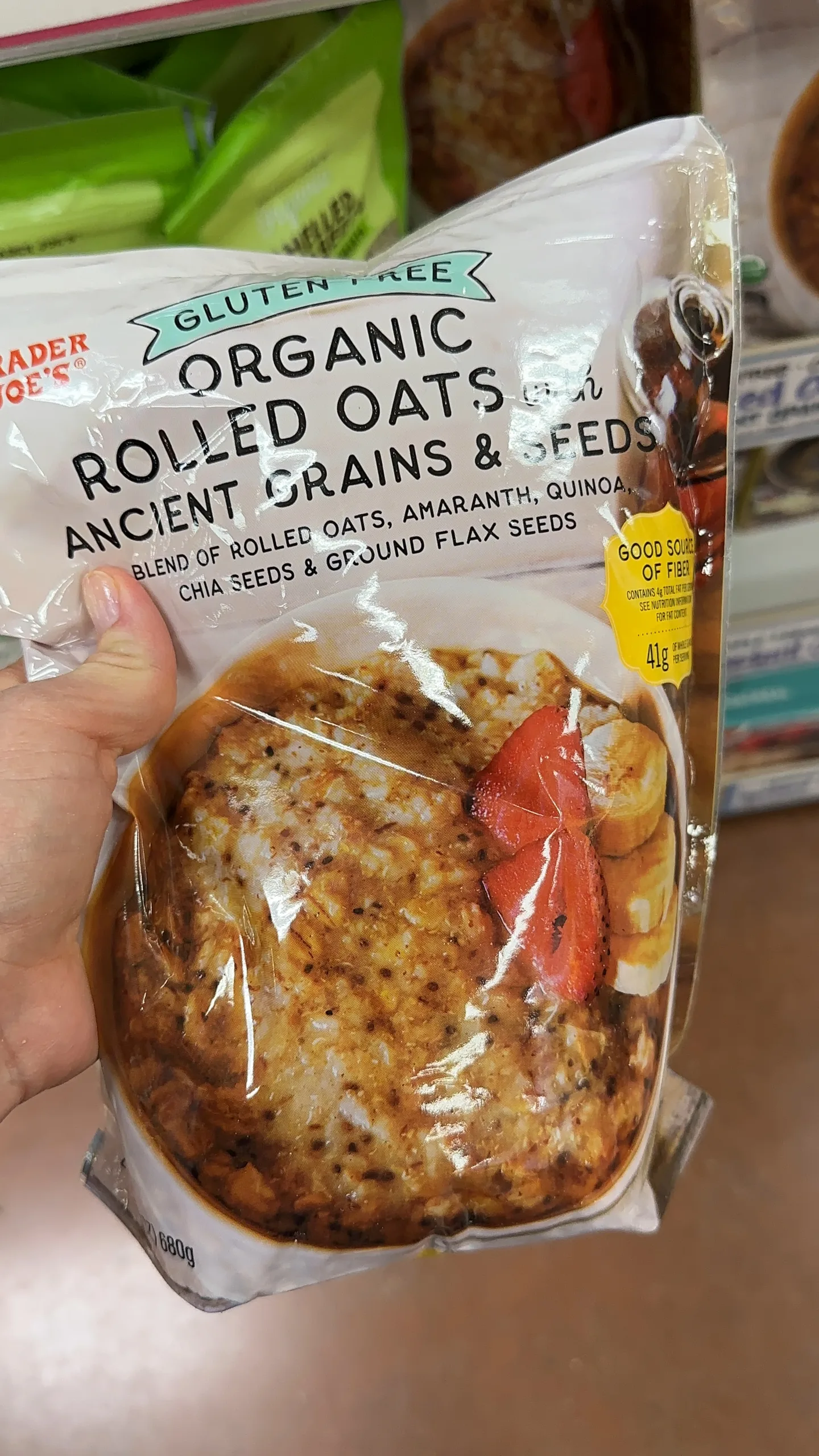 Rolled Oats With Ancient Grains
If you like oats, you have to try these. The amaranth, quinoa, chia, and ground flax add a slightly nutty flavor and make the texture less boring than plain oats. Oh, and they add protein too! A 1/2 cup serving of these oats will get you 8 grams of protein (and bonus: 5 grams of fiber!).
Want to add more protein? stir in a scoop of protein powder or an egg white (you won't taste it).
I like mine with some peanut butter and warm, jammy berries stirred in.
Hemp Seeds
When in a pinch, I add hemp seeds…to everything. I'd probably sprinkle a tablespoon or two on the oats we just talked about!
They're the ultimate for making your meal more filling, with 10 grams of protein and 14 grams of mono and polyunsaturated (heart-healthy) fats per 3-tablespoon serving. They give a little texture and have a very mild flavor, which makes them a great option for someone who doesn't prefer or can't eat nuts.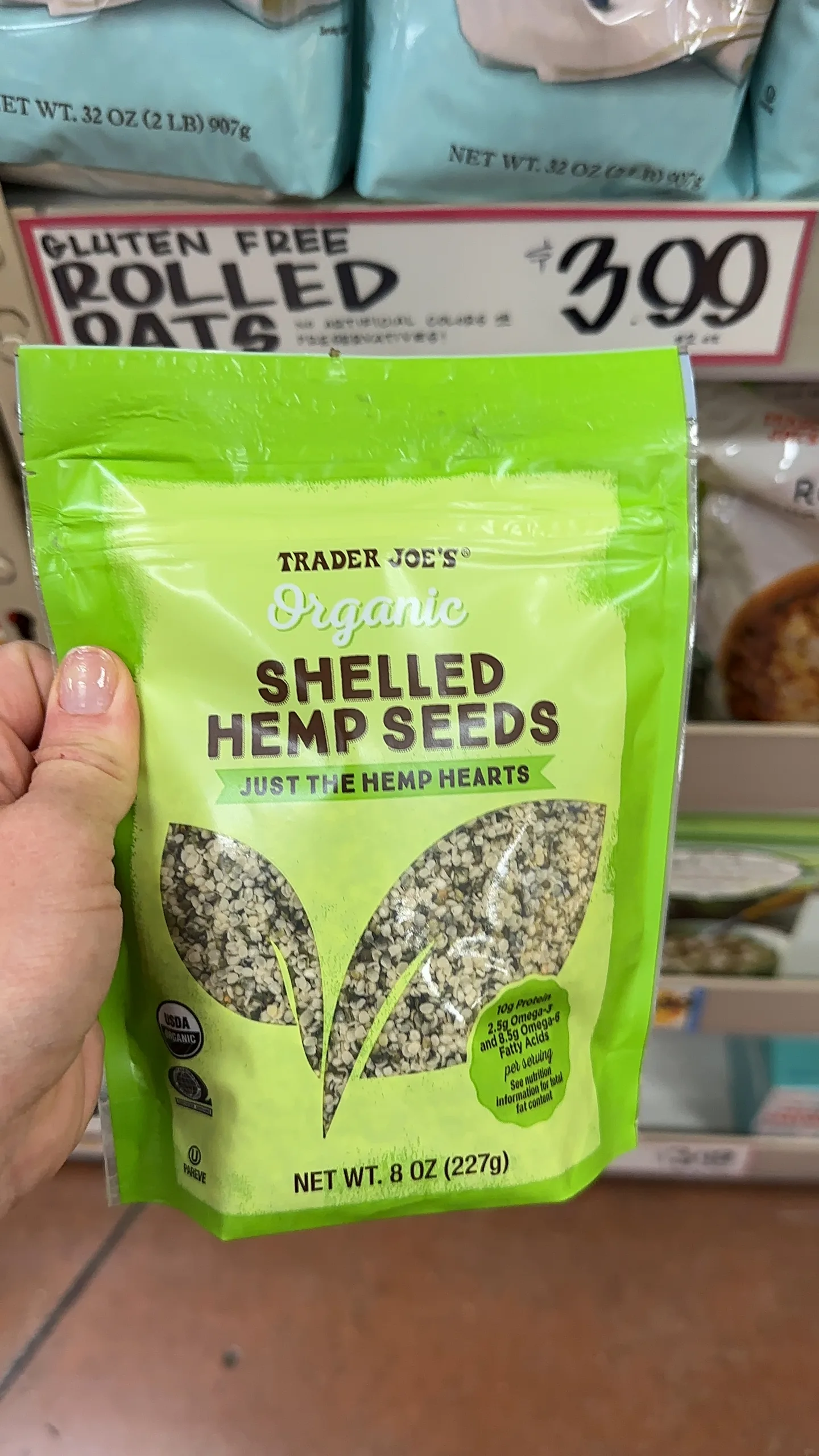 Almond Butter Chia Overnight Oats
If you're someone who often skips breakfast because it just doesn't fit into your crazy morning routine, this high-protein find is for you.
These overnight oats require zero effort. Just peel back the top and enjoy your 12 grams of protein. You could pair this with Greek yogurt or hardboiled eggs to really get a solid start to your day.
Did I mention these oats have 8 grams of fiber? Considering most of us aren't getting enough, I might love that even more than the protein content.
Egg Frittata
Buy these. Or at least use them as inspiration to make your own frittatas at home. They heat up evenly and don't have any weird flavor or texture from the cauliflower (I was worried about this).
The best part is how they're the perfect shape and size for a lil' brekkie sandwich on an English muffin! Or you can drizzle them with the new Chunky Garlic and Jalapeño Hot Sauce and tear into them with a fork like I did.
The only downside is that only two come in a box. If you eat both, you're getting 25 grams of protein.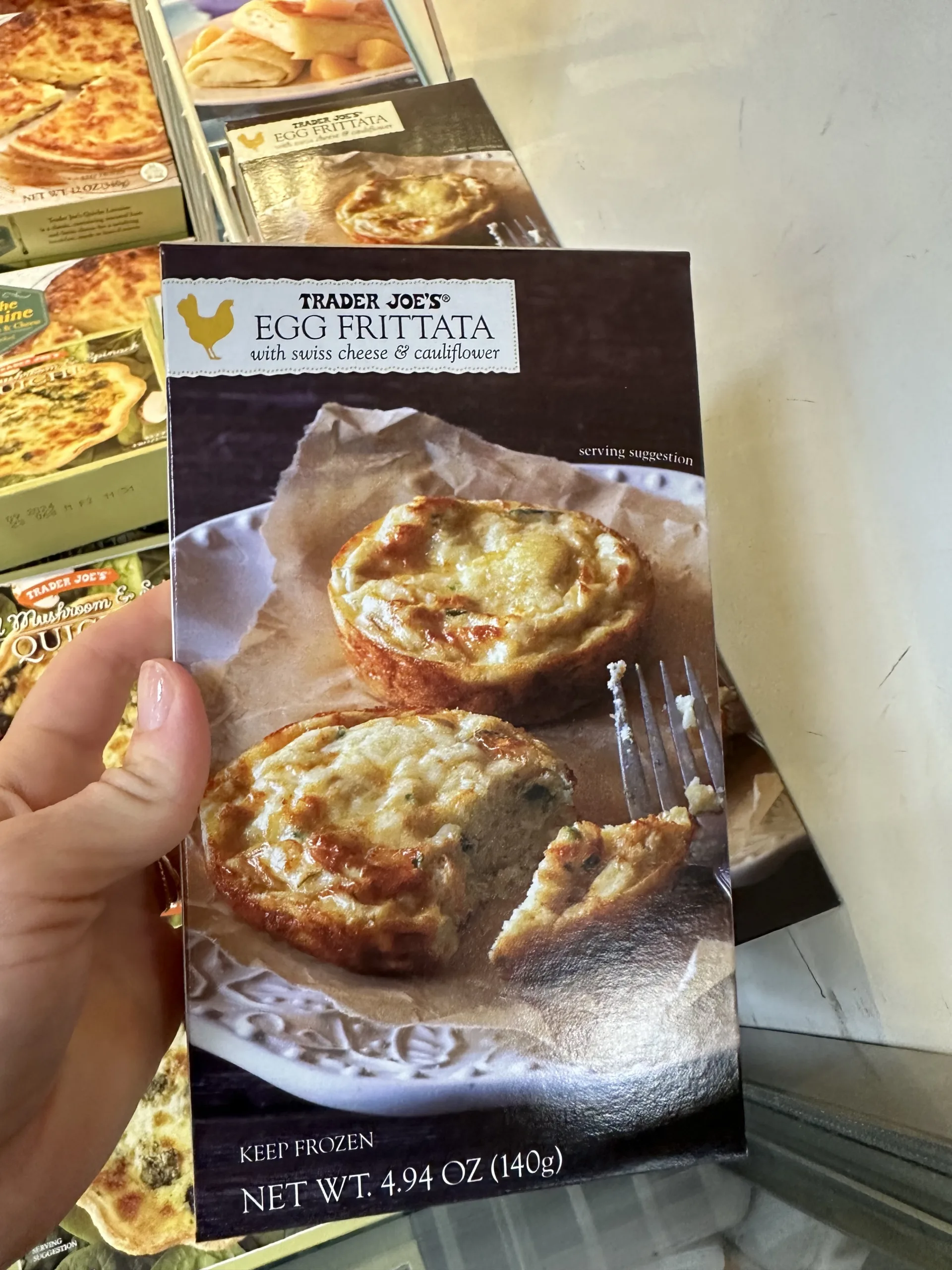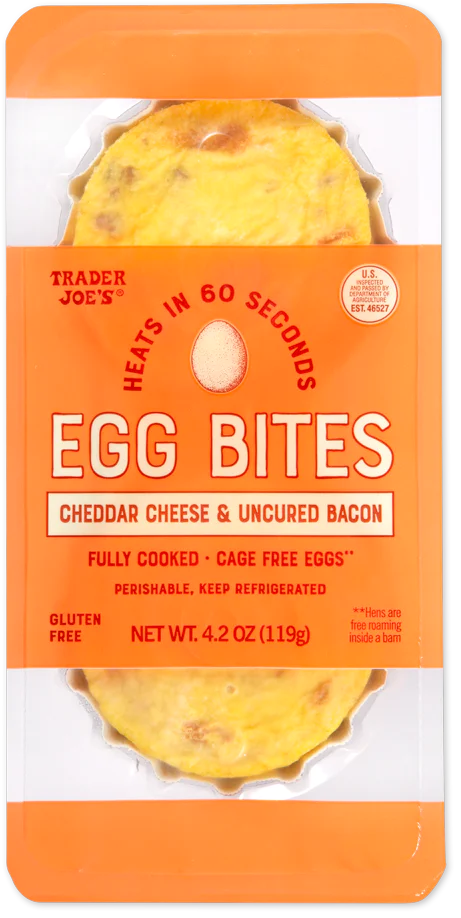 Egg Bites
If you know and love the Starbucks Sous Vide Egg Bites, you'll love these. There are two flavors: Cheddar and Bacon and Cheese, Spinach, and Kale. Both are great!
Again, only two come in a package. But it's an effortless way to start your day with 16 grams of protein and they only take one minute in the microwave! And no weird texture! Maybe not the most budget-friendly option for every day, but I promise you'll thank yourself later for keeping a pack or two in the fridge.
Protein Dark Chocolate Muffin
2PM slump 🤝 muffin cup. This just-add-water snack gets you a quick 12 grams of protein to give you the little oomph you need to crush the rest of your day. It's a great bedtime snack too if you crave something sweet in the evening.
One disclaimer: The added sugar content is a little higher than I usually go for. It's not a dealbreaker, but something to be mindful of if added sugar is on your radar.
Pair this with Greek yogurt to make a high-protein breakfast that tastes like dessert!
Nuts
Before you're like "boring" and scroll on, just let me give this section of Trader Joe's the appreciation it deserves.
First of all, nuts and seeds are unmatched when it comes to convenient, healthy snacking. You get healthy fats, some fiber, and some protein. It's a huge bang for your buck. They're not going to give you an insane amount of protein per serving, but they have a lot to offer and level up nutrition in many ways. So they get a spot.
Obviously, you can buy these anywhere, but the flavor combos at Trader Joe's are unmatched. Everything But The Bagel Nut Duo? Yes Please. Chili Onion Crunch Peanuts? Amazing for snacking or chopping up on some noodles or avocado toast. According to TJ's, it's even good on ice cream.
This is where I stock up on my slivered almonds, chopped pecans, and other add-ins because at least in my area, the prices are better than other stores.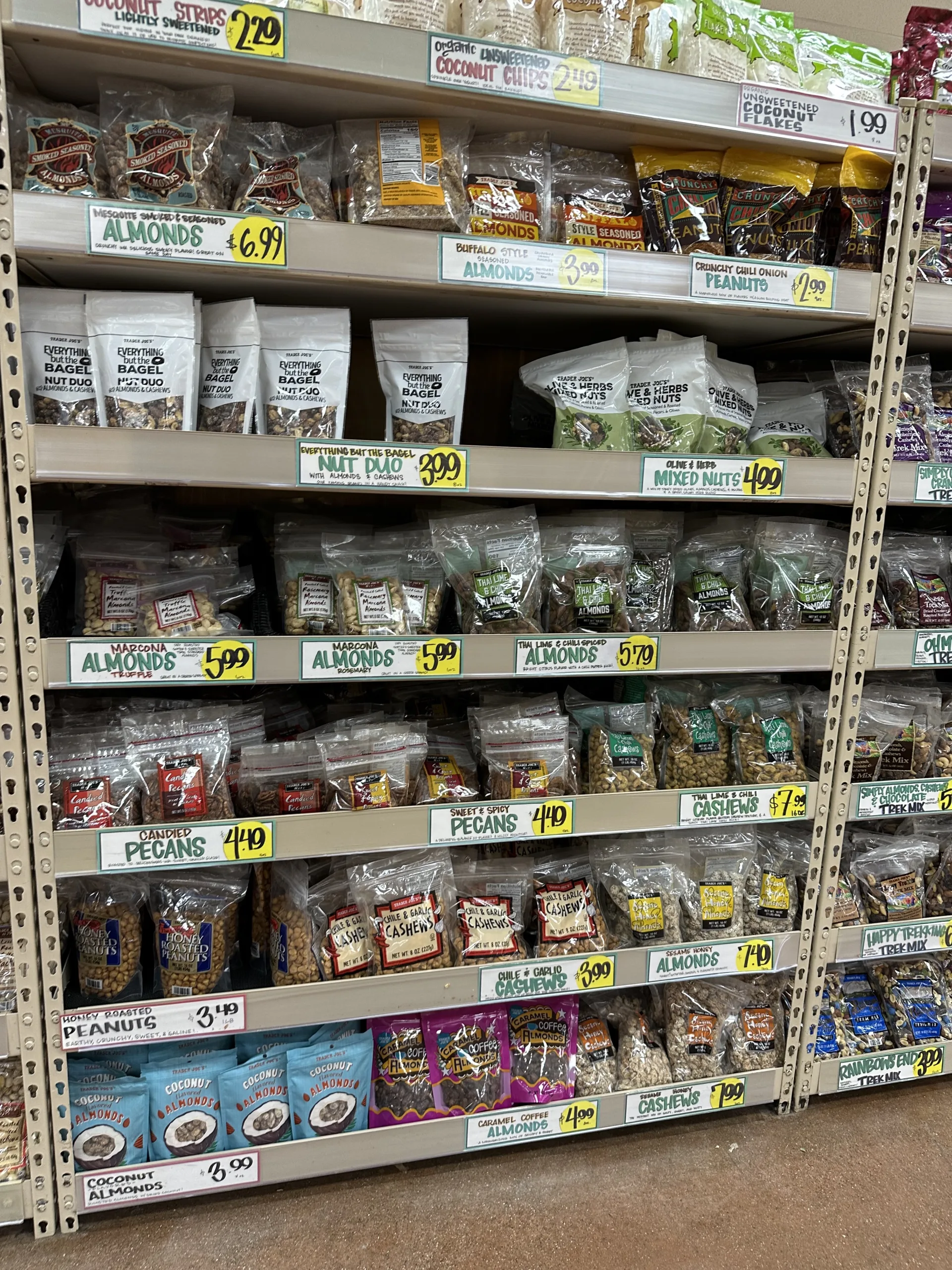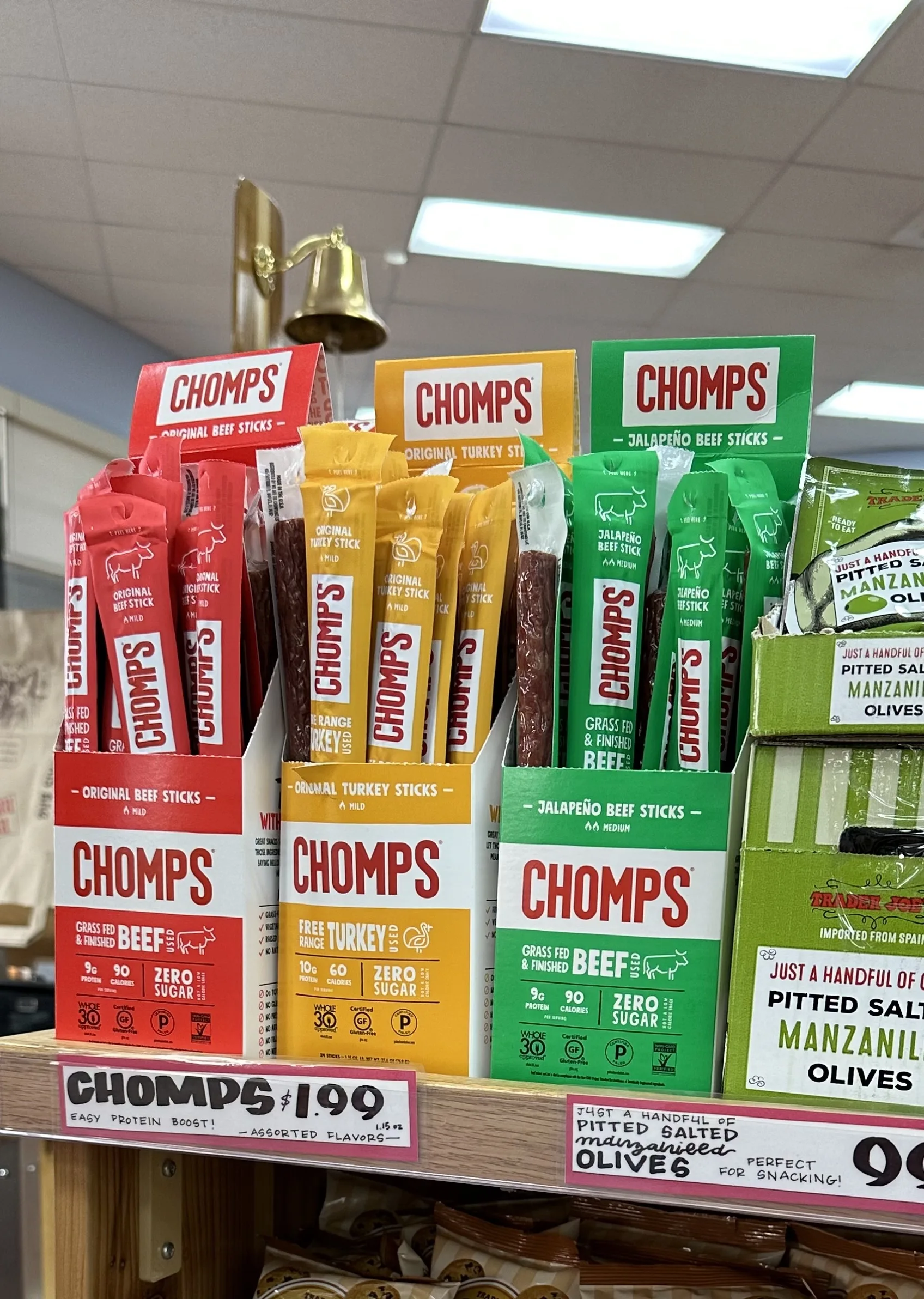 Chomps
I'm not usually a meat stick/beef jerky girl, but these are pretty good. And how could I complain about something so convenient and travel-friendly?
One Chomps stick gives you around 10 grams of protein, without any added sugar.
This is another pick that you can find outside of Trader Joe's (but convenient to find while you're there!).
Cheese Bites
What if I told you that just 7 of these cheese bites would give you 12+ grams of protein. 🤯
Tbh, I was surprised too! If you're a salty crunchy snack person, these are for you. They're great on their own but I also love adding these to a salad – dare I say they're better than croutons?!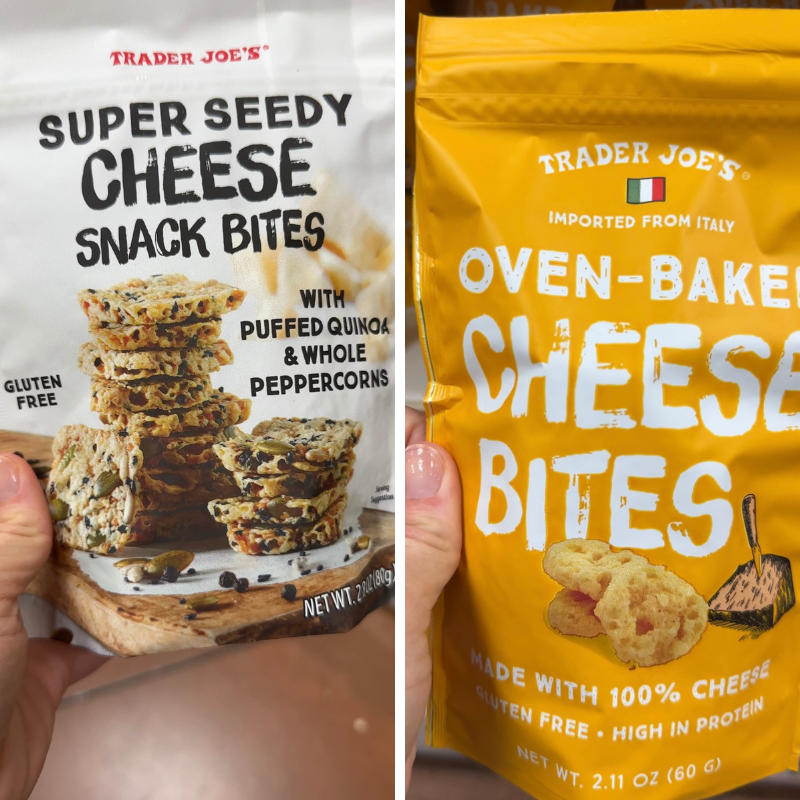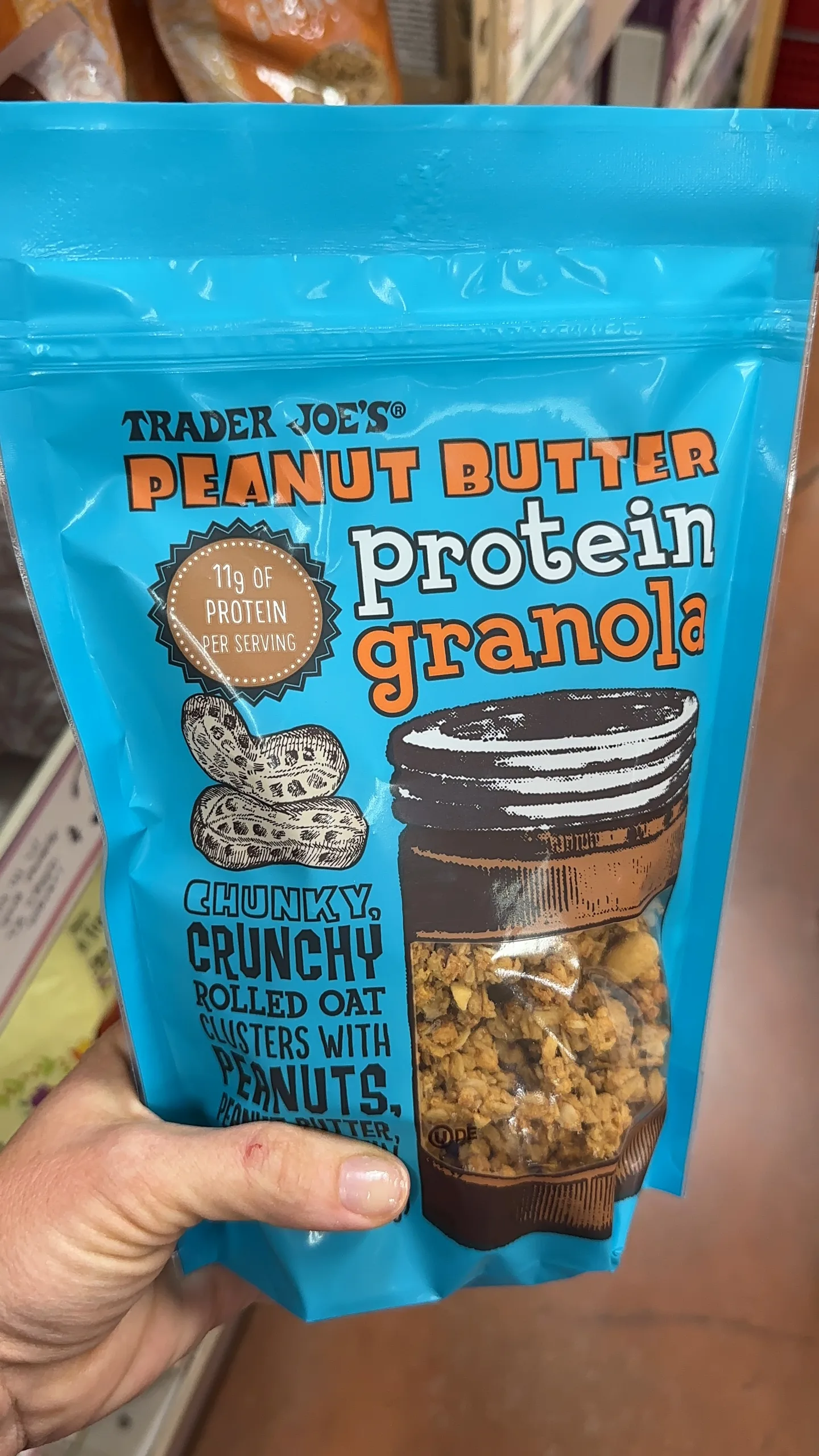 Peanut Butter Protein Granola
I looove granola. Peanut butter granola? Even better. Add protein so I can happily snack without being hungry again five minutes later? Perfection.
A 2/3 cup serving of Protein Peanut Butter Granola gives you 11 grams of protein. The added sugar content is pretty mild compared to other packaged granola – 8 grams per serving.
Pair this with Greek yogurt for another 10-12 grams of protein. I also love sprinkling this granola on top of a smoothie bowl.
Skyr Yogurt
Skyr, or Icelandic style yogurt, is a lot like Greek yogurt. This is like Trader Joe's version of Siggi's.
Differences between Greek yogurt and Skyr:
Skyr is a little thicker
Skyr is less tangy than Greek yogurt
Skyr has more protein (Trader Joe's Cherry Skyr has 16 grams!)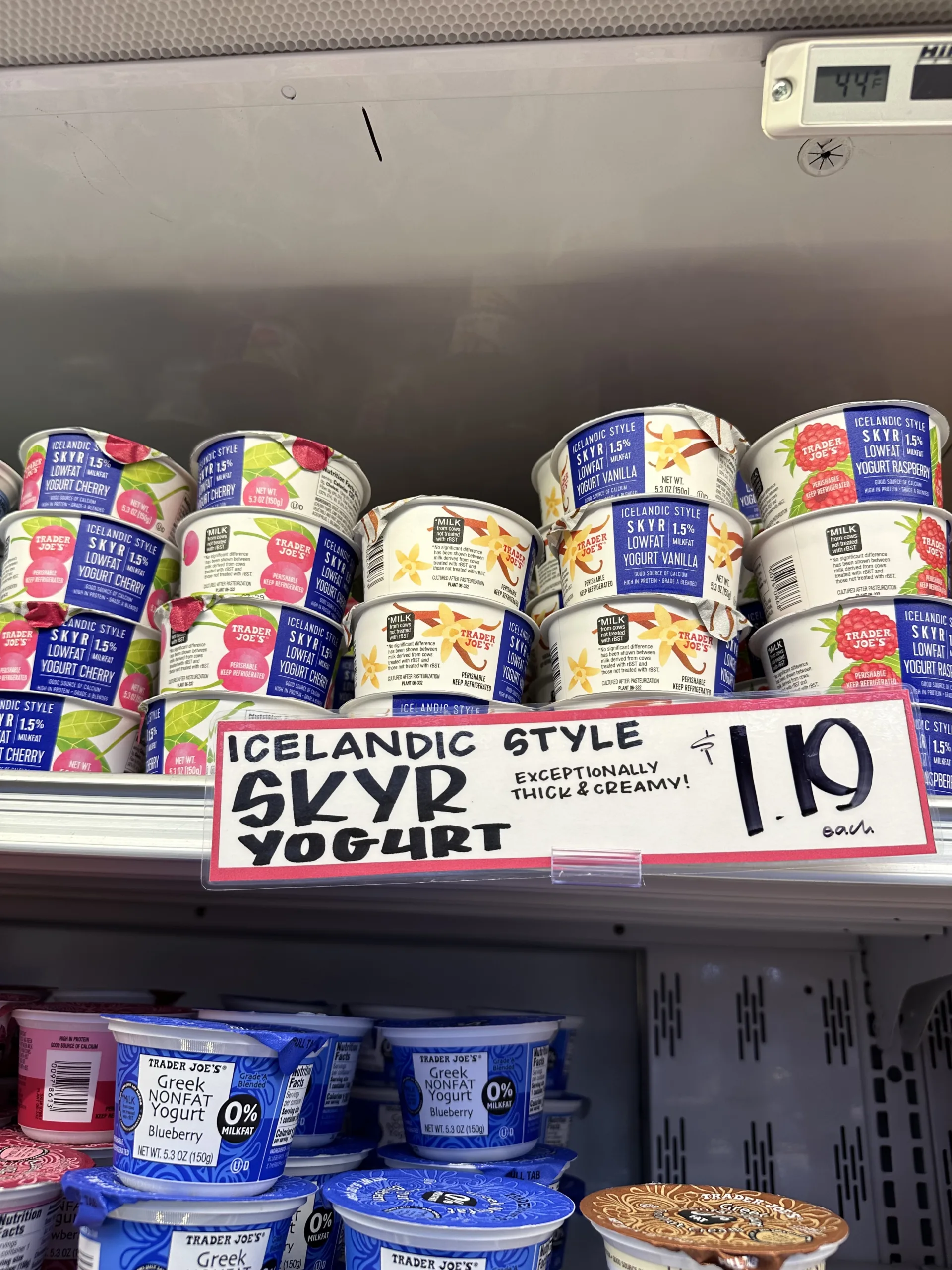 Protein Add-Ons for Lunch and Dinner
Greek Chickpeas
Tempted to gatekeep this one, but I won't because we're friends. I keep my pantry stocked with these chickpeas at ALL times. It's not news that chickpeas are a great source of plant-based protein, but canned chickpeas are typically so…plain.
I find myself doing so much work to get chickpeas to taste good – who really has time to roast them, especially when they don't stay crispy after one day?! These Greek Chickpeas are seasoned to perfection and ready to eat in a pita with veggies and tzatziki, toss on a salad, or eat straight out of the can.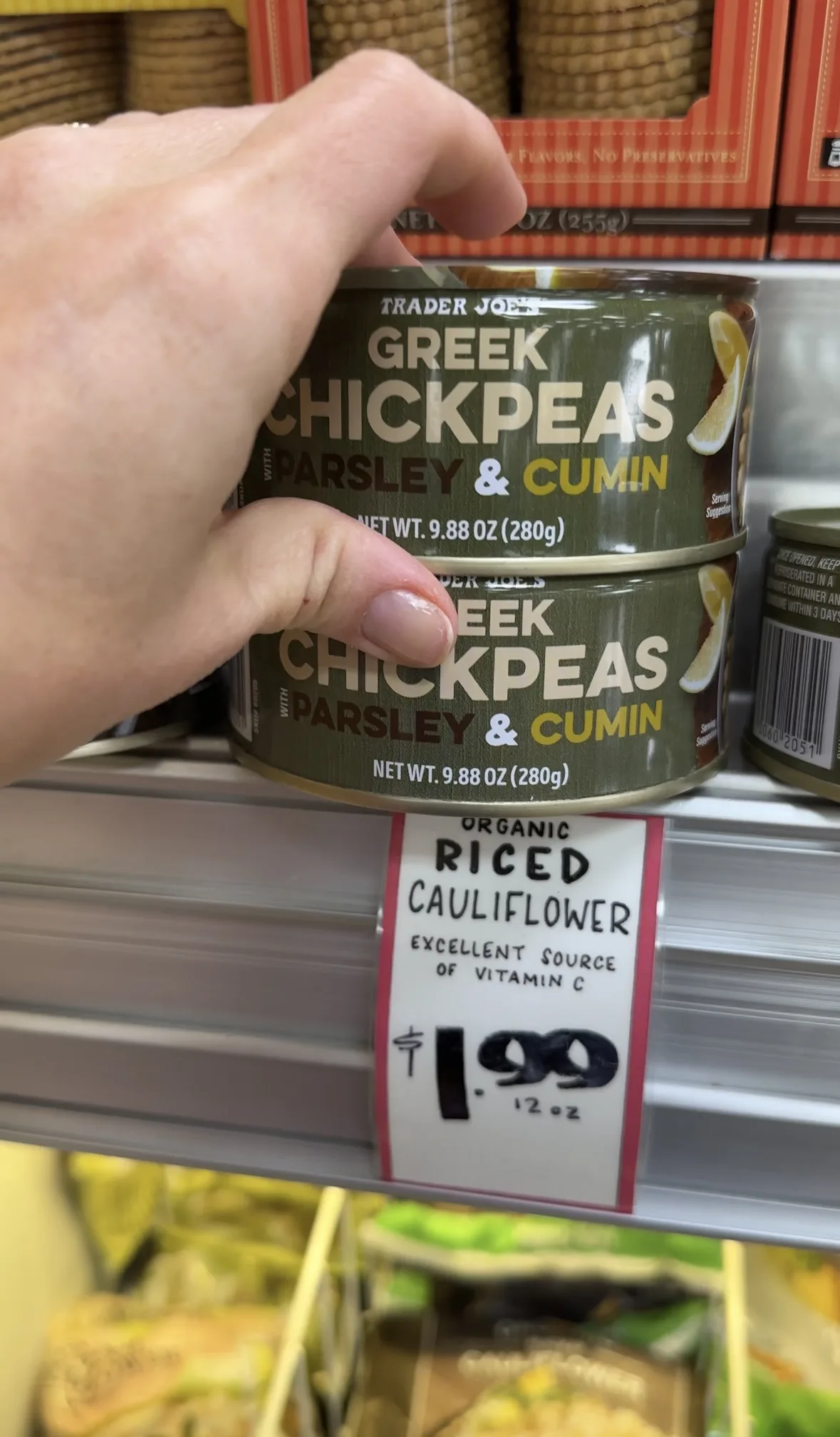 Folios Cheese Wraps
I need to preface this by saying you do not need to swap bread, tortillas, etc. for a cheese wrap. This is not me encouraging you to replace carbs. Okay now that we're clear on that…
I love these cheese wraps! Each one has 13 grams of protein, which is great for days when I'm feeling lazy at lunchtime (pretty much every day). I can wrap some lettuce and veggies in a cheese wrap or pan fry the wrap until I have a crispy, cheesy shell for shredded chicken. The possibilities are endless and always tasty.
PS This is another one you can find at other stores!
Steamed Lentils
Another high-protein lunch or dinner option that almost feels too easy. A 1/2 cup serving provides 10 grams of protein and 6 grams of fiber. Love to see it.
Like the chickpeas, most of the work is done for you with these. You can eat them hot or cold and flavor them however you like. Toss them on your salad, put them in tacos, or stir them into pasta sauce. There's a reason this high-protein Trader Joe's find is so popular!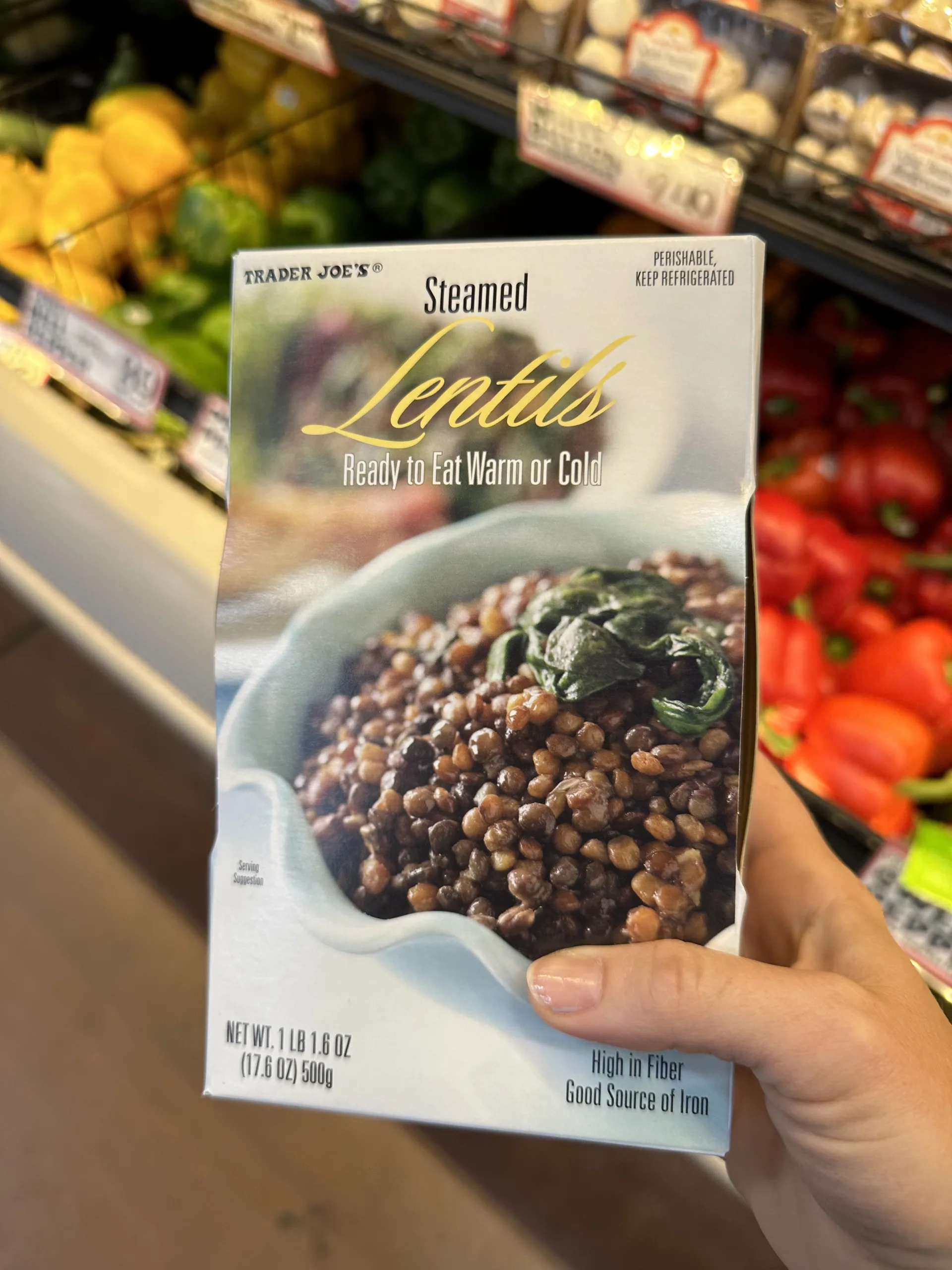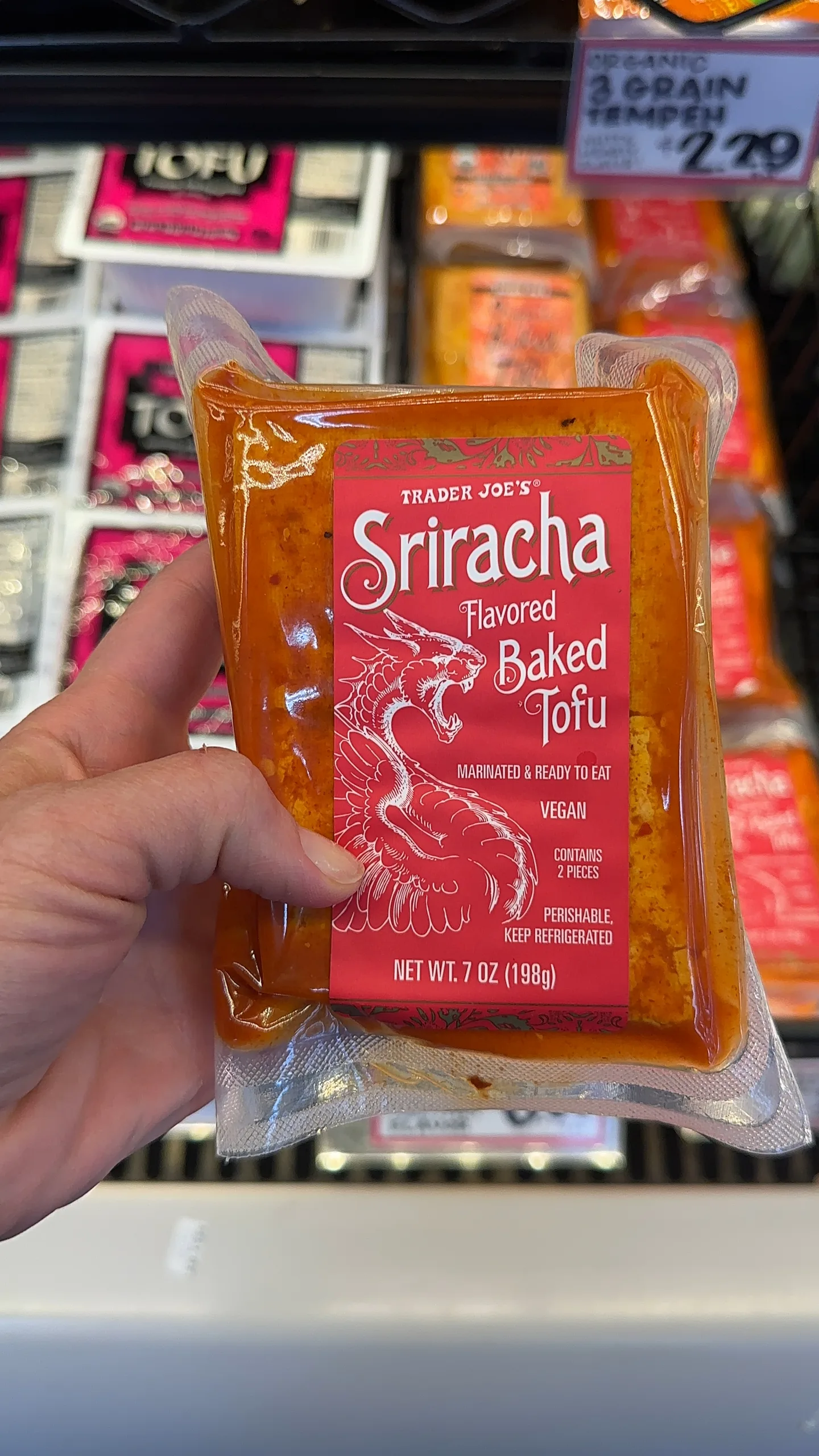 More Easy Vegan Add-Ons
There is no shortage of plant-based protein options at Trader Joe's! A couple that I love:
Sriracha Tofu: 15 grams of protein per 3.5-ounce serving, and it's already cooked so you can enjoy right out of the package if you want.
Soy Chorizo: This one is a cult fav for a reason. It's flavor-packed, easy to prepare, and has 8 grams of protein per 2-ounce serving.
Frozen Burger Options
There are several frozen burger options at Trader Joe's, and most of them are great sources of protein. My current fave is the Turkey Burger! With 22 grams of protein per patty, I can use this in so many ways when I'm making a quick lunch or dinner.
As a burger (duh)
On a salad
In a burger bowl