Hey guys!
Week 3 is complete! I need to schedule my next Dexa Scan because Day 30 is going to be here in just 9 days! I am so curious to see what my muscle building methods have amassed to.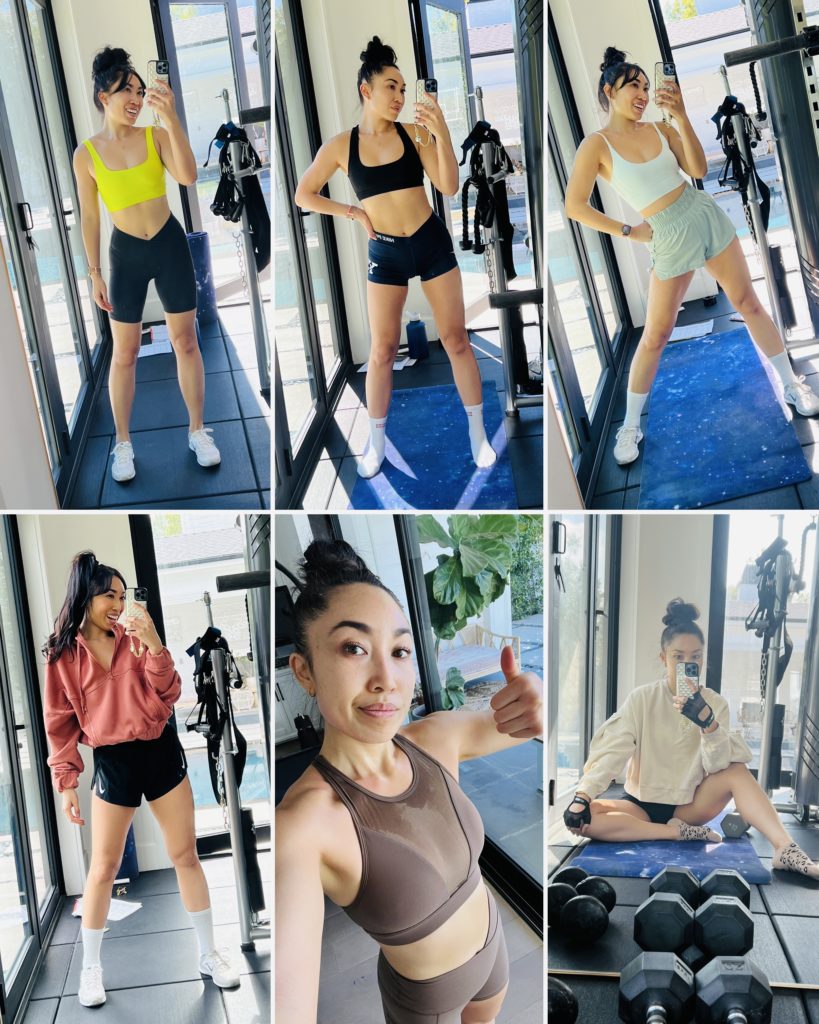 Clothes from top left going clockwise: (1) Tone Bra and Ultimate Hourglass Biker shorts with pockets. (2) Captivate Bra and Nike shorts. (3) Glow Bra and Sprint Shorts. (4) Warm Up Hoodie and Nike shorts. (5) Alpine Bra and Ultimate Hourglass shorts with pockets in Mocha. (6) Belle Sweater and Mesh Gloves. 
Here is my Week 3 recap in my 90 day Journal: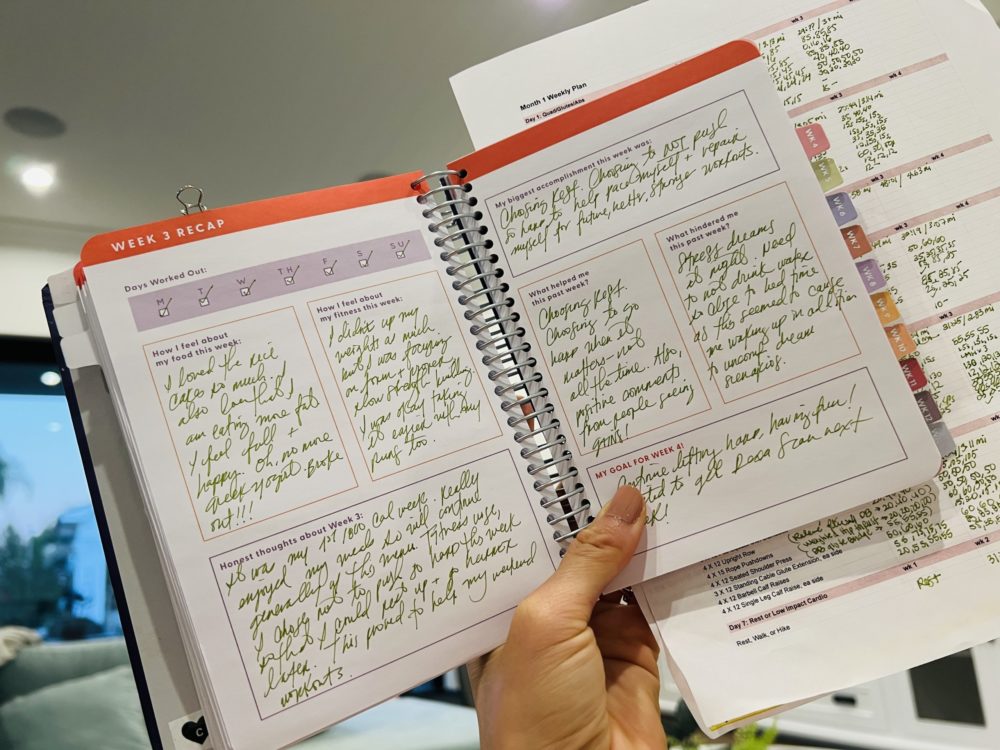 Workouts:
This week, I did something different. I actively chose to do less. I realized that I had been going so hard (in fact, too hard) that I was waking up feeling exhausted for my next workout instead of feeling ready to crush it. So, I chose to run slower, cover less distance, and I did not up my weights in every exercise.
This decision is something that takes effort for me to do, as naturally, I am an overachiever in my blood. But, I am so glad I made doing less a focus this week, because today, Sunday, I felt the benefits of proper recovery. My run felt more effortless and my weight lifting session felt more powerful.
Food:
I am sooo obsessed with the food I am eating, especially my rice cakes and avo meal. I seriously cannot get enough of it. I am thinking of maybe including it 2x a day on my menu next week!? We'll see when I rewrite my meal plan tonight.
Oh, but what I CANNOT include…is greek yogurt. I mean, I KNOW I am lactose intolerant and my skin breaks out when I have dairy, but I wanted to create my own high protein homemade dressing. Halfway through the week, I developed a huge pimple on my chin. UGH. Sad times because it was awesome getting that extra protein in in a creative way.
Sleep:
In general, sleep hours increased this week. I averaged around 7 hours a night which was fantastic! HOWEVER – I keep waking up around 3 or 4am due to stressful dreams and then I have to get up to pee too. I actually think my overfull bladder is causing the stress dreams, so I will vow to NOT drink so much water right before bed. I will be better about spreading out my hydration throughout the day time.
Week 3 Weigh In:
From the beginning of my 90 Day Journey to muscle, I have gained 2.2 lbs! I am really excited to get my Dexa Scan in 9 days to see how much of that weight gain is muscle weight. I want to gather some numerical data to help guide my next step.
However, looks like I might be heading in the right direction:
Thank you for your positive comments on my latest IG post. You know, I had been thinking maybeeee I was seeing some gains, but I didn't want to give myself too much credit this early in the journey. Your encouragement truly empowered me and made me smile deep, deep inside. Thank you.
I can't wait to tackle week 4. See you tomorrow for my meal plan update!