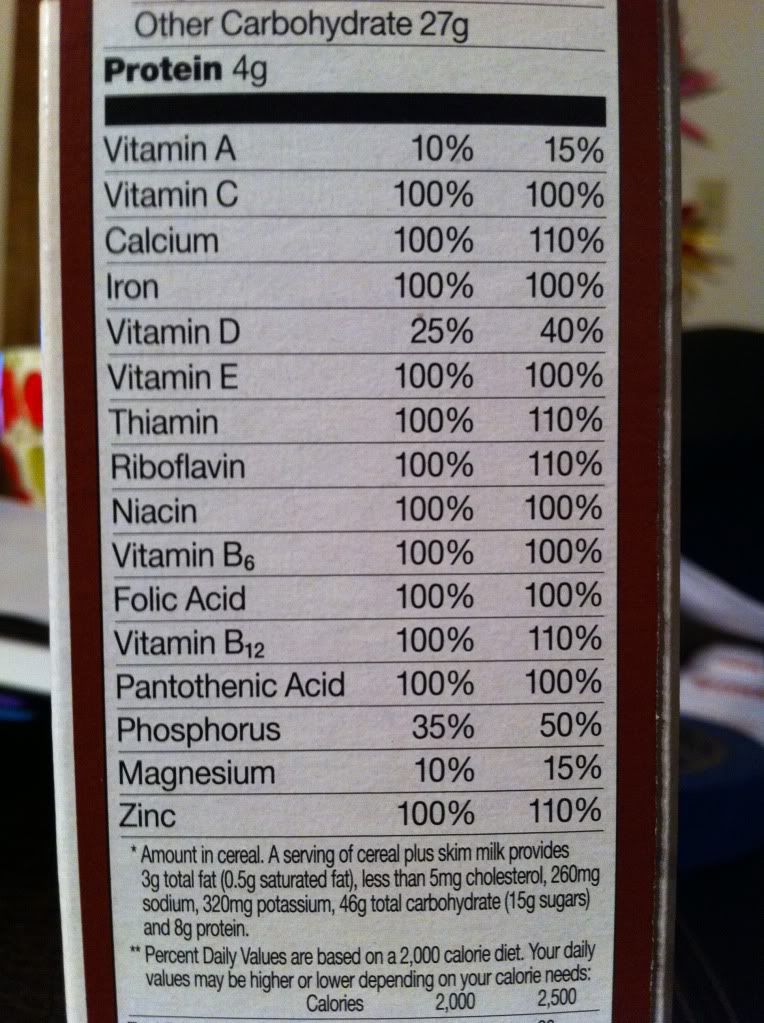 The nutrition label on my Total cereal tells me that 1 cup of these cinnamony crispy squares will give me 100% of over 10 different vitamins and minerals. I thought to myself, odd, because if so, why do people even need to go through the process of swallowing pills? But how does the cereal get fortified with all of these vitamins? Obviously someone injected them with the goods.
Well, it turns out that the vitamins are actually SPRAYED on the cereal before it is bagged! I had no idea. Read below to understand the REAL DEAL behind breakfast cereals and getting your daily needs.
Most breakfast cereals are fortified. This means they contain added vitamins and minerals like calcium and iron. You can get at least 25 percent of the daily nutrients that you need in a single serving. Some cereals promise 100 percent of the daily value for many nutrients. While those added vitamins and minerals make cereal an important food, it can't meet all your nutrition needs (but then again, neither can a multivitamin!).

The cereal maker sprays vitamins and minerals onto the cereal before boxing it. Those nutrients may end up floating in the milk, which means it's important to drink the milk at the bottom of your cereal bowl.

Eating food that naturally contains vitamins and minerals is more beneficial than just eating fortified foods like cereal. For example, a bowl of cereal may provide a day's worth of vitamin C, but you're much better off getting that C from fruits and vegetables. Natural sources of vitamins and minerals, such as oranges and tomatoes, contain beneficial antioxidants and nutrients that aren't found in cereal (or in multivitamins!). Also, your body has trouble absorbing the minerals that are added to cereal. While the cereal contains iron and zinc, it isn't necessarily passing them on to you. Meat, poultry, and fish are more reliable! (Source: iEmily)
Hmm, ok so this is what I got. #1, drink your milk when eating cereal. And #2, get vitamins from natural foods for maximal bodily absorption and to gather other beneficial nutrients that processed foods cannot pass on.