Kate Middleton kept us guessing till the last minute, and this morning the world watched as she stepped out in a classic and modern dress designed by Sarah Burton for Alexander McQueen. (McQueen committed suicide last year and Burton took his place in May 2010.) Atop her head, Kate adorned a 1936 Cartier tiara borrowed from the queen. Behind her, sister Pippa carries her train.
"The lace appliqué for the gown's bodice and skirt was handmade by the Royal School of Needlework, based at Hampton Court Palace. Individual flowers were hand-cut from lace and hand-engineered onto ivory silk tulle to create an organic design with rose, thistle, daffodil and shamrock motifs.
The skirt was meant to echo an opening flower, and the bodice to draw on the Victorian tradition of corsetry. The train was just short of nine feet long. French Chantilly lace was combined with English Cluny lace to be hand-worked in the Carrickmacross needlework tradition which originated in Ireland in the 1820s. The workers washed their hands every 30 minutes to keep the lace and threads pristine, and the needles were renewed every three hours to keep them sharp and clean." – LA Times
Already design houses are replicating this look for their own collection! Cheaper versions of this dress with illusion sleeves will be available at Nordstrom beginning in August and will run from $1000-$2500. The fashion world is getting ready for the storm of orders that will come in for tiaras and classic cuts. Oh how princesses can still influence what us adult women want in life…
What do I think of the dress? I knew it would have long sleeves from the beginning. We've got be covered but sexy at the same time and I think Kate pulled it off well. I really like the corset bodice and mini collar. I could have gone for a collar perhaps a 1/2" higher for a more regal effect. Love the slim fitting sleeves and simplicity of the gown. See below for closer look: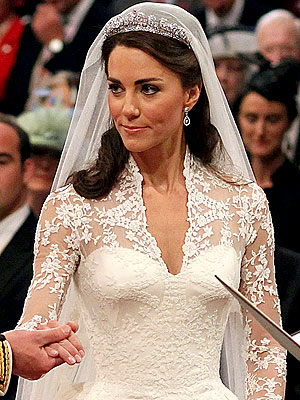 I don't know what my wedding dress will look like, not even thinking about it, but sure to have tons of beading, lace, and flowiness. Puffiness? Not sure, but a slim accentuated waist line is a must! I will design it and I guess if you guys are still reading my blog in several years, you'll see what it looks like! :)
Congrats to Kate and William! And yay for the Royal Wedding Dress reveal!